This article contains affiliate links. If you click on a link in this article, we may earn a small commission at no extra cost to you.
Hua Hin – Close to Bangkok, But Meh
Although not typically on the tourist trail, Hua Hin is well known by Bangkokians as the go-to beach for a break from urban life. Only about three hours from Bangkok, Hua Hin is the perfect distance for a quick weekend getaway, offering a respite from the busy city.
One teeny tiny small problem with Hua Hin: the beaches.
They're not that nice. Simple as that.
Crowded, busy, over developed, featureless. A constant drone of recreational water vehicles buzzing along the shore. Certainly not what pops into my head when I imagine a beautiful, peaceful Thai beach.
You are free to consider me a beach snob.
Without enough time to make it to some far-flung island paradise, what's a Bangkok-based family desperate for some ocean time to do?
Sai Noi Beach
Enter Sai Noi Beach, just a 15 minute drive south of Hua Hin.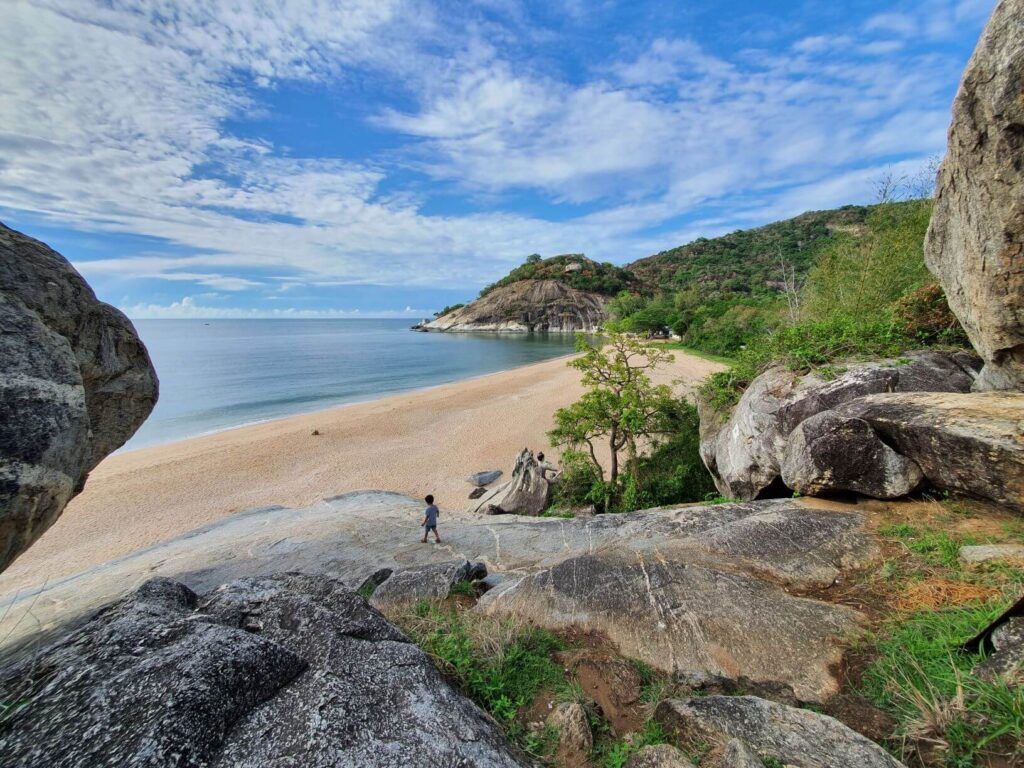 Ah, that's better. Much, much better!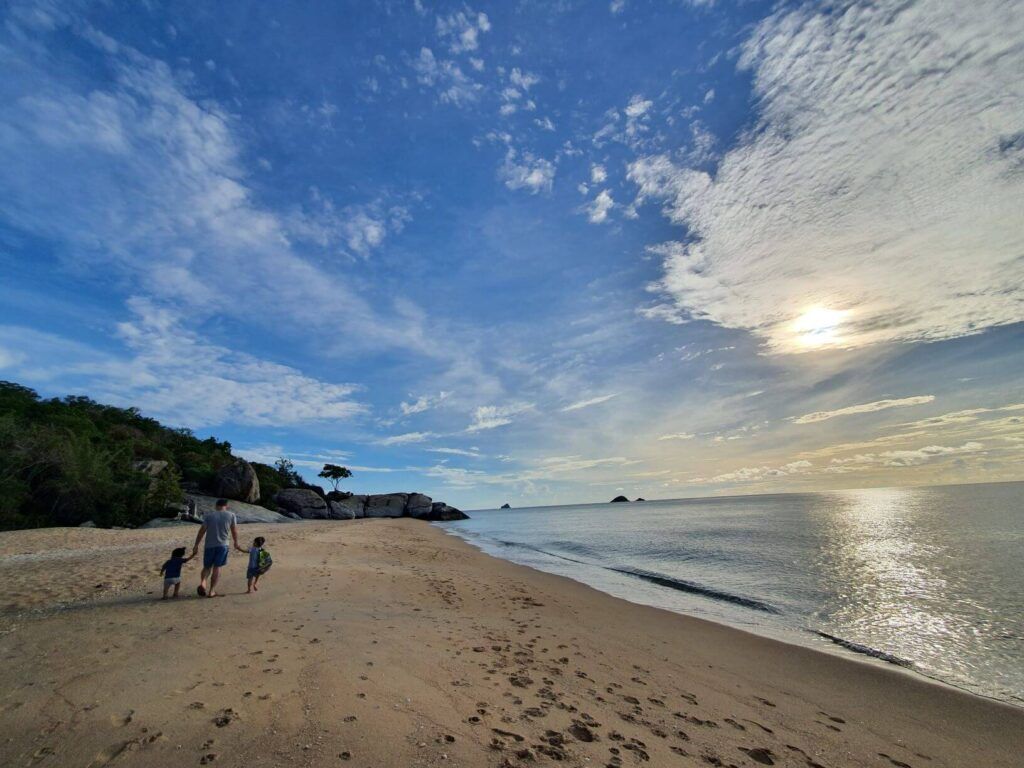 Right around the corner from the better-known Khao Tao, Hat Sai Noi feels like an escape from both Bangkok and Hua Hin! While it can get popular with day trippers on the weekend, there's a good chance you'll have it nearly to yourself if you play your cards right.
Sai Noi Beach is very much what we look for in beaches: beautiful, uncrowded, less developed, quiet, clean, and good for the kids.
Here are some things we love about Hat Sai Noi:
Sai Noi Beach Is Shady
While not always an obvious consideration when planning a beach holiday, shade is very important to us, especially with young kids. We love to play at the beach, but who likes to get burnt to a crisp? Our absolute favorite beaches in Thailand always have a bit of shade thrown into the sun, sand, sea mix.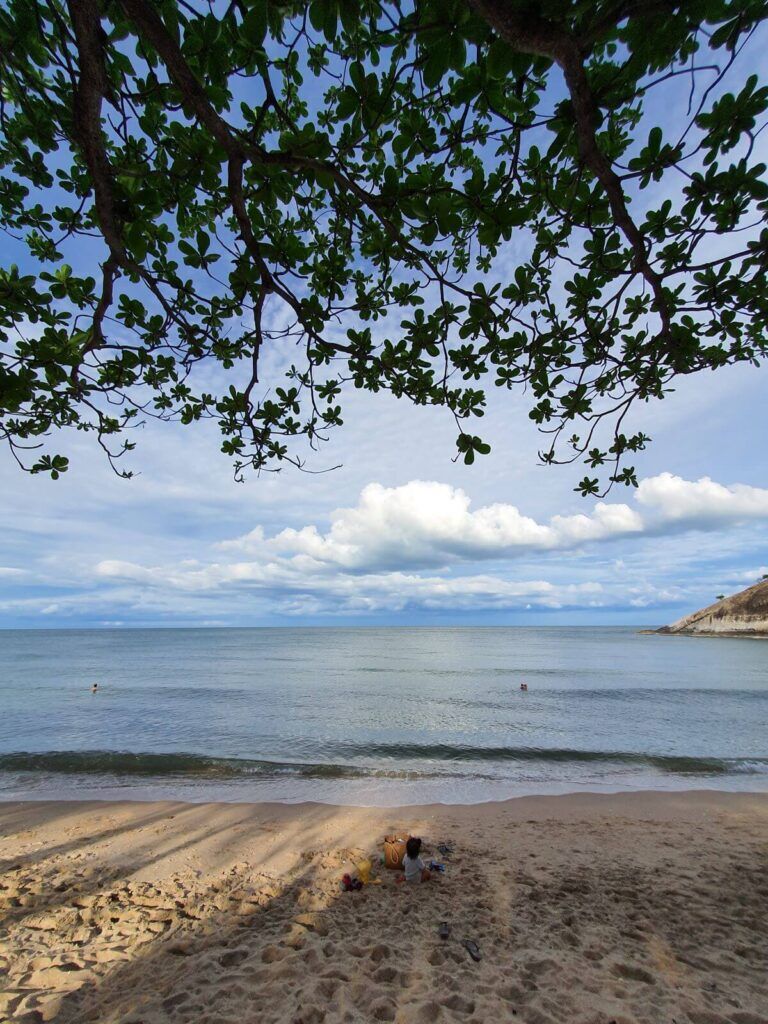 Thankfully, Sai Noi Beach has plenty of shade, especially in the afternoon. Ideal if you plan to spend hours playing in the sand after nap time!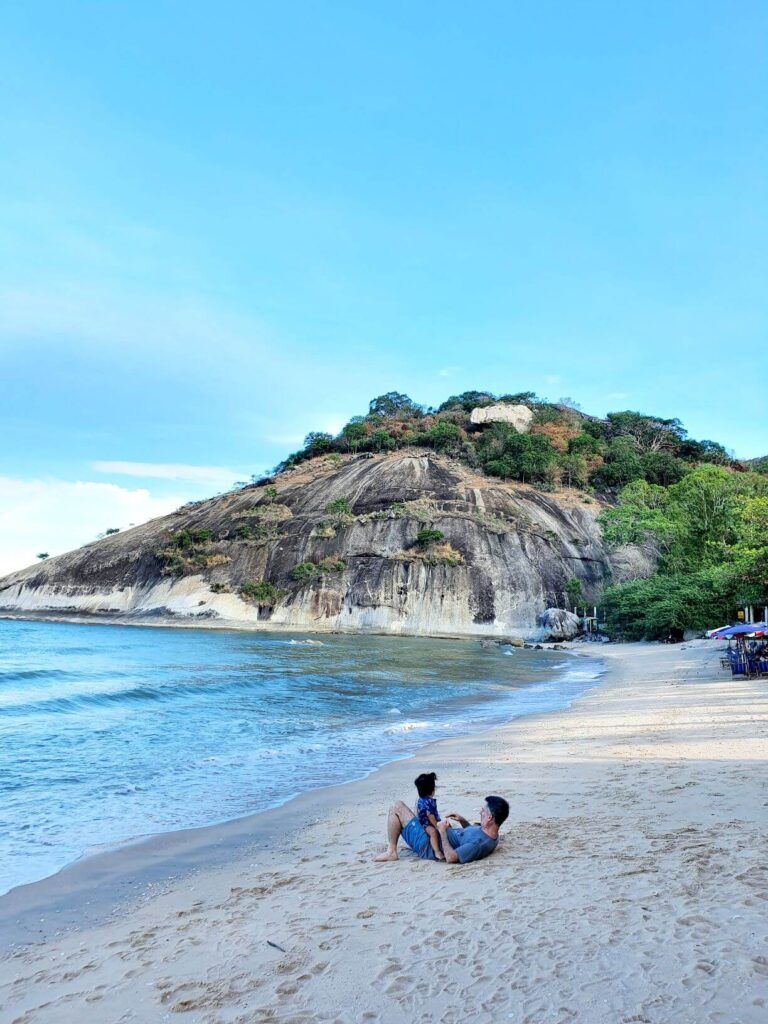 Sai Noi Beach Is Sandy
This almost goes without saying but, speaking of sand, you got to have sand at a beach! And it's got to be good sand! Especially with kids, this is an obvious must.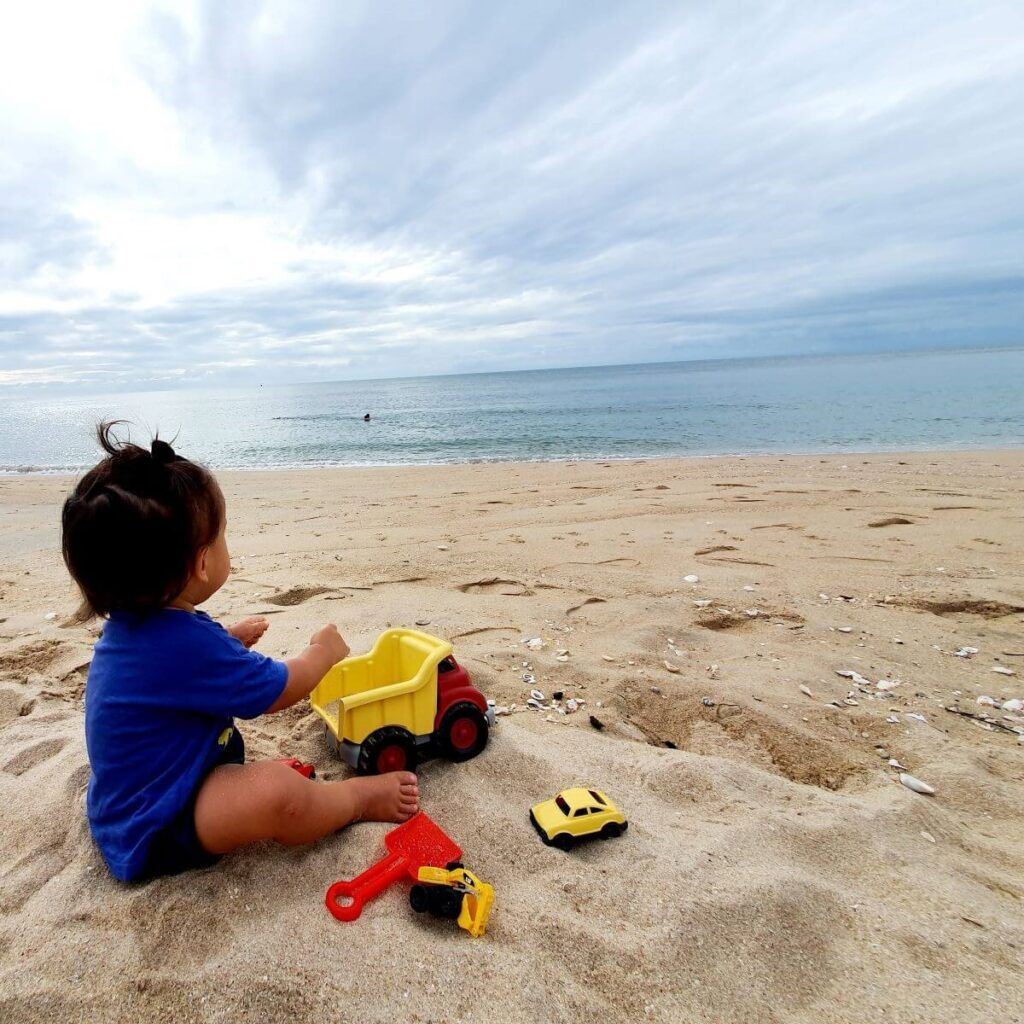 There are castles to build! There are construction sites to set up! There are letters to write!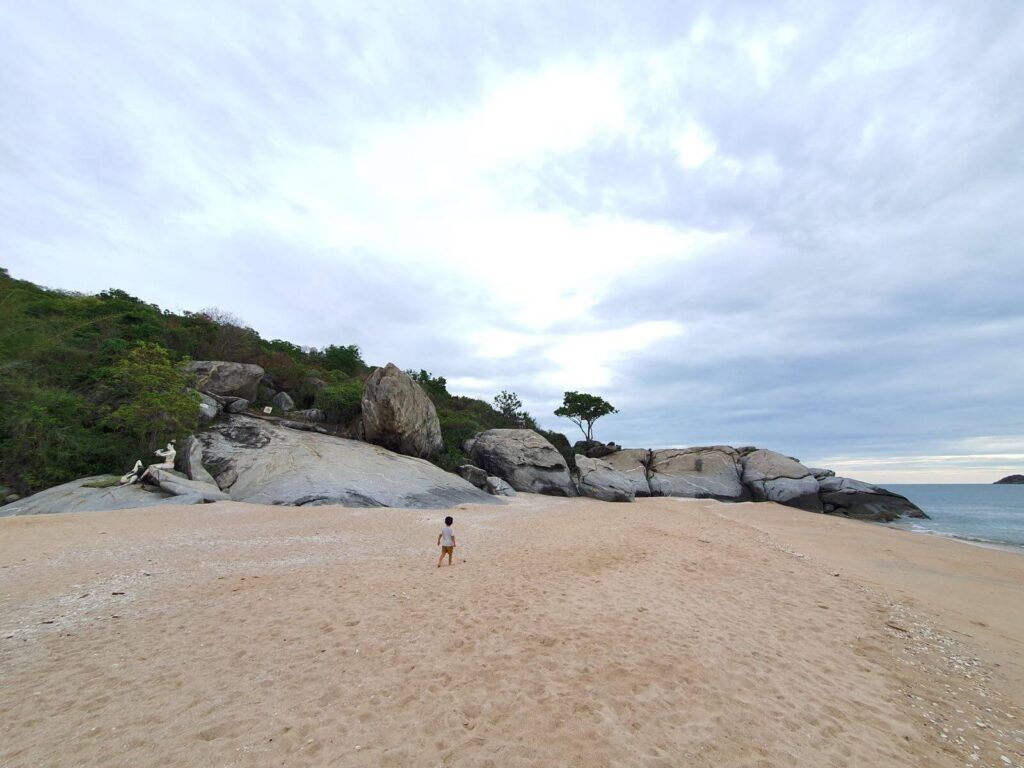 Hat Sai Noi has great sand and loads of shells to occupy the little ones for hours.
Sai Noi Beach Has Just The Right Amount Of Rocks
When you hear about beaches that are advertised as "The Seychelles of Thailand" that usually means there are rocks involved.
We haven't yet made it there to make a fair comparison (although we have explored stunning rock filled beaches in the Philippines with a toddler), but a simple google search will reveal that Sai Noi Beach doesn't quite rise to the level of the Seychelles.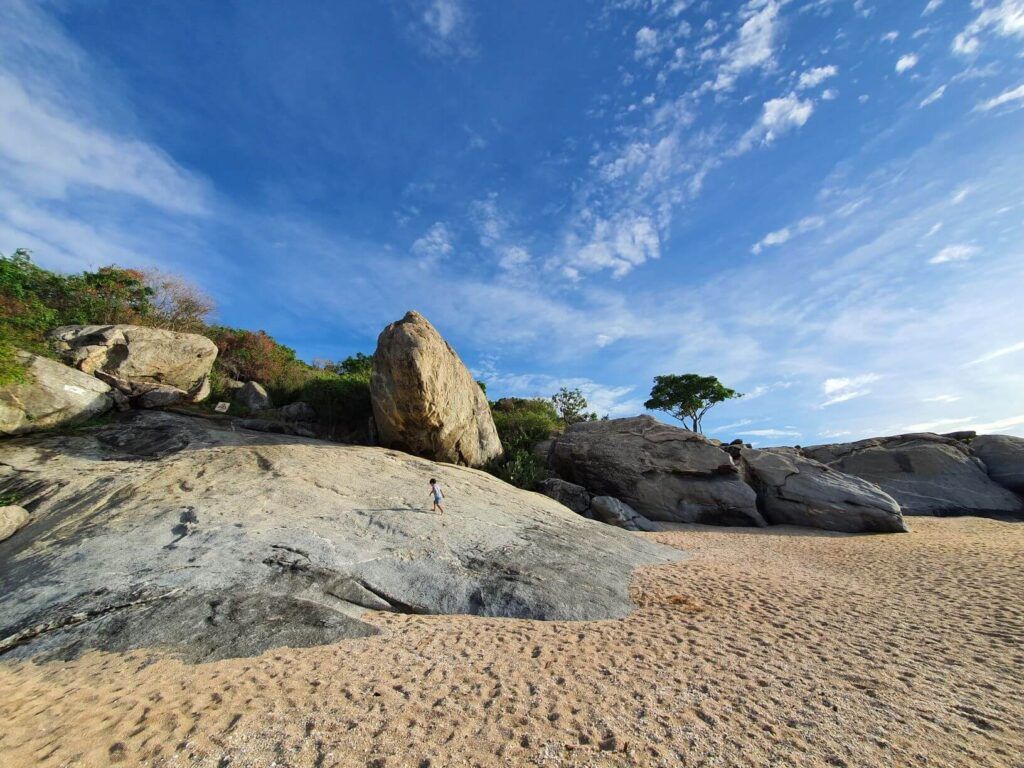 That said, while Sai Noi Beach is mainly a sandy beach, the rocks at both ends of the beach are lovely and striking. Certainly enough to be interesting to the eye and a welcome change from the mostly flat and mostly featureless beaches of nearby Hua Hin.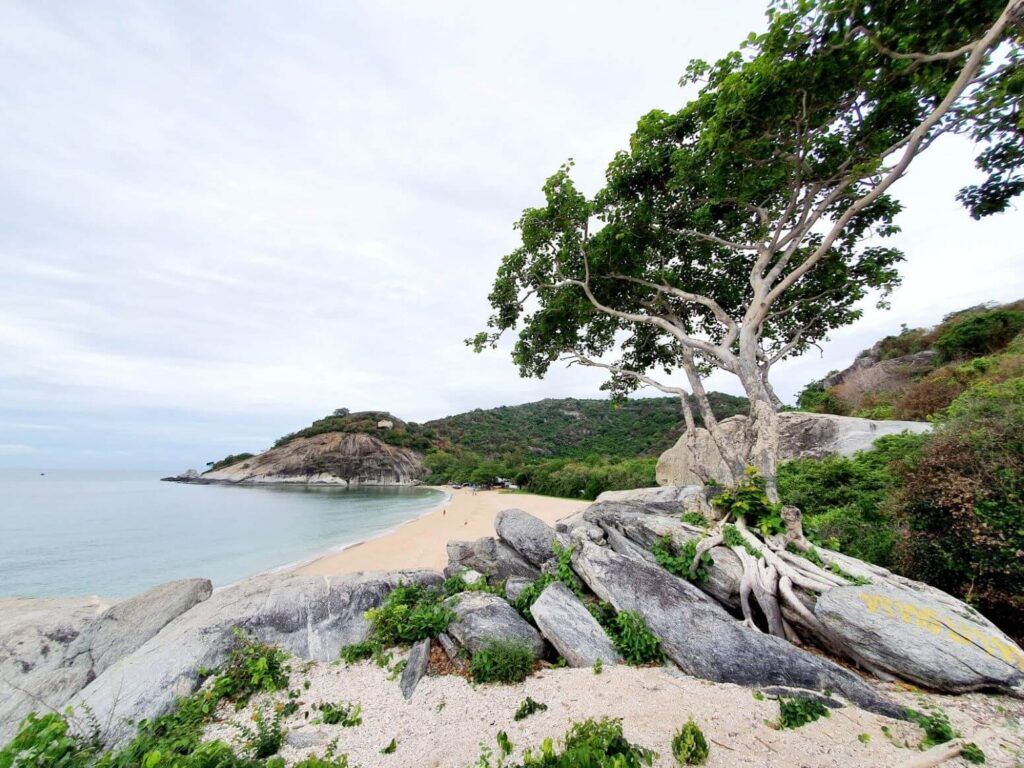 The rocks on the north side of the beach are also fairly kid friendly and scale-able. With a little help, both of our little ones were able to make it to the top without a problem.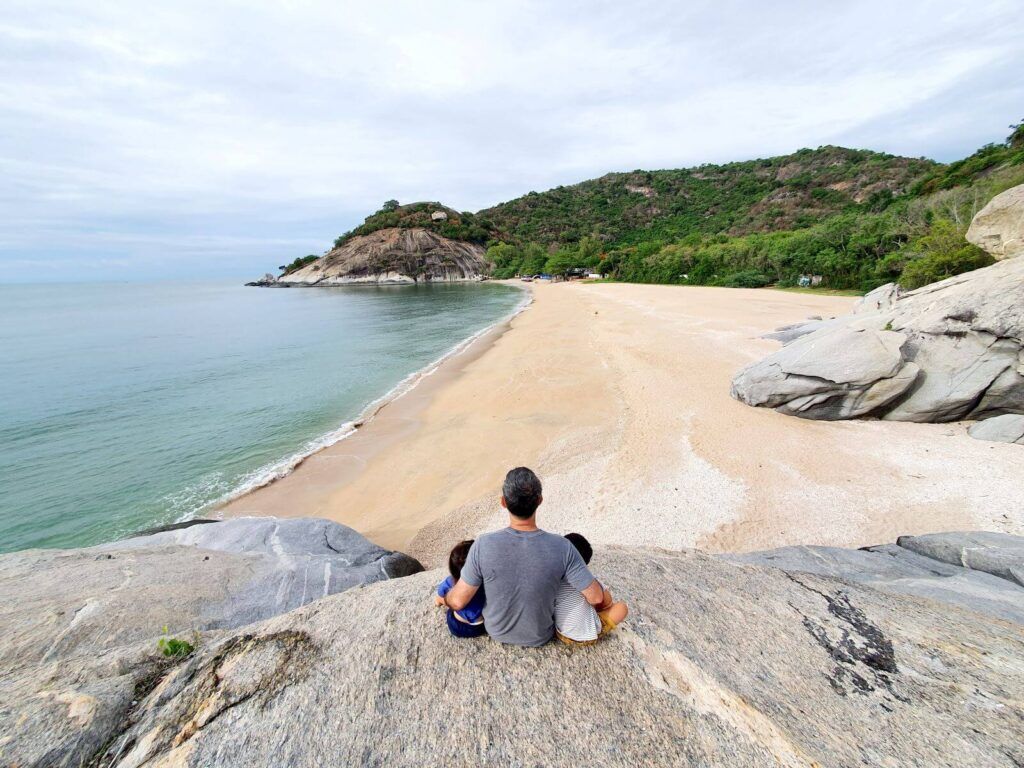 Sai Noi Can Be Explored
If you continue to climb past the rocks, you'll be treated to a short trail heading up the to top of the hill where there's a giant golden Buddha.
While some of the trail was fine for a couple of barefooted little ones to explore on their own…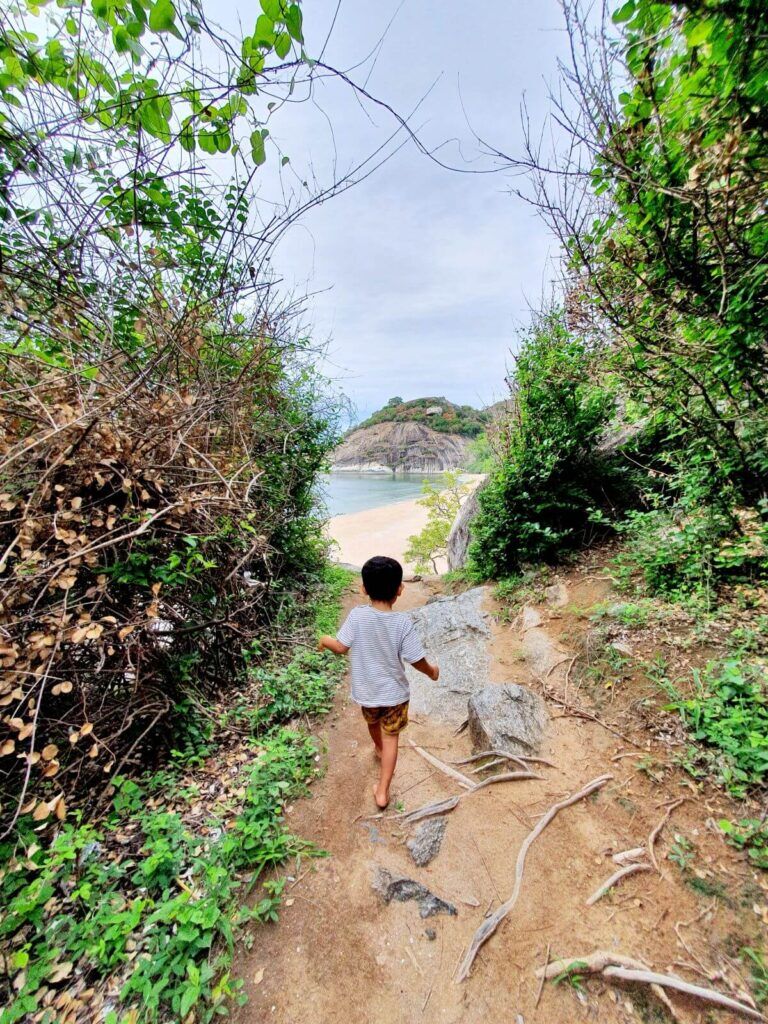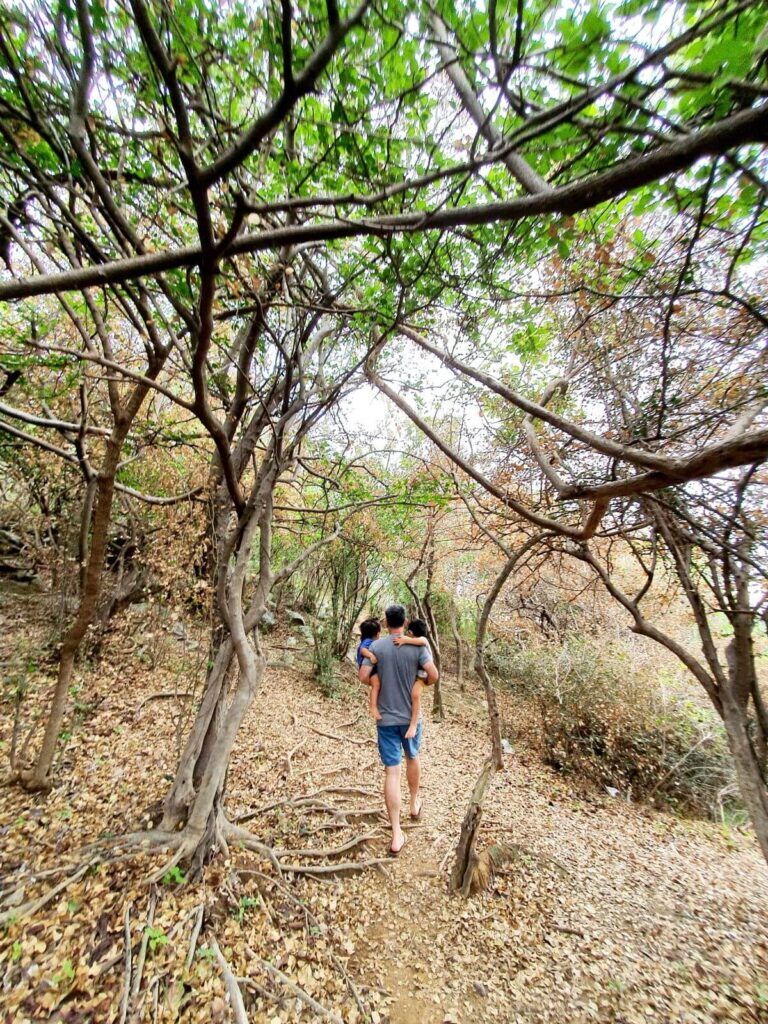 If you decide to take the hike with your little ones, don't forget to bring some shoes!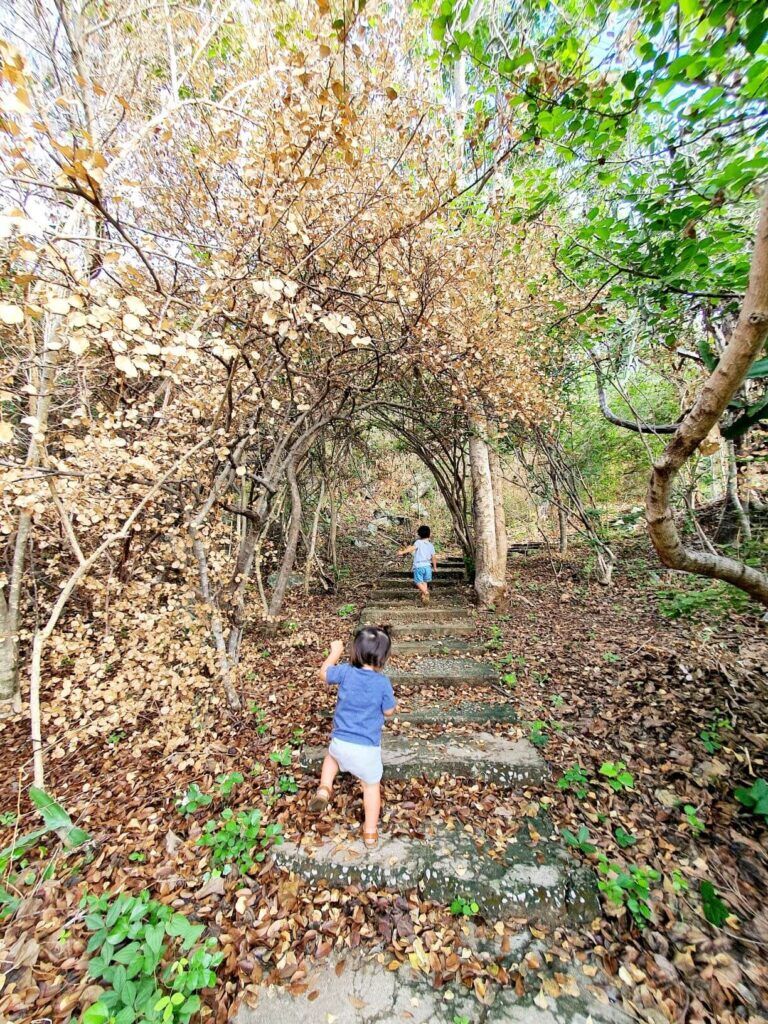 After a short 10 minute hike, you're at the top. Take a moment to rest and enjoy the view in the shadow of the Big Buddha…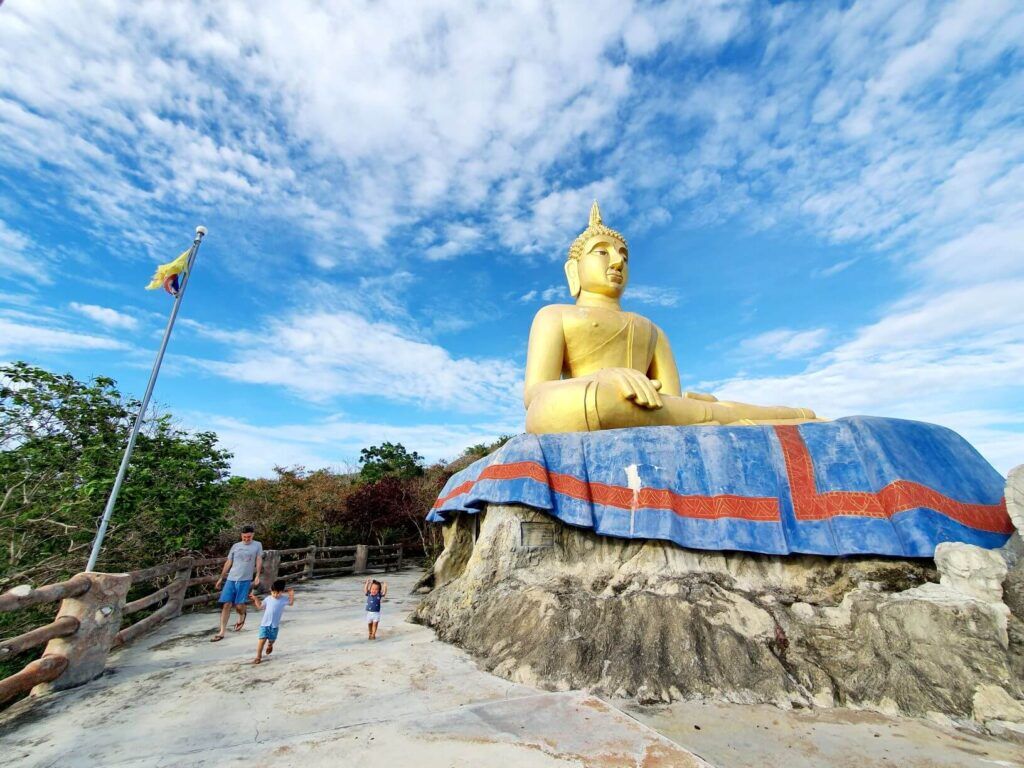 …and of the coast below of Khao Tao Beach.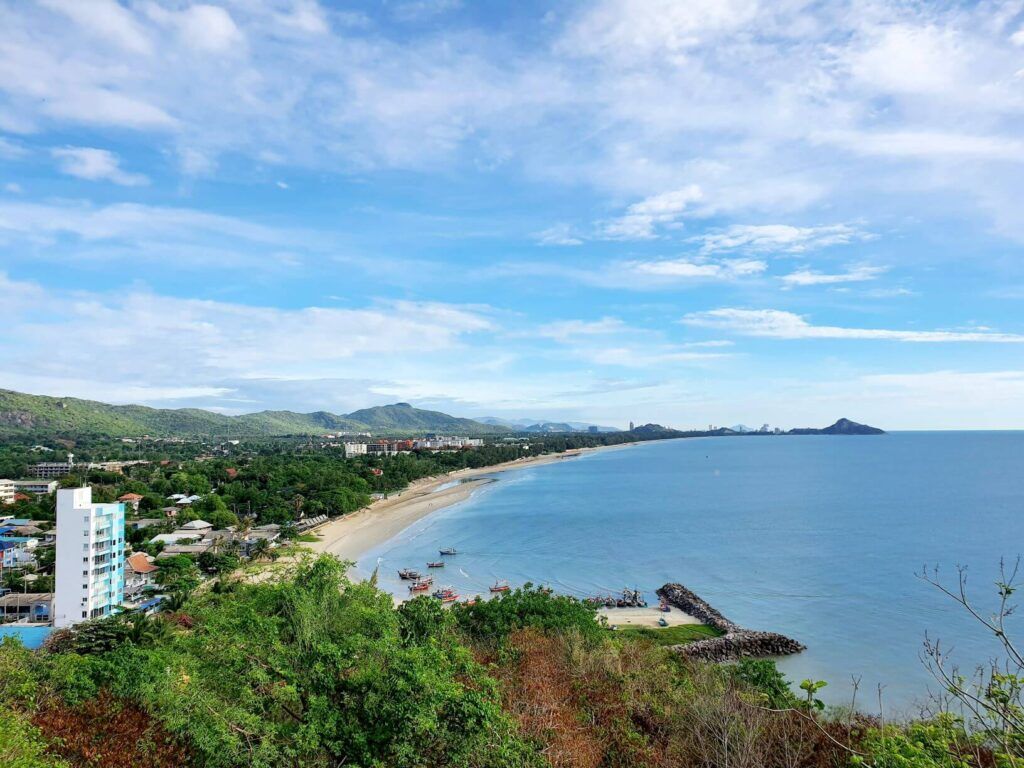 Sai Noi Beach is Not Over-Developed
You're not going to find big hotel chains in Sai Noi Beach. There are a handful of options for both accommodation and eating. Visitors often come to enjoy this beach during the day, but few stay here overnight.
The drawback of this under-development is that once you've exhausted the few local food choices, you'll probably want to drive or Grab back to Hua Hin to find some different options. That's what we did, at least.
But overall, we loved the slower pace of Hat Sai Noi. It gave us a sense of calm and we felt like we had "discovered" a secret beach in Hua Hin.
We stayed at T Villas, one of only a few options close to the sea. Sanae Beach Club is a bit closer (right on the beach), but also a bit more expensive.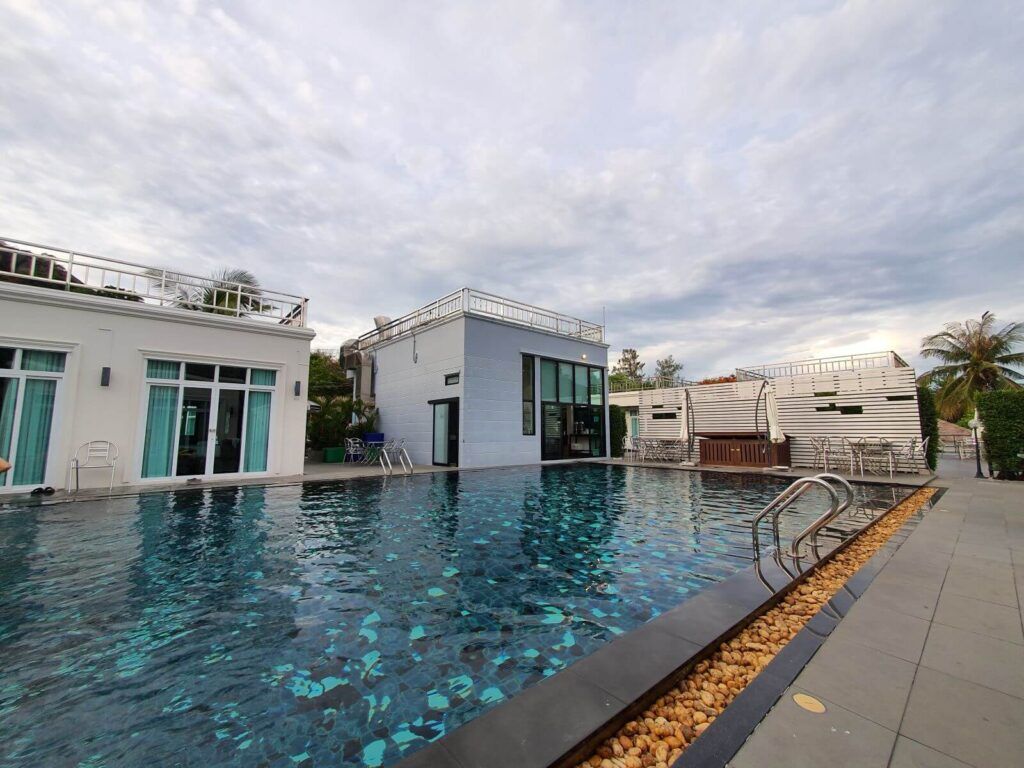 We were very happy with T Villas, enjoyed their pool and their breakfast. While it's not on the shore itself, you're only a two minute walk away from the sand.
It was geared towards local families: we were the only non-Thai guests. The shared swimming pool has a kid-friendly section that is shallower than the main pool…but still requires adult supervision for our littlest one. It was still a bit too deep for him to be splashing around in there on his own.
Don't like to share? You can also book a room with a small private pool all to yourself.
There you have it, our choice for the most beautiful kid-friendly beach in Hua Hin!
Okay, let's make this dream a reality, shall we?
Cheapest Flights to Thailand:
If you're not already in Thailand, you have to get to Thailand. For cheap airfare, our first stop is always Momondo where you can sort for cheapest, quickest, and, brilliantly, best (which basically gives you an idea of how painful the flight will be on a smiley face scale from 1-10). We'll then double check with another site like JetRadar and the airline website itself to make sure we're getting the best price.
Ground Transportation:
To get from Bangkok to Hua Hin, you're either going to have to drive yourself, arrange a driver on the Grab App, or rent a car. Grab is about ฿2,300 each way. Renting a car from Bangkok for three days will cost you about the same, ฿2,300 THB. If you end up renting a car, use Ebates/Rakuten to get an additional 3% or so off.
Best Price on the Hotel:
What we paid: For an idea of the price range, we paid about $60/night for a Pool Terrace Room with King Bed at T Villas. With a little advance planning and avoiding the weekends, you could probably find a lower price.
How we find our room: We always start our search on Tripadvisor and go from there. Once we settle on our preferred option, we get further discounts by making the purchase through the Ebates/Rakuten website. For example, if a Tripadvisor search shows that Hotels.com has the lowest price, instead of going directly their website, we go to Hotels.com through the Ebates/Rakuten portal, which gives us an additional 3.5% (or whatever the the rate is that day) cash back. Easy.
We love our little "secret" family friendly beach in Hua Hin, Hat Sai Noi. If you're planning to check out this spot with your little ones, let us know if you have any questions!