This article contains affiliate links. If you click on a link in this article, we may earn a small commission at no extra cost to you.
The typical Thailand itinerary will usually involve hitting the beach (think Koh Phi Phi or Phuket), checking out some of the well known cultural sites in the north (Chiang Mai or Chiang Rai), and of course some big city shopping and tons of delicious food – or better yet a Thai cooking class!
In addition to the common stops along the tourist trail, we like to remind visitors to consider checking out some of the less popular options. Although the River Kwai is fairly well known (yes, that River Kwai), the floating-hotel-in-the-jungle river experience tends to get overlooked for some reason.
Which is a shame, because it's pretty cool. And one of the best things to do in Kanchanaburi (and probably all of Thailand) with young kids.
We had been wanting to try it out for a long time, so when a three day weekend presented itself, we jumped at the opportunity.
The River Kwai is located in Kanchanaburi, the third largest province of Thailand, northwest of Bangkok near the border of Myanmar.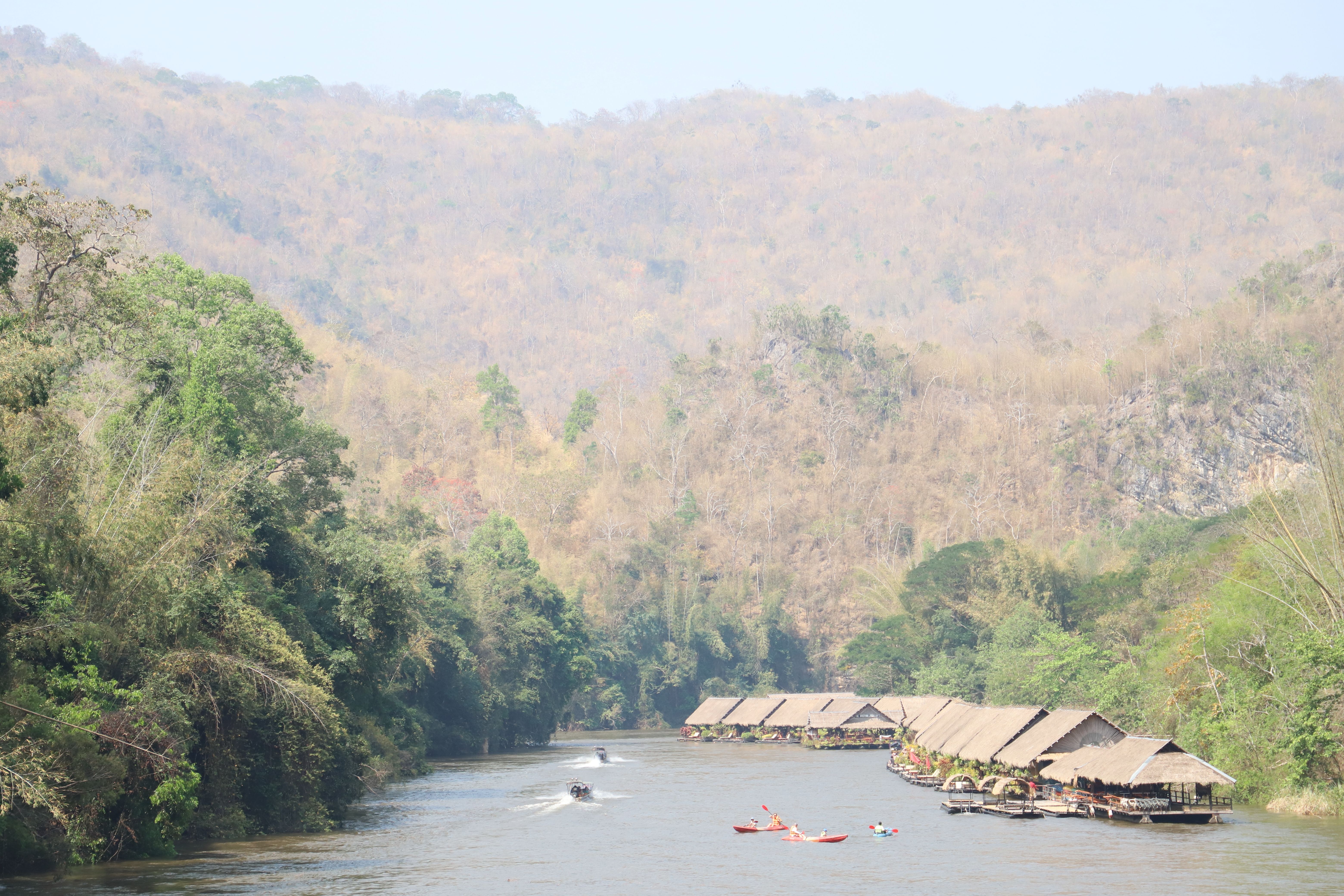 There are a lot of ways to get to Kanchanaburi: bus, train (5 hrs), you can rent a car, take a taxi, or a hire a vehicle with a driver (more details below).
The eventual destination is in the Sai Yok district of the Kanchanaburi province. To get all the way to the drop off point for this particular river adventure, you'll have to go well past the River Kwai Bridge, northwest on Route 323, past Sai Yok Noi Waterfall until you arrive at Phutakien Pier. This will take you between 2:45 and 3:30 hours from Bangkok, depending on traffic and how many times you stop.
Through a friend of a friend, we ended up hiring a car all the way to the pier and agreed on a time for him to pick us up at the same pier three days later. From there, we took a 15 minute long boat ride up the river until we reached our destination, River Kwai Jungle Raft Floating Hotel.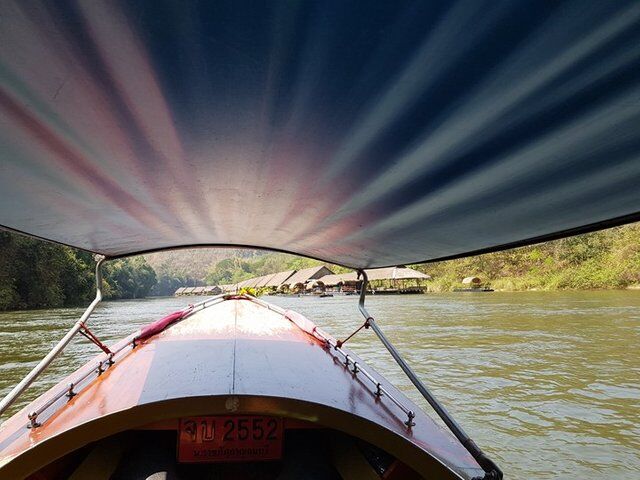 Here are 7 things we loved about this jungle river experience:
1. The Floating River Rooms
The rooms themselves are basic: made of wood, bamboo, and dried grass. Basic, but you'll have everything you need. Hammock lovers take note: there are hammocks directly in front of the room facing the river and a second hammock on the little private balcony in the the back of the room which faces the jungle.
And yes, you are really floating! You'll feel the room bob up and down every time a longtail boat passes by (which is quite often during the day, almost never at night).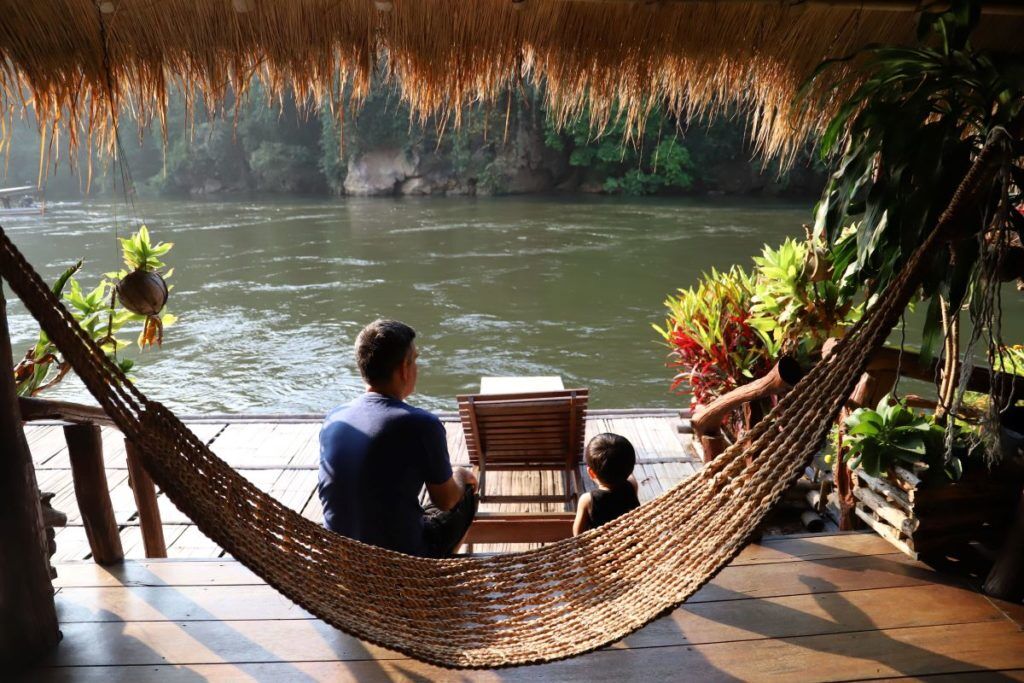 2. No Electricity, No WiFi
This is the kind of place that will slow you down whether you like it or not. After a few days, you'll find yourself going to bed earlier than normal and waking up at the crack of dawn.
Since there's no electricity, the property is lit by old fashioned kerosene lamps. Eating at dinner at night becomes very atmospheric – check out the photo later on in the post.
So, as you're packing, do not forget to bring some books and flashlights!
3. Elephant visit every morning
Every morning at 7:30, a seemingly well taken care of elephant (don't get us started on how poorly elephants are treated in this country!) will meet you the river behind the floating hotel. The staff bring out crates of fresh fruit and everyone gets a chance to share some food with the hungry pachyderm.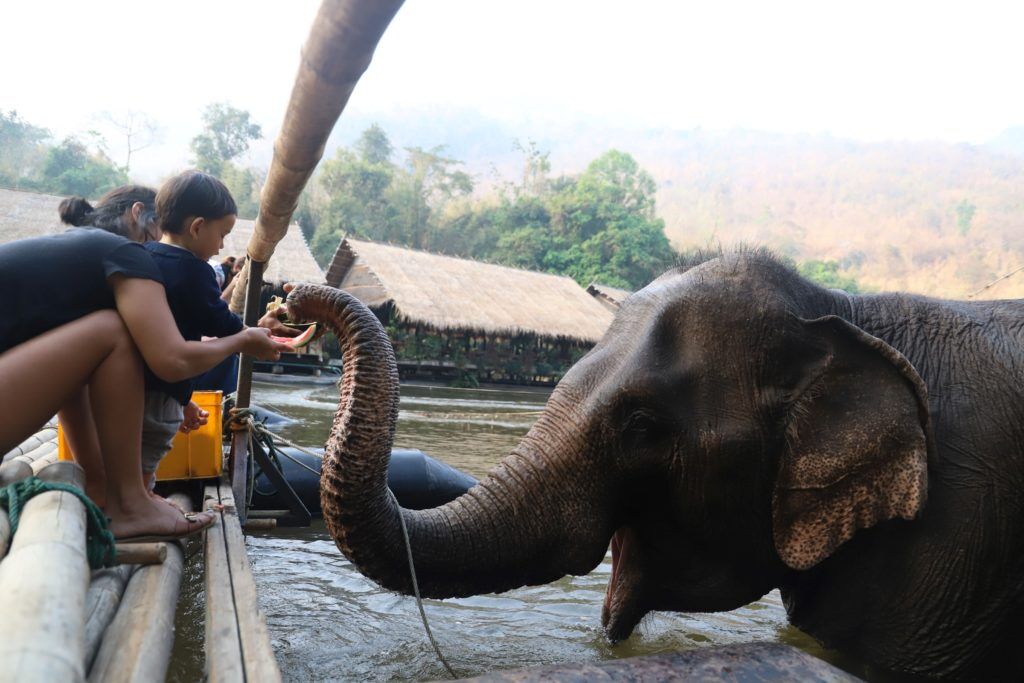 4. Close to Nature
Just out the back, past where they feed the elephants in the morning, is a little path that will lead you up the hill. If you hang a right at the top of the hill, you can take a little hike through a bamboo forest to a view point and Mon Buddha shrine.
It was great to be out in nature and there are a lot of interesting finds along the way, especially if you are walking at a toddler's pace.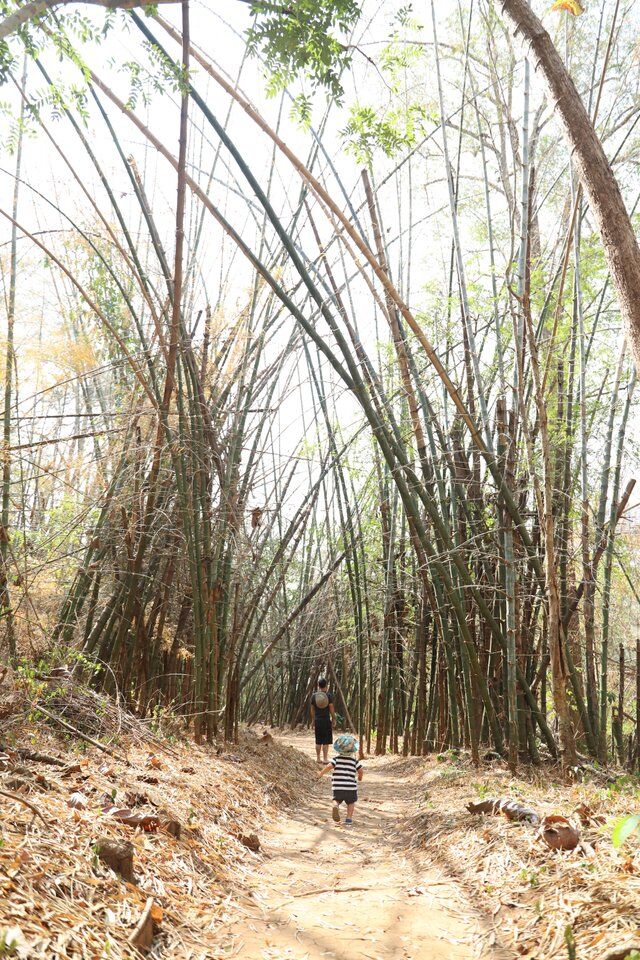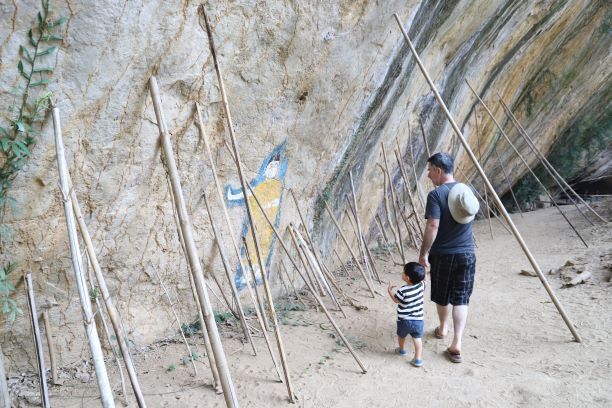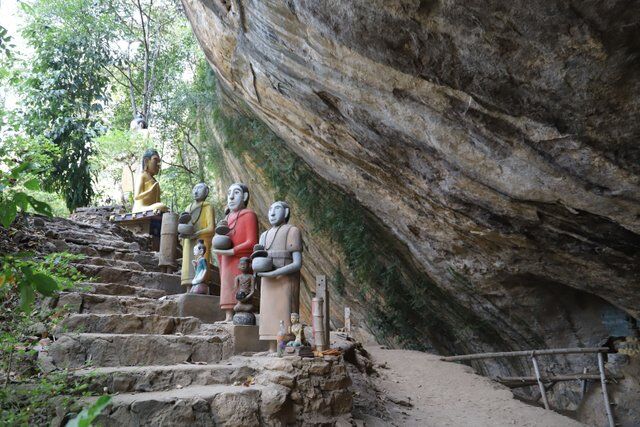 5. River Activities
This was pretty great. We all put on some of the hotel provided life vests and jumped into the river right in front of our room. The river current took us downstream and when we neared the last rooms of the property, we'd scramble out of the river on ladders fixed all along the hotel. We'd run back up to the jump off point and do it all again. It's a great way to cool off on a hot day.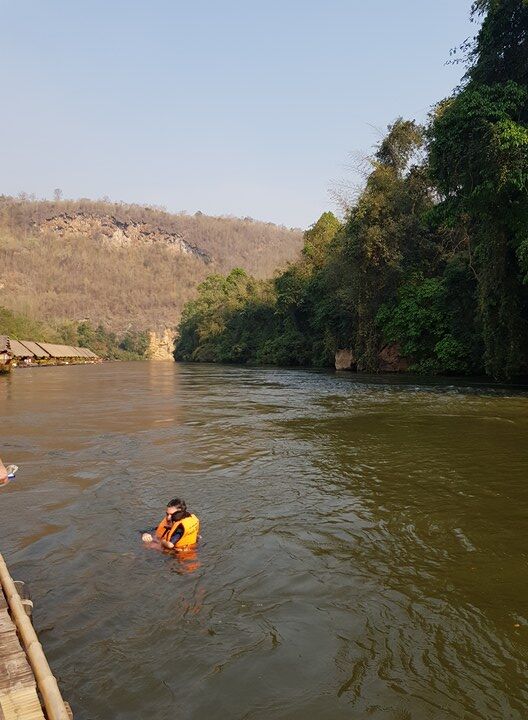 There was also a little river beach right behind our room. Before the sun set, we'd head to the river bank to build sand castles, skip some stones, and play with the local kids.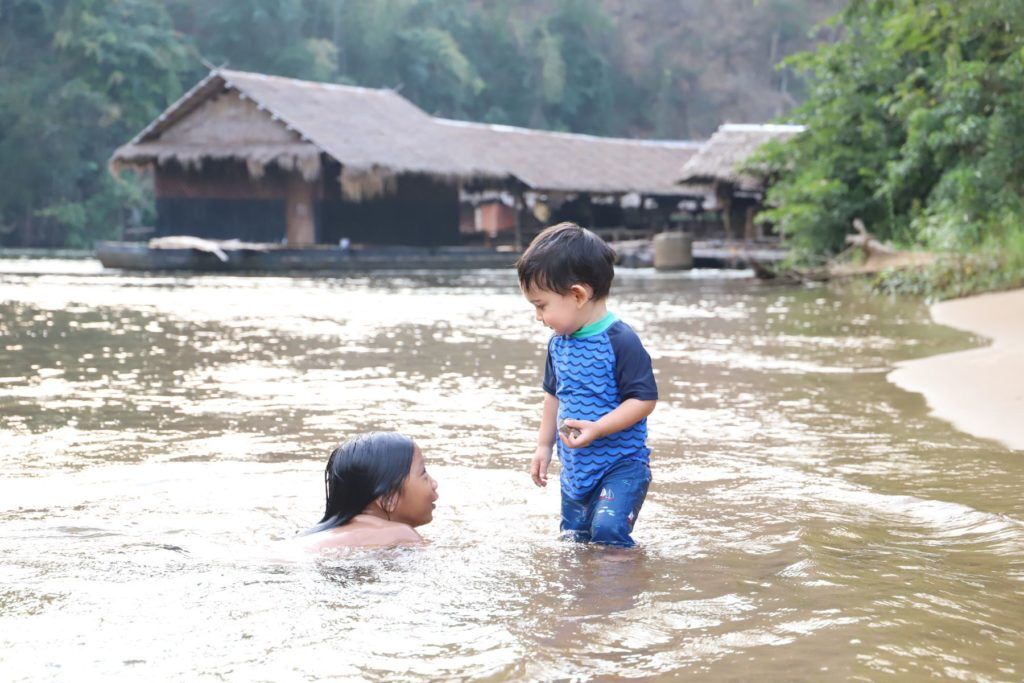 6. The Food was Great!
The food is included as part of the package so we did not know what we were getting. We ended up very satisfied, having 4-5 Thai dishes served every meal. I was not able to take too many photos of the food because we were always so hungry by mealtime!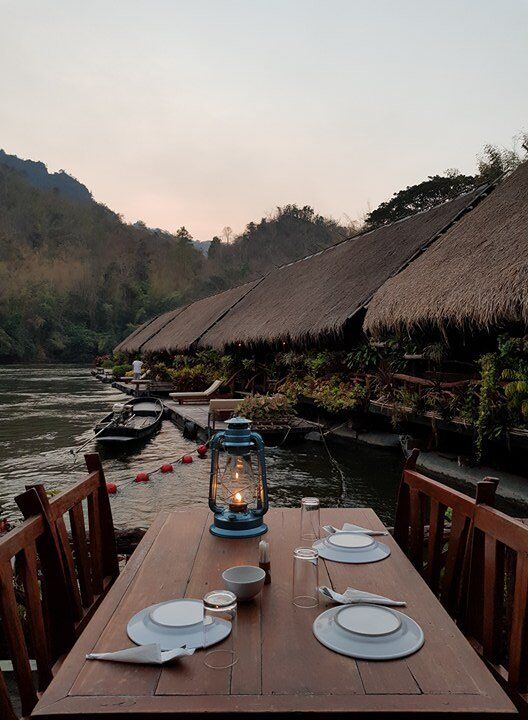 7. Mon Village
There is a tiny Mon village near the hotel that we ended up visiting everyday. Along the way, we loved going up the hill and making a stop to feed bananas to the local elephant named Wan Dee.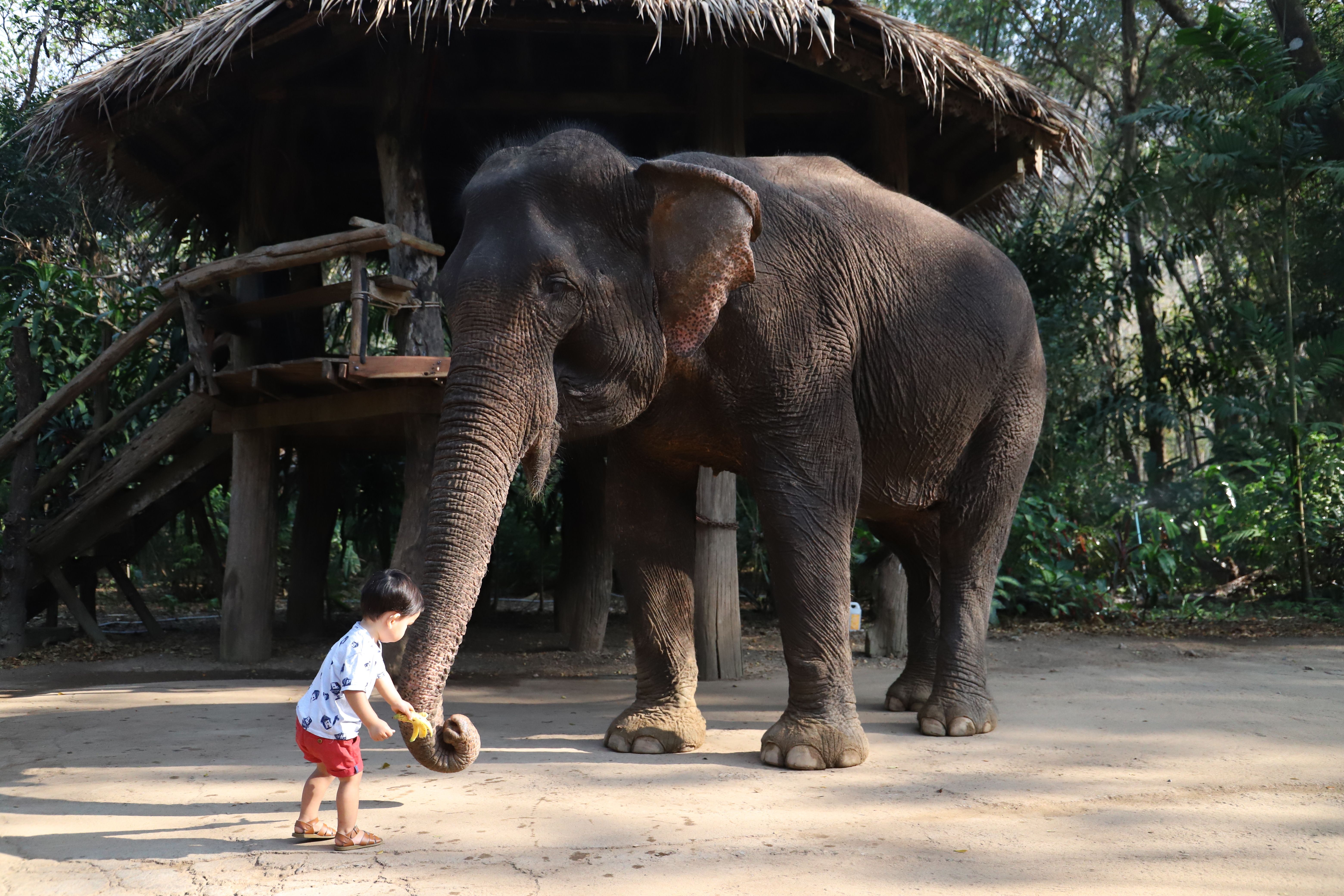 After spending time with the elephant our little toddler joined the Mon village kids in their school. They study Thai, Mon, Burmese and English language. We took a walk to a nearby Buddhist Stupa as well.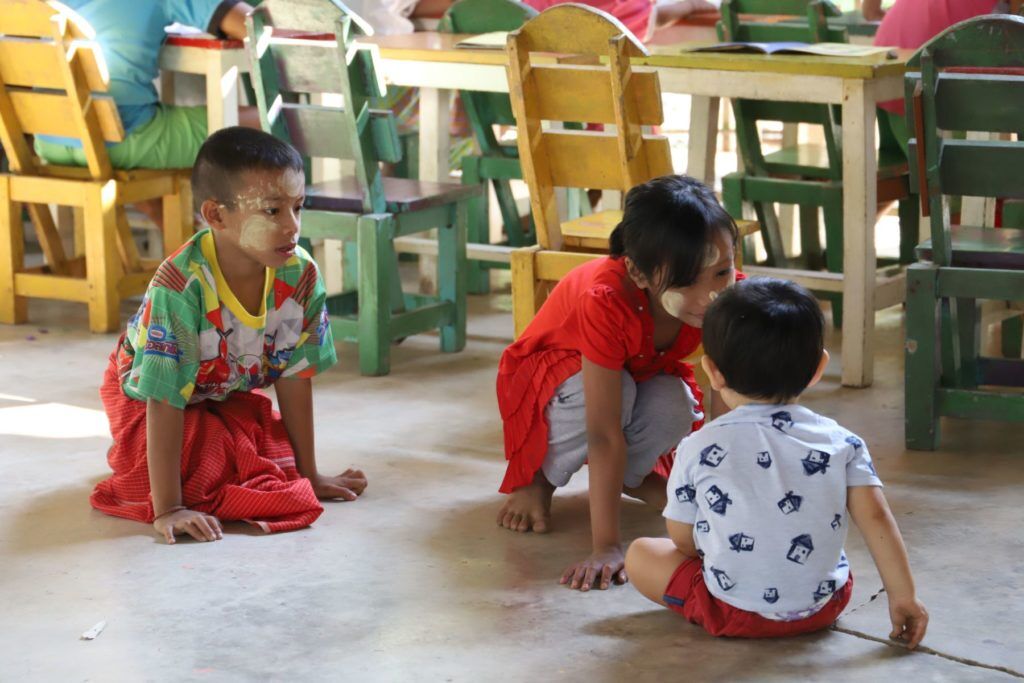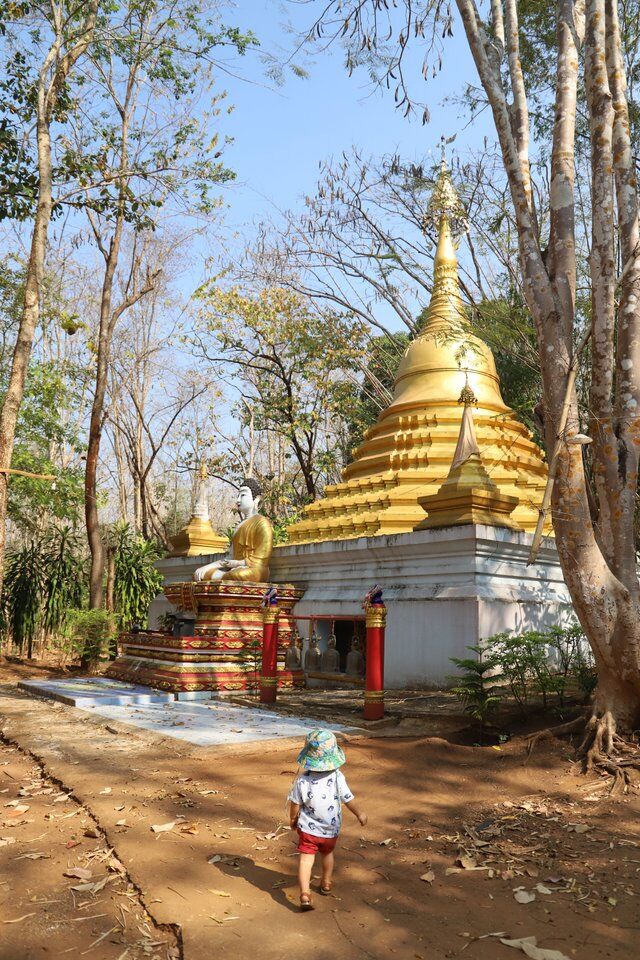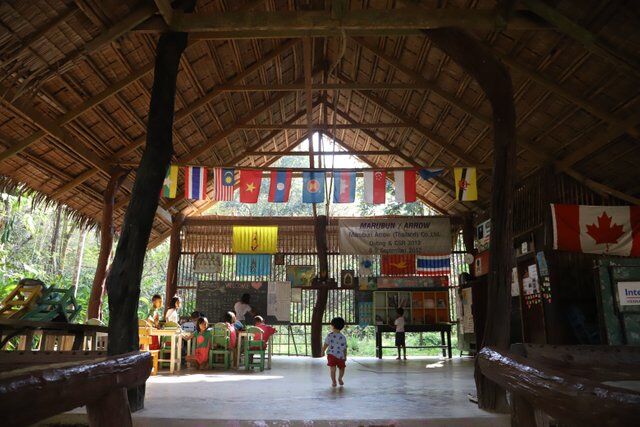 There you have it, our River Jungle Adventure!
Okay, let's talk practicalities.
Cheapest Flights to Thailand:
If you're not already in Thailand, you have to get to Thailand. For cheap airfare, our first stop is always Momondo where you can sort for cheapest, quickest, and, brilliantly, best (which basically gives you an idea of how painful the flight will be on a smiley face scale from 1-10). We'll then double check with another site like JetRadar and the airline website itself to make sure we're getting the best price.
Best price on the hotel:
We always start our search on Tripadvisor and go from there. Once we settle on the cheapest option, we get further discounts by making the purchase through the Ebates/Rakuten website. For example, if a Tripadvisor search shows that Hotels.com has the lowest price, instead of going directly their website, we go to Hotels.com through the Ebates/Rakuten portal, which gives us an additional 3.5% (or whatever the the rate is that day) cash back. Easy.
For an idea of the price range, although basic, accommodation at River Kwai Jungle Raft Floating Hotel was not cheap. We paid about $125/night, but we went during a holiday weekend so it depends on what time of year you go. A quick search just now came up with about $75/night if you're a bit flexible. So not super cheap by any means.
That said, it is all inclusive once you make it to the pier: two way transit on the long tail boat, accommodation, and three meals a day. Check out some tips below to save some extra cash.
Getting to the Pier:
You'll also have to find your way to Phutakien Pier which means renting a car or hiring a vehicle. Or go with Grab. One way from Bangkok with Grab (Thailand's Uber equivalent) will cost about $2,000 baht.
Gear:
Good to know:
Kerosene lamps are used to light the resort at night and the odor can be overwhelming. If you're sensitive to strong smells remember to pack pain reliever or consider staying somewhere else.
In summary, we had a great time but if we plan to return we'd do a couple of things differently:
We would bring more snacks and water. There are only limited choices for snacks in the hotel and they are expensive. There are no nearby grocery stores as well. Aside from the complimentary daily water provided your room, you have to pay for bottled water at every meal.

We would have brought higher quality floaters for our little tot. Our Chinese-made pink plastic floaties gave up on us this trip. The hotel provided life vests were great, but they were a bit too big for a toddler – we had to be careful while floating down the river.

Power banks and fully charged batteries for your camera. This is a no-electricity hotel and if you plan to stay here more than 2 nights, your phone and cameras had better be charged.

Bring your first aid kit and medicines. You are a bit far away from civilization and medical care. Better to be prepared/safe than sorry.
If it's not clear from the post, we had a great time and our little one loved it. If you're planning floating hotel trip, let us know if you have any questions!
And while you're planning, please consider combining service with your holiday. Here are a few of our picks for worthwhile projects to support in Thailand.
<3 A