When I first visited Bangkok back in 2013, J took me on a cooking class date which I really enjoyed. We had a great time and I learned how to cook a couple of my favorite Thai dishes: pad thai and som tam (papaya salad).
Now that I'm based in Bangkok, I find myself playing tour guide when we host our family or friends visiting Thailand. In addition to giving advice on island hopping, exploring Bangkok, or even a river adventure on the River Kwai, one of our suggestions is for visitors to participate in a cooking class.
A cooking class is one of the activities that people might overlook when planning a trip to Bangkok, but it's one that we highly recommend: it's a great way to connect to the local culture, see different neighborhoods in town, and, of course, learn how to prepare some delicious Thai dishes.
There are a lot of cooking classes in Bangkok, and prices range depending on the experience you are looking for. I've been to many different schools as whenever friends are around I tend to join as well.
So far, I found one that I can recommend above the rest: Amita Thai Cooking Class. While there are definitely cheaper options in town, continue reading and you'll see why I love this particular Thai cooking class so much!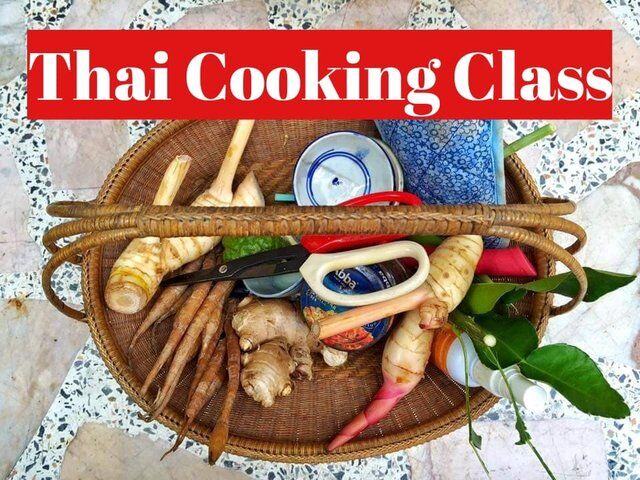 When you sign up for the class online, you will have your choice of three four-item menus. Pick the day of the week and the desired menu and you're all set.
The Amita staff picked us up right at our doorstep around 9:00 am in a van and whisked us off to Lek Silom Pier on the Chao Phraya River. From the pier, we boarded a longtail boat that took us up the river a bit before turning into one of the khlongs that wind through Bangkok (khlongs are Thai for "canals" – they're scattered all over Bangkok). It's a great start to the experience: you get to see life along the khlongs on the way to her place, a nice way to begin the day.
Amita's place is literally next to the khlong. We exited the boat up some stairs, through her gate, directly into a big garden. We were warmly welcomed by the staff who handed us a basket full of herbs, scissors, and bug spray! We were ushered into the garden where our instructor, Khun Tam was waiting.
Khun Tam is not only the instructor, she's also the owner of Amita Cooking School as well. The home where you'll be learning the dishes is the house where she was born and raised.
In the garden Khun Tam familiarized us with different Thai herbs and vegetables. We got to smell, touch, and sample some of the produce while she explained what dishes require each different ingredient. All herbs and vegetables were organically grown, right there in the garden.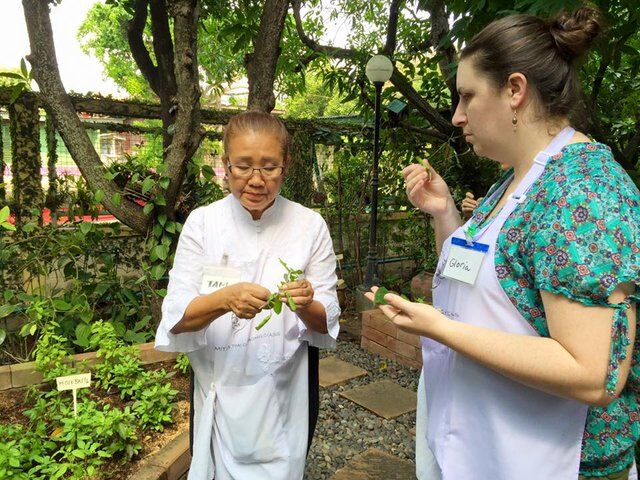 After the garden tour, we were ushered into the cooking hall where we began our cooking lesson. Hello rooster!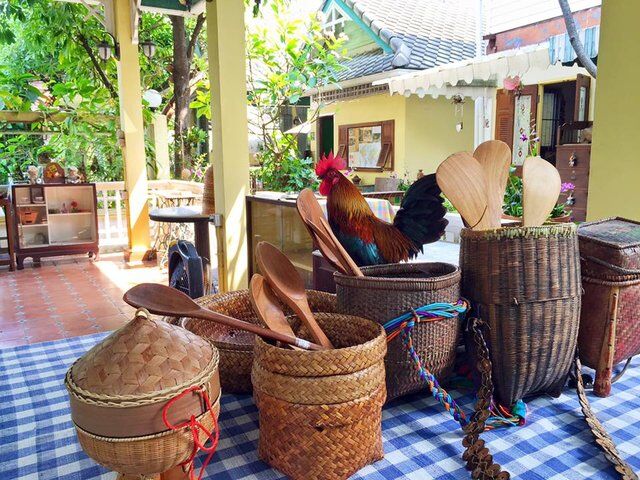 Each of us were given our own individual cooking table. By the time we got to our table the ingredients were already prepared, so you don't have to worry about spending all day chopping vegetables!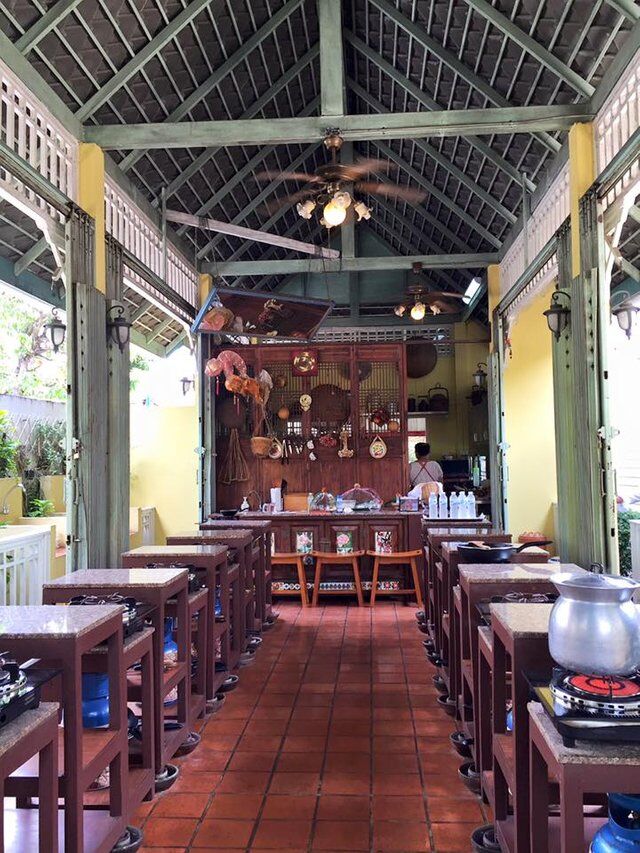 Khun Tam's cooking table was located in the front center of the hall where everyone can watch her and she uses a microphone so everybody can hear her clearly. In this photo, she was demonstrating to us how to cook one of my favorite Thai desserts, mango sticky rice. The mangoes came straight from a tree in her garden!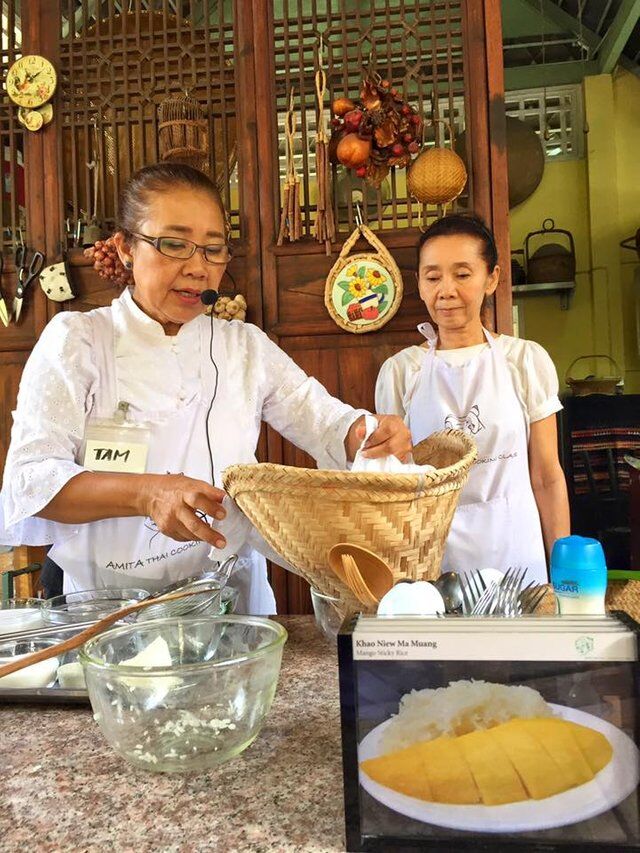 There's also a big mirror above her where you can have a bird's eye view of the dishes while they're being prepared.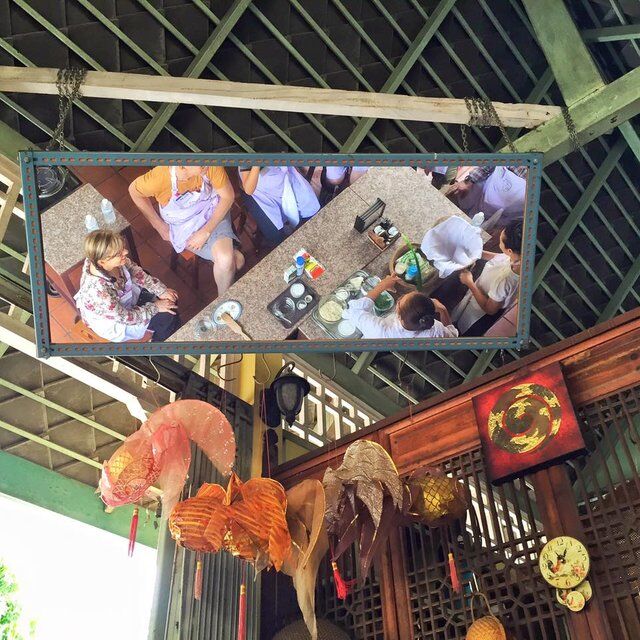 Here is Khun Tam frying some chilis. This was used for the chicken cashew nut dish, one of my favorites. Coincidentally, I happened to prepare this same dish for my family for this evening's dinner!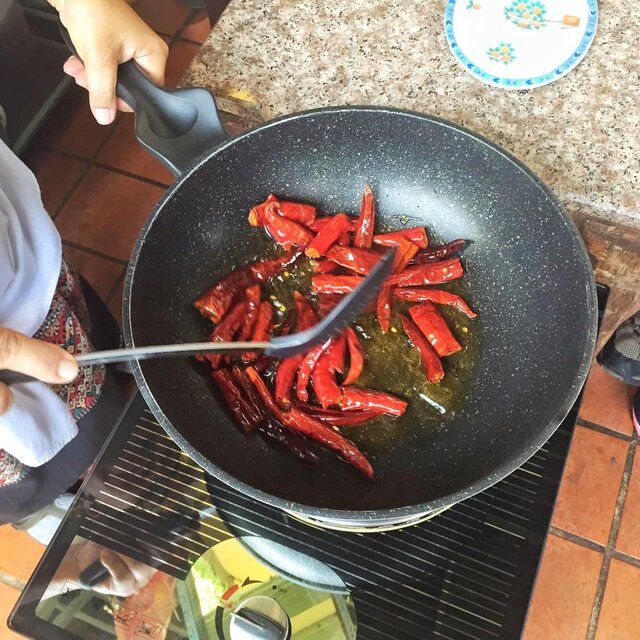 Me and some American friends pose in front of our cooking stations during the pad thai lesson.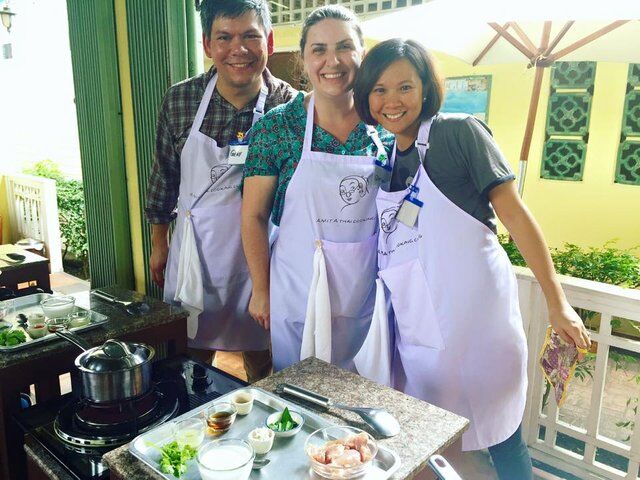 After we cooked and plated our yummy dishes, we moved into the gazebo in the center of the garden.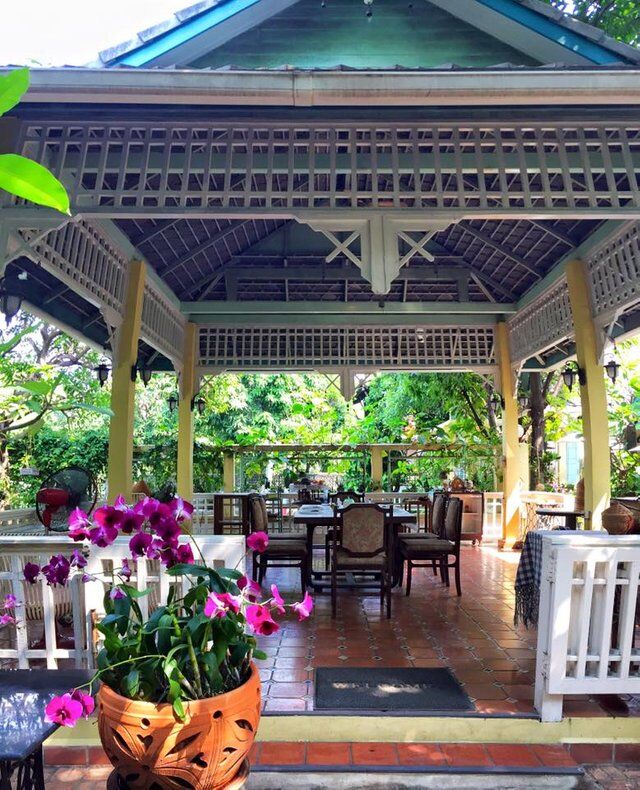 The food we cooked was waiting for us there. The timing was perfect because – it was lunch time!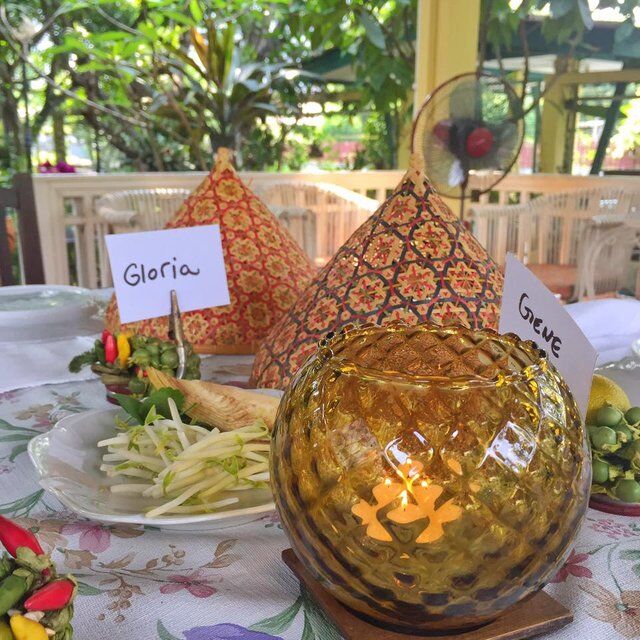 In the end, the four dishes we prepared were:
Pad thai gung (shrimp)

Tom kha gai (a ridiculously delicious coconut based soup that's eaten more like a curry)

Cashew nut chicken

Mango sticky rice
We sat down and enjoyed the meal, the company, and the ambiance. Since we cooked four types of dishes, we couldn't consume it all at once, so the staff prepared and packed the leftovers and handed it to us as we climbed into the van that took us home. We went home with some wonderful experience and a full happy belly. Plus leftovers for the next day!
To learn more about Amita Thai Cooking School, check out their website:
http://www.amitathaicooking.com/
If you have any questions regarding this Thai cooking class, please feel free to ask me and I'll be happy to answer any questions you may have!
Have you ever thought about combining fun with service on your holiday? If so, here are a few of our picks for worthwhile projects to support in Thailand.
<3 A