This article contains affiliate links. If you click on a link in this article, we may earn a small commission at no extra cost to you.
Hello everyone! I thought it would be nice to start a new series that I will call "Where to Eat in Bangkok." Since J and I love to eat (and we live in an awesome food paradise) I thought it would be nice to share some of our favorite eating spots in the city so that people planning a visit to Thailand might find some inspiration – maybe enough to go and enjoy the meal that we also enjoyed! Sure, you can (and should) always take a Thai cooking class, but sometimes you just want to chow down and enjoy all the delicious flavors Thailand has to offer.
Enter some of the best noodles in Bangkok: Wuanood or as we prefer to call it "Sexy Cow Noodles."
I love the rare occasions where I can find a sitter during the day so I can have a kid-free meal with J during his lunch break. I get to savor my whole meal without rushing and don't have to chase the boys all over the restaurant.
So on one of these beautiful offspring-less lunch dates I said "I want noodles!"
One of the nearest noodle places we remembered was one we had tried few years before. Here's the thing in Bangkok: there's so much good food here, unless a meal really blows you away, you're likely to forget all about it. Here the standard is so high "really good" just doesn't cut it.
And that was the case with Wuanood: I guess it did not make much of an impact the first time we tried it, because if it did, it would have made our favorites list. But we decided to give Sexy Cow Noodles another shot. And now we definitely suggest that you do the same!
Wuanood has only two branches at the moment, so it might take a special trip to give it a try. One restaurant is near the Ploen Chit BTS stop in a strip mall called Mahatun Plaza. There's another branch in Sathorn near the Chong Nonsi BTS station in Empire Tower.
And don't bother googling "Sexy Cow Noodles" that's just our nickname for the place, well because….Wuanood picked a very sexy and very provocative cow to be the mascot!
Just how sexy is the sexy cow? Sexy enough to make you blush, just take a look at that menu!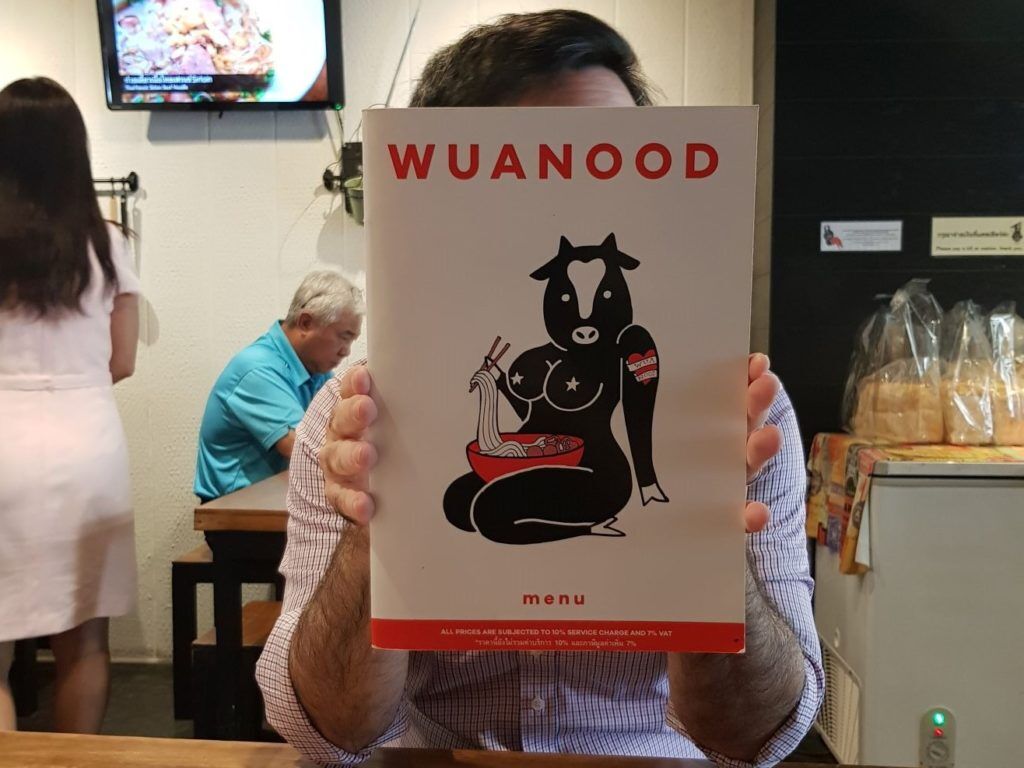 Whew! Might need a cold shower after just going through the menu!
Here's a tip: Wuanood is popular, so it's best to get there before people from the surrounding offices come for lunch. Just like much of Bangkok, if you get there at noon, you might have trouble finding a place to sit. If you're thinking of a late lunch to avoid the crowd, prepare for disappointment: your favorite menu items may be sold out.
The big difference this on this second Wuanood attempt was that we went with a Thai friend. This is another one of our biggest tips: if a local asks you to go to lunch with them, GO! Go and let them order, they will not steer you wrong!
That's the case with our Thai friend: we completely trust her in terms of food and what to pick on the menu. She recommended the Dry Pork Noodle in Creamy Tom Yum Soup, so that's what I ordered.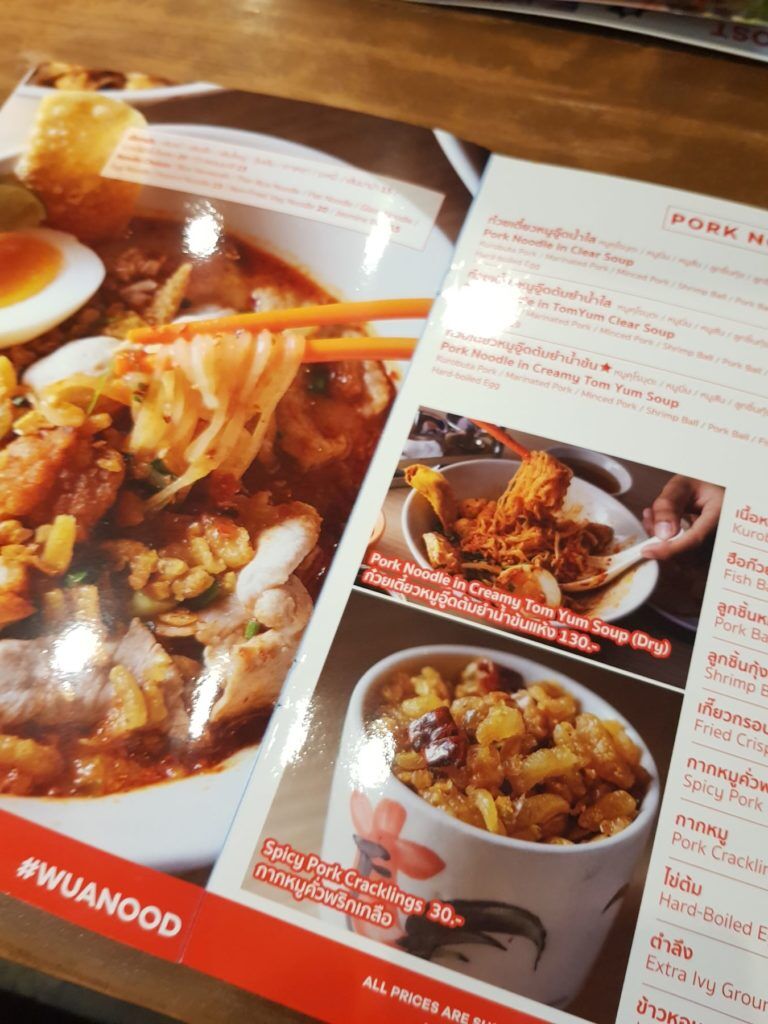 As in most Thai restaurants, there are a ton of condiments available to flavor your meal because sometimes Thai food needs to be a bit more spicy or salty or sweet.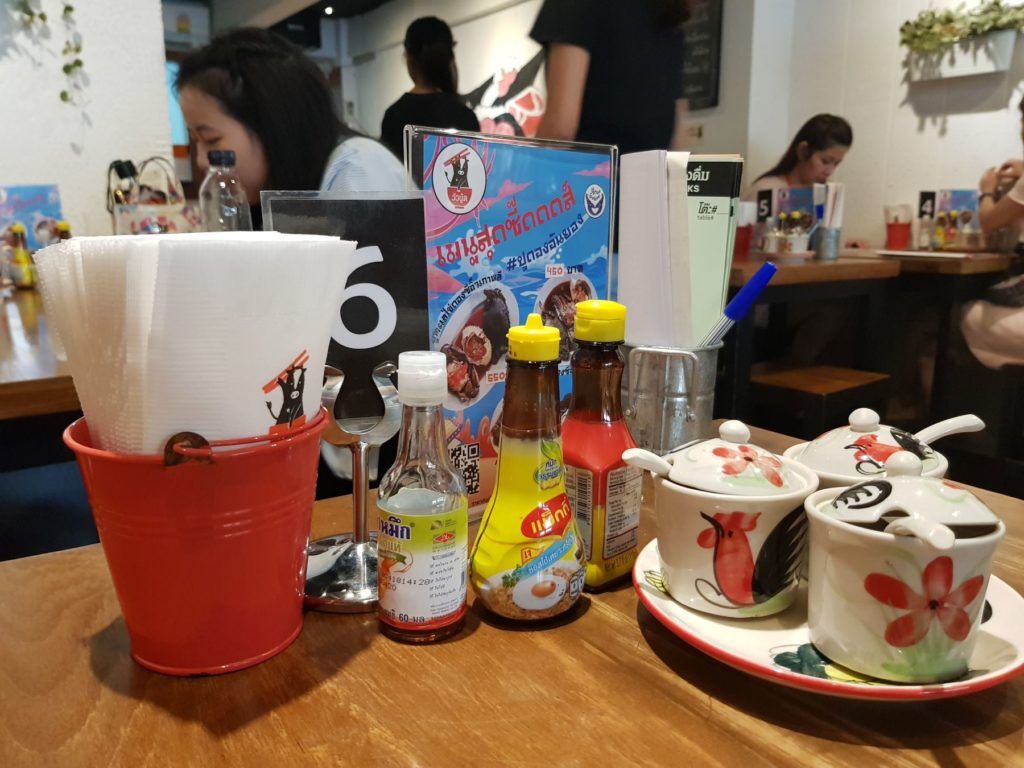 The restaurant will also ask you what kind of noodle you would like to have in the bowl. It depends on your preference but our friend recommended going with egg noddles, so we did not even consider any other kind of noodles. I also ordered extra crackling pork because, well, I'm a Filipina and I love my pork 😉
And a very nice touch, and one you don't see everywhere: Wuanood aslo offers a very refreshing glass of fresh guava juice that went perfectly with my noodles.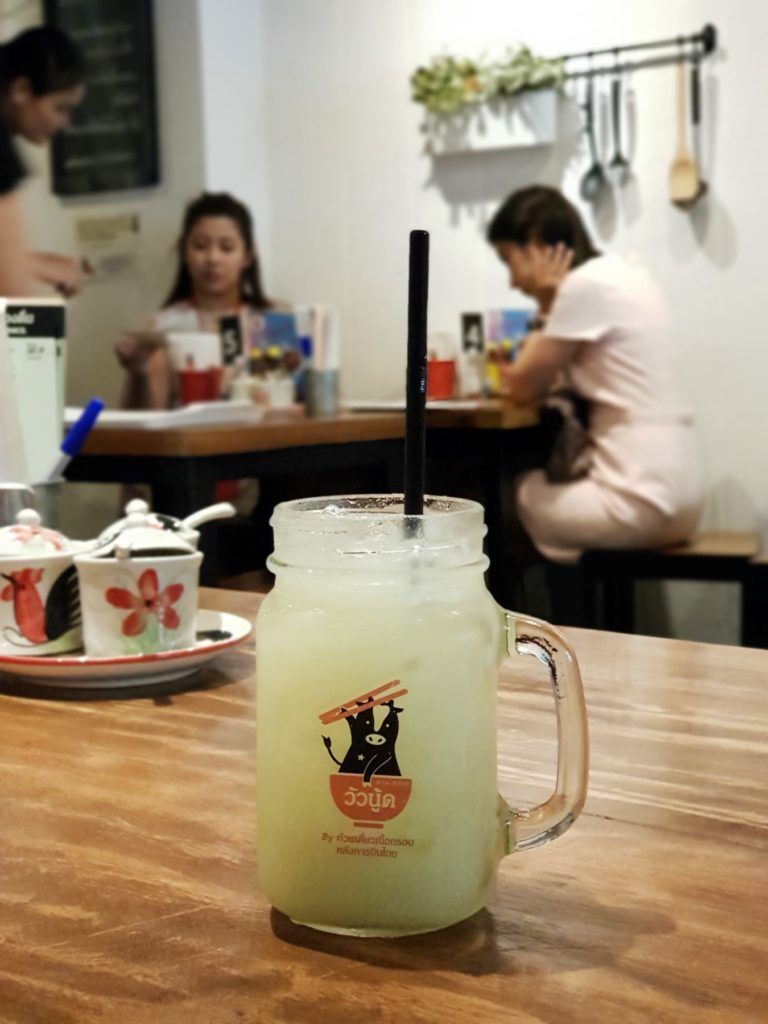 J's order came: a rice bowl with tasty beef that had some crackling pork on top – and another sexy (but slightly more modest) cow on a stick on top of that!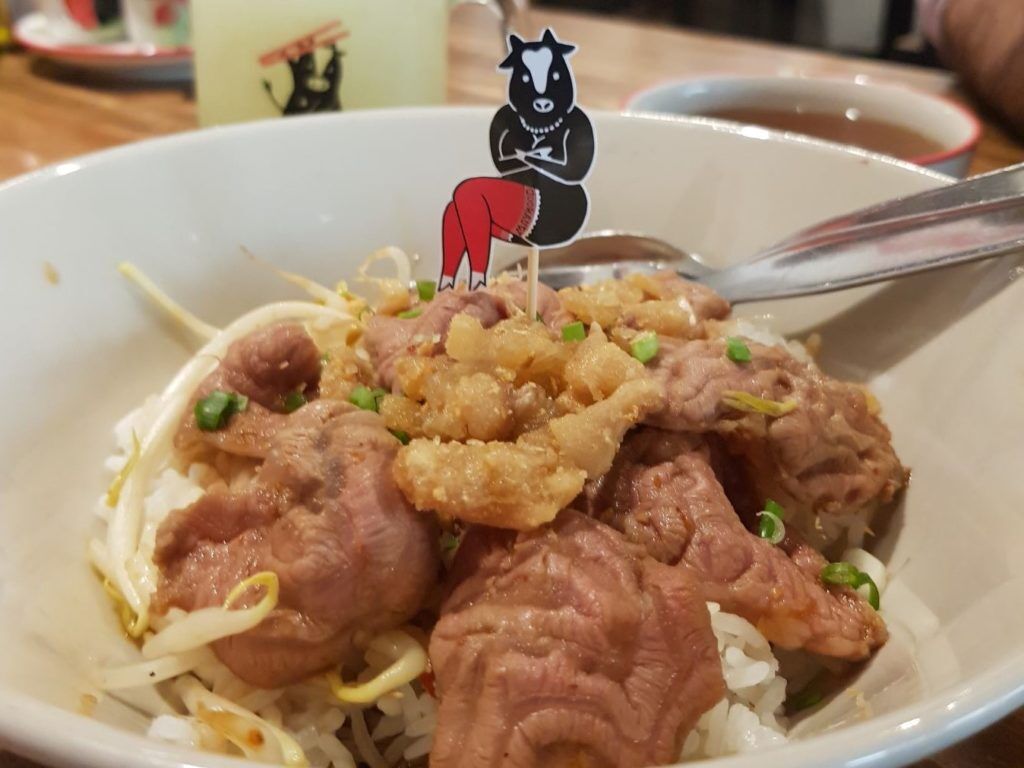 It was….good. Yes, good. Don't get me wrong, it was good good…
…but let's just say not as good as what I got 🙂
It's always a great idea of course to try a couple different dishes, but from that day forward, we know what to order at Wuanood: TWO bowls of yummy Tom Yum noodles!
So let's take a look at MY Dry Tom Yum Noodle Bowl, shall we? At first glance it looks good: it has some deep fried wantons, a boiled egg, fish balls, and pork with scallions on top.
But that's not the whole picture…wait for it…wait for it…and while you wait, give your bowl a mix and you'll find buried underneath are…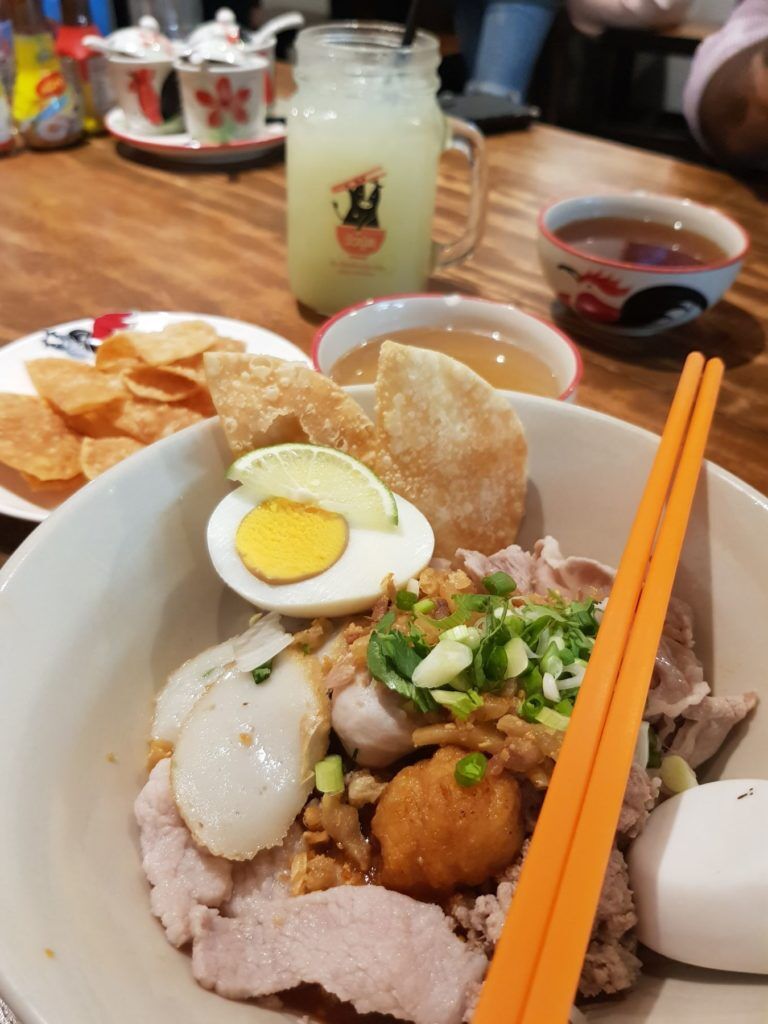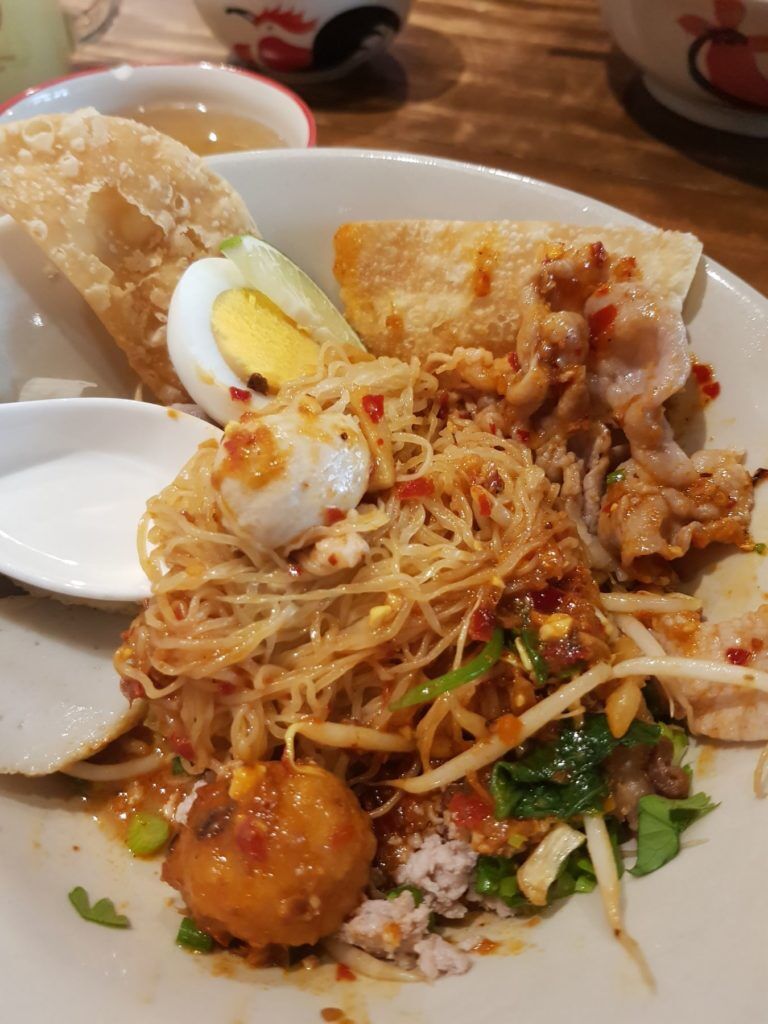 …noodles! Noodles bathed in tom yum sauce goodness!
Ok, even writing this right now makes me want to eat. Now I'm wondering if they have a 24 hour food service?
I'll check. Nope they don't! 🙁
But hey, they do have delivery during normal hours on Grab Food, Line, and Get!
Okay, where was I? Back to the noodles!
How would I describe the taste? Having this bowl is like having so many flavors explode in your mouth at the same time that you can't even tell what's going on. The mixture of sweet, sour, spicy, and salty along with the different textures in your mouth is just mind blowing.
All this will set you back around 130 Thai baht per bowl, or about $4 USD.
We really enjoyed rediscovering Wuanood and are very thankful that our Thai friend convinced us to give it another chance. Sexy Cow Noodles has since become one of J and I's weekly go-tos.
Good to know: In our experience, Wuanood only accepts cash for small orders – so that means you won't be able to use your credit card if your order is under certain amount. Make sure you plan ahead and have some Thai baht handy!
One word of caution: the scandals continue all the way out the door! When you pay your bill at the counter, the sexy cow will try to lure you into trying sexy ice cream too! We have not yet yielded to the temptation, but we have definitely cracked up with the names they give to their ice cream flavors. Here, take a look: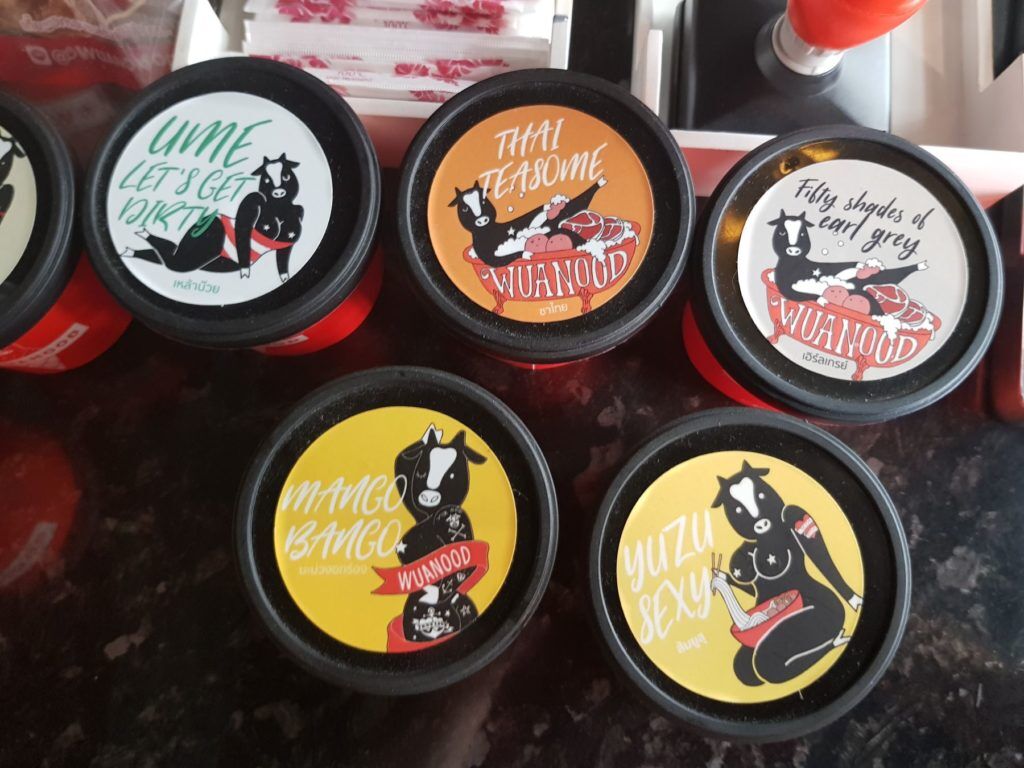 Hopefully you're inspired enough to seek out Sexy Cow Noodles!
For some more tips on travel in Thailand, we recommend the following:
Cheapest Flights to Thailand:
If you're not already in Thailand, you have to get to Thailand. For cheap airfare, our first stop is always Momondo where you can sort for cheapest, quickest, and, brilliantly, best (which basically gives you an idea of how painful the flight will be on a smiley face scale from 1-10). We'll then double check with another site like JetRadar and the airline website itself to make sure we're getting the best price.
Best price on hotels:
We always start our search on Tripadvisor and go from there. Once we settle on the cheapest option, we get further discounts by making the purchase through the Ebates/Rakuten website. For example, if a Tripadvisor search shows that Hotels.com has the lowest price, instead of going directly their website, we go to Hotels.com through the Ebates/Rakuten portal, which gives us an additional 3.5% (or whatever the the rate is that day) cash back. Easy.
Getting Around:
While some may choose to rent a car, there's not a big need in Bangkok itself. Grab (Thailand's Uber equivalent) and the BTS/MRT systems make exploring the city easy.
If you can't tell, we're huge fans of Wuanood/Sexy Cow Noodles. Make sure to include it while planning your Bangkok adventures!
Also, don't forget to book a Thai Cooking Class, they're tons of fun!
When you're ready to seek out adventures out of the city, we recommend checking out something a bit off the beaten tourist path like a Jungle Trip on the River Kwai.
And while you're planning, please consider combining service with your holiday. Here are a few of our picks for worthwhile projects to support in Thailand.
<3 A