This article contains affiliate links. If you click on a link in this article, we may earn a small commission at no extra cost to you.
As part of the best job in the world, I've had the great privilege of traveling to Nepal more times than I can count.  While most of the time my schedule is absolutely packed with work meetings and activities, once in a while, I'll be able to carve out some free time.
During one of my trips, I found myself in Pokhara (the country's second largest city) with a little time to spare. As a big fan of graffiti and street art, I decided to go out exploring.
Get Your Bearings: Most of the restaurants, bars, and shops are concentrated on the east side of the Phewa Lake, the epicenter of tourism in Pokhara.  
If you're planning on visiting Nepal, Pokhara will likely be on your itinerary.  A welcome change from the hustle and bustle of Kathmandu, Pokhara is the gateway to the Annapurna region, home of some of the world's most challenging and beautiful treks, including the Annapurna Circuit.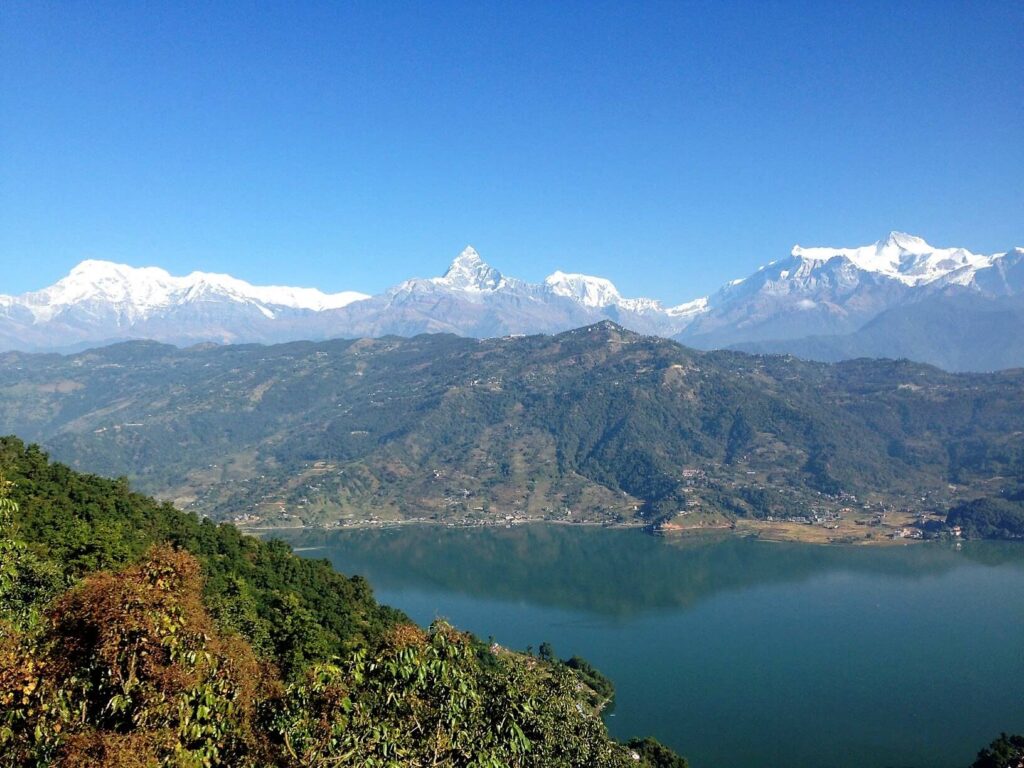 When you visit Pokhara, you'll most likely be staying near Phewa Lake, where there's a concentration of shops, restaurants, and trekking companies…and a TON of lodging options (our hotel of choice? The Lakeside Retreat).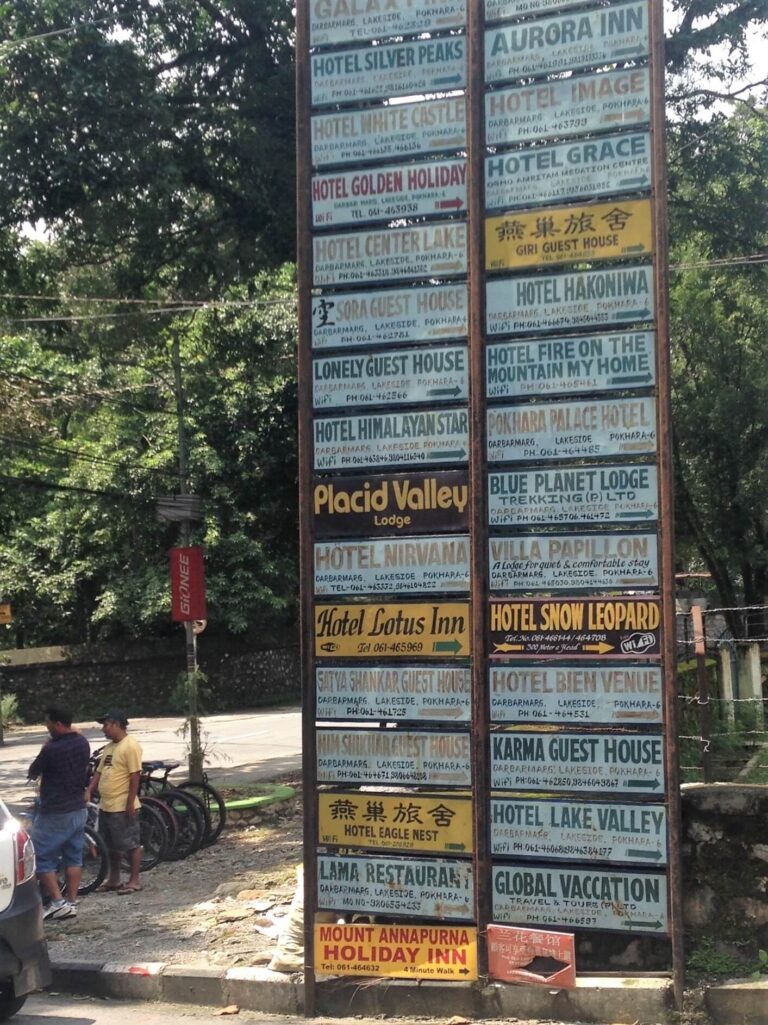 About half way through the main strip, just off Baidam/Lakeside Road, make a turn towards the water.  There's a small footpath with nice views across the the lake.  If you look across the lake and up the hill, you may catch a glimpse of the World Peace Pagoda or spot some colorful boats.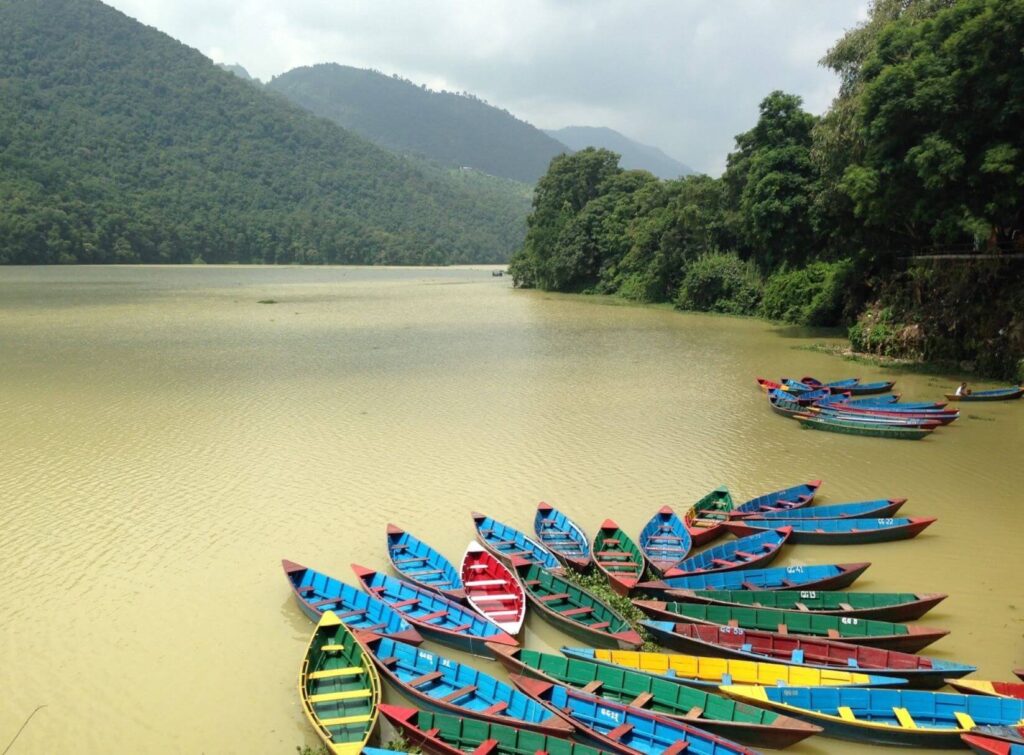 After the lakeside path ends, it re-connects to Lakeside/Baidam Road.  Circling back south towards the hotel, I stopped every few minutes to document some of the excellent street art that's all around town.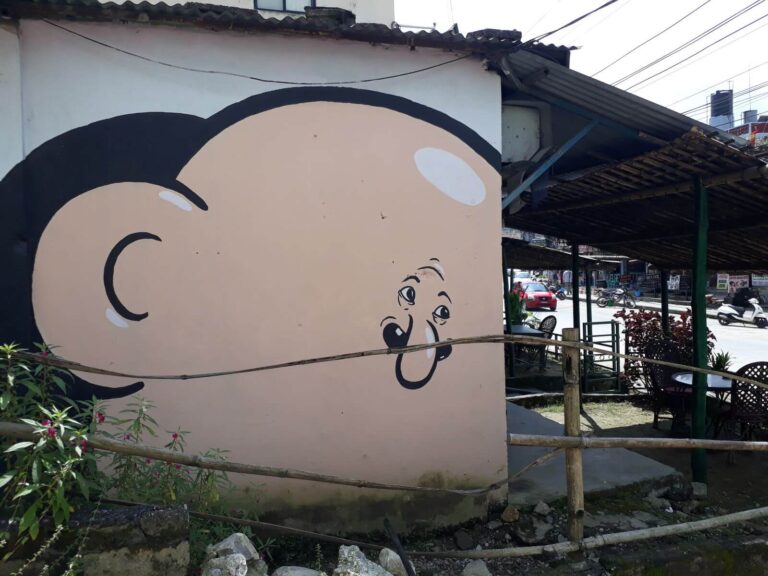 The first piece I noticed was this portrait of a jolly bald man with tiny eyes, small mouth, a pretty decent sized nose, and one massive ear.  I'm not sure what happened to this gentleman, but he doesn't seem too bothered.
The famous Welcome Peacock greets you on the north side of lakeside Pokhara as you travel back towards the center. You'll notice the word "Nandoj" above the peacock, pointing the way to the now extinct Namaste Air Nandoj Restaurant and Bar.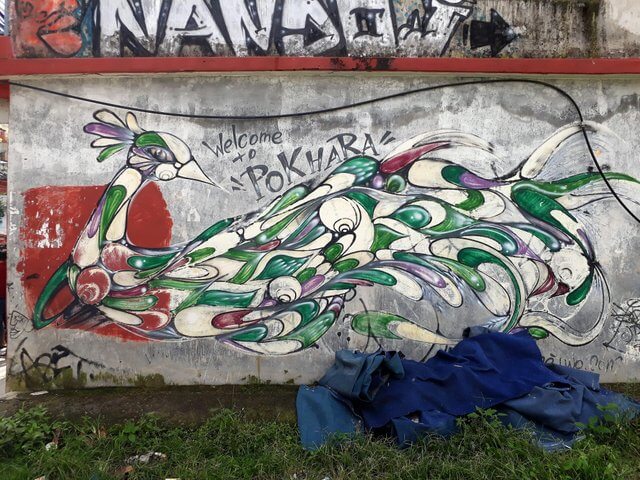 A lot of the art in Pokhara is to used to decorate hotels or call attention to restaurants or cafes.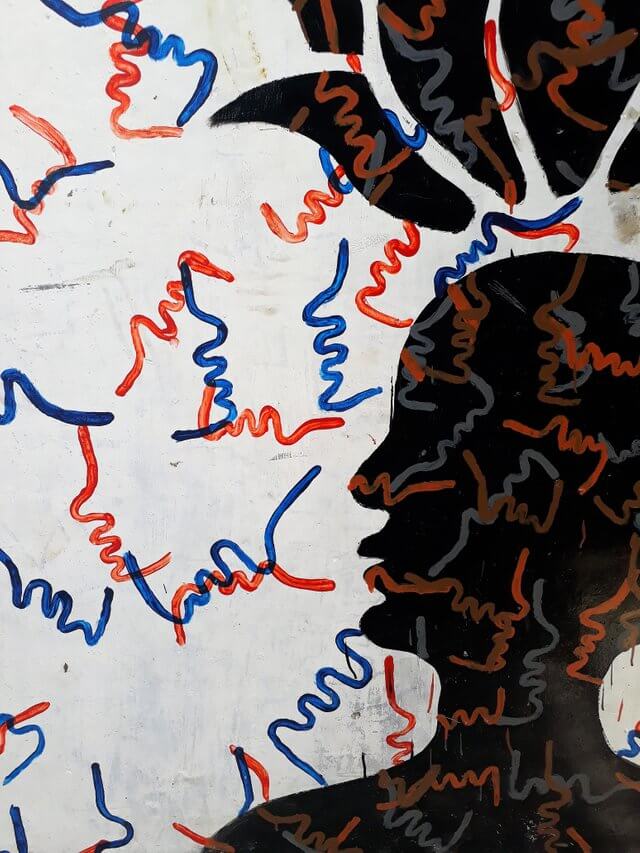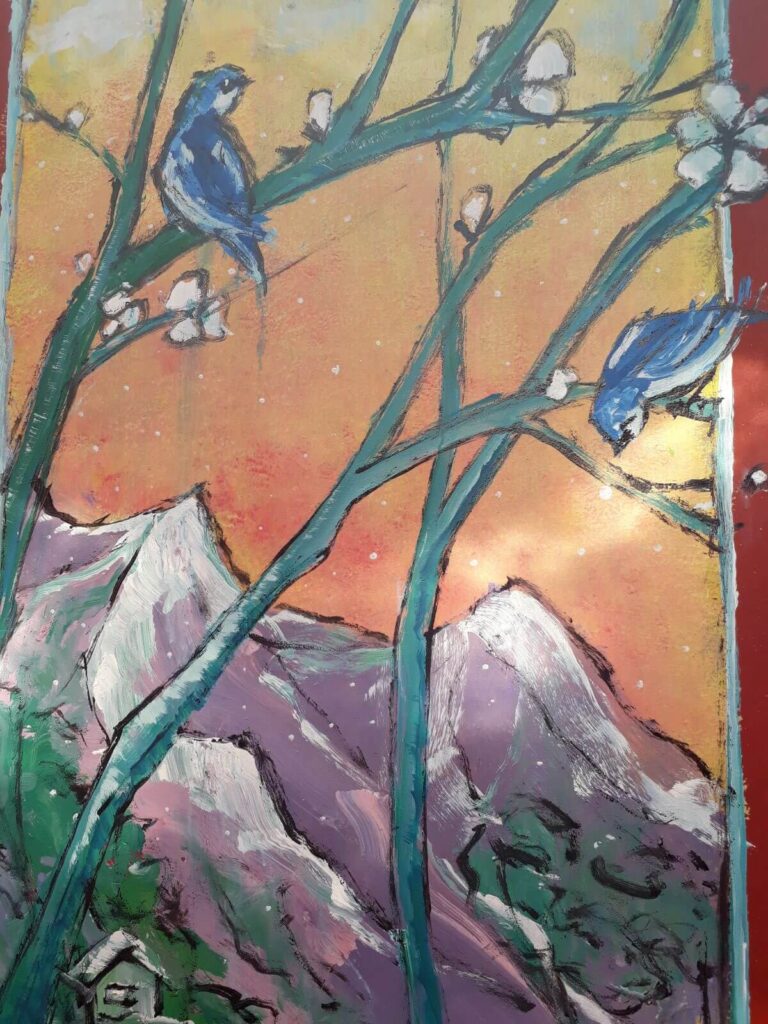 The Japanesesque piece is hidden on a small stairway leading up to a local restaurant. While the Homer Simpson…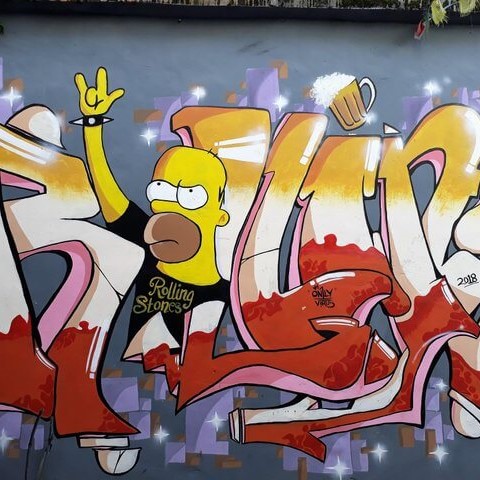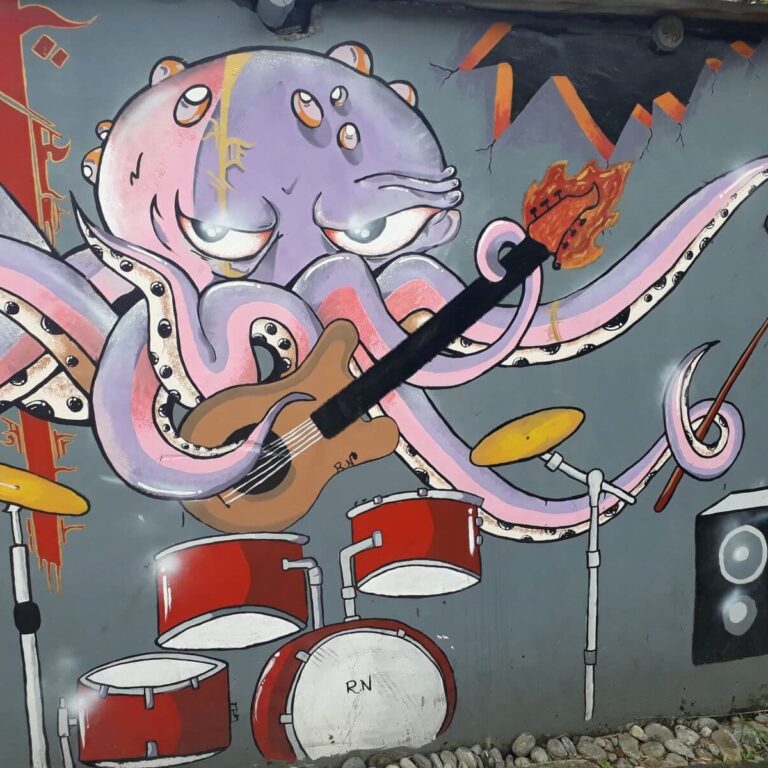 ……and the ROCKTOPUS are on the walkway that leads down from Baidam Road to the Rolling Stones Restaurant and Bar.
Most of the street art I found while exploring Pokhara this day looked relatively new.  You can see "2018" on the right side of the Homer graffiti.
You'll also run into others that were created years ago.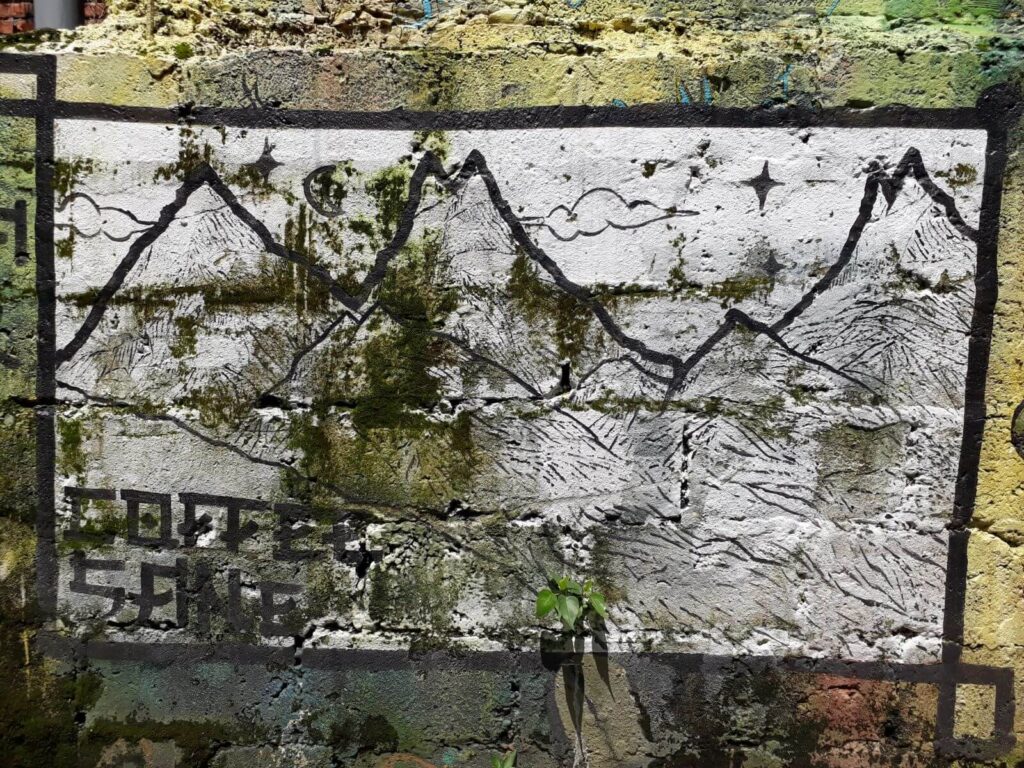 I enjoy the older pieces as well, as it's interesting to see how nature interacts with art, adding yet another dimension to the artist's creation.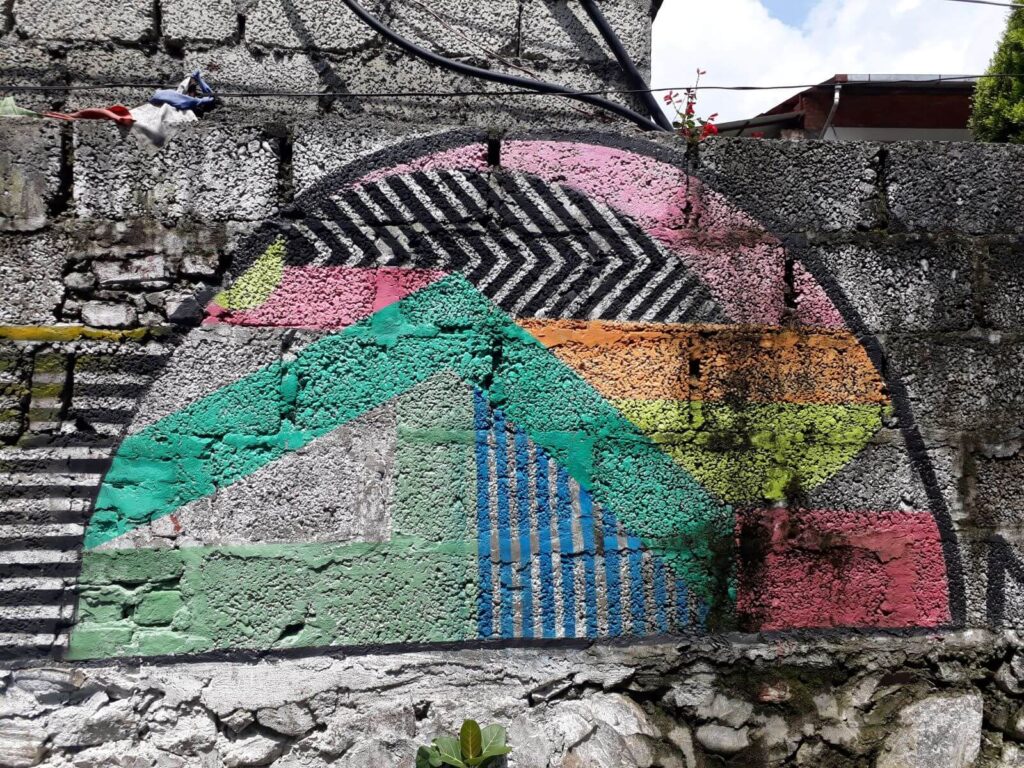 You will be able to see a wide range of street art in Pokhara. Some can be very light and cartoony like this happy and welcoming Namaste Owl…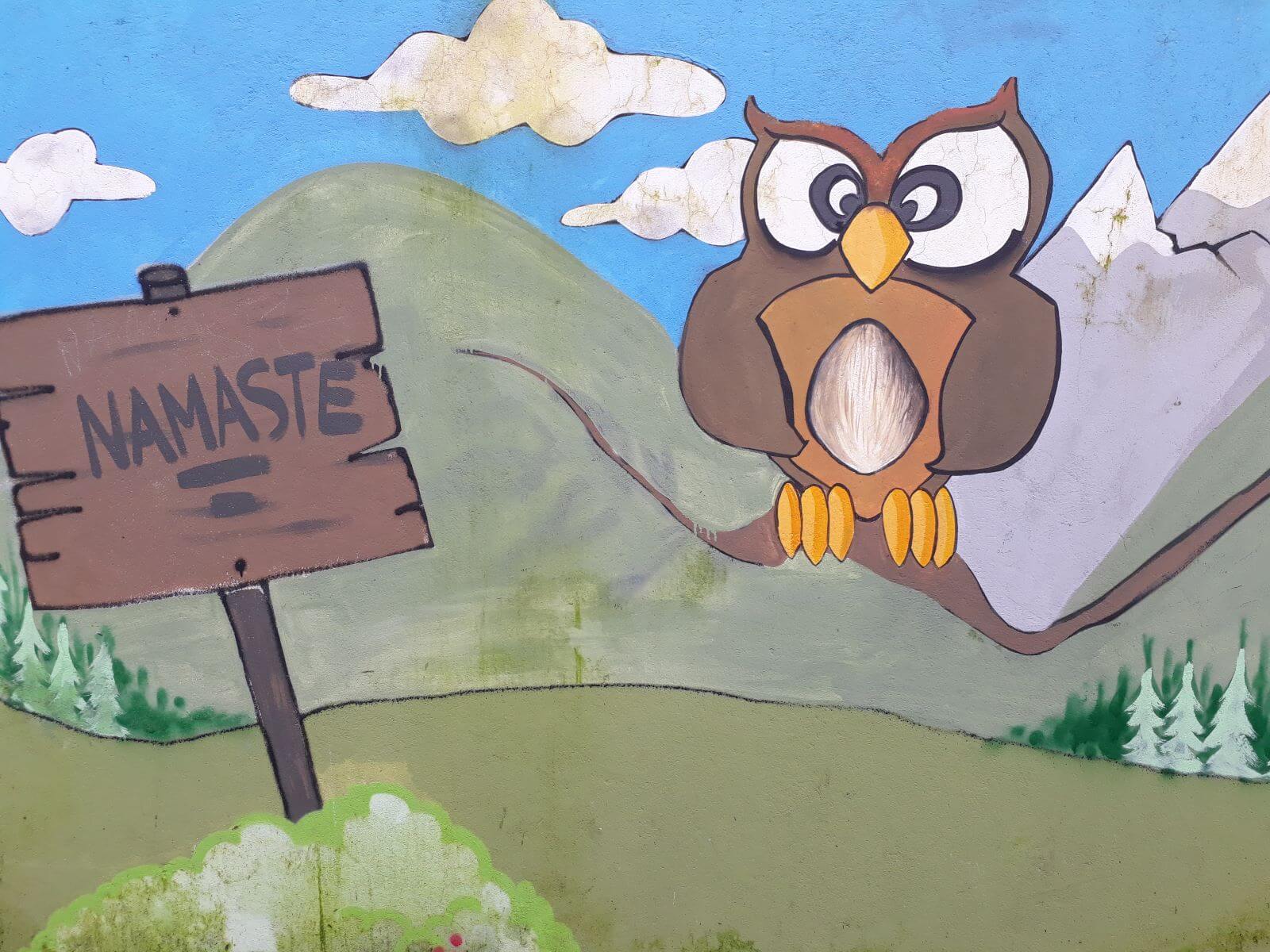 …and this friendly guy with a topi (a style of hat popular in Nepal):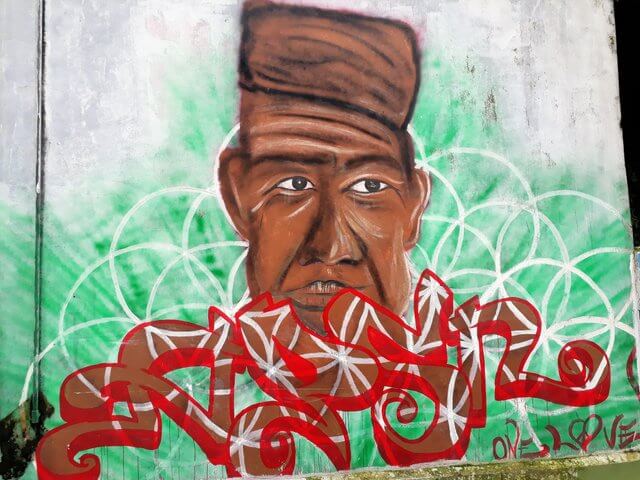 Others portray real people…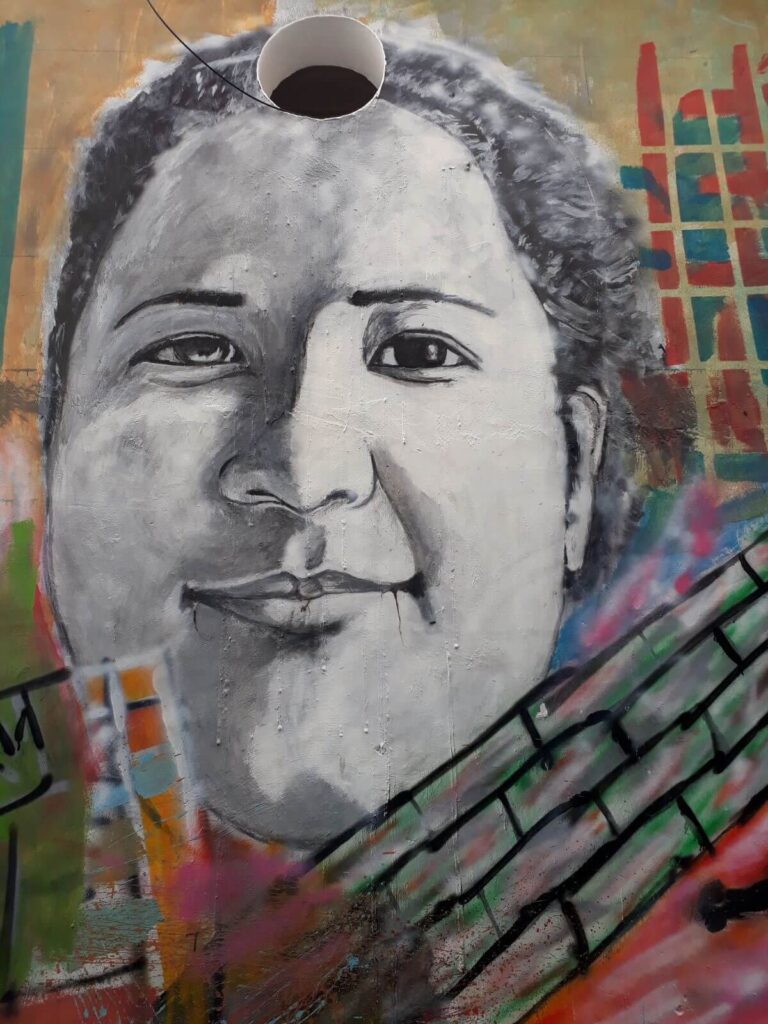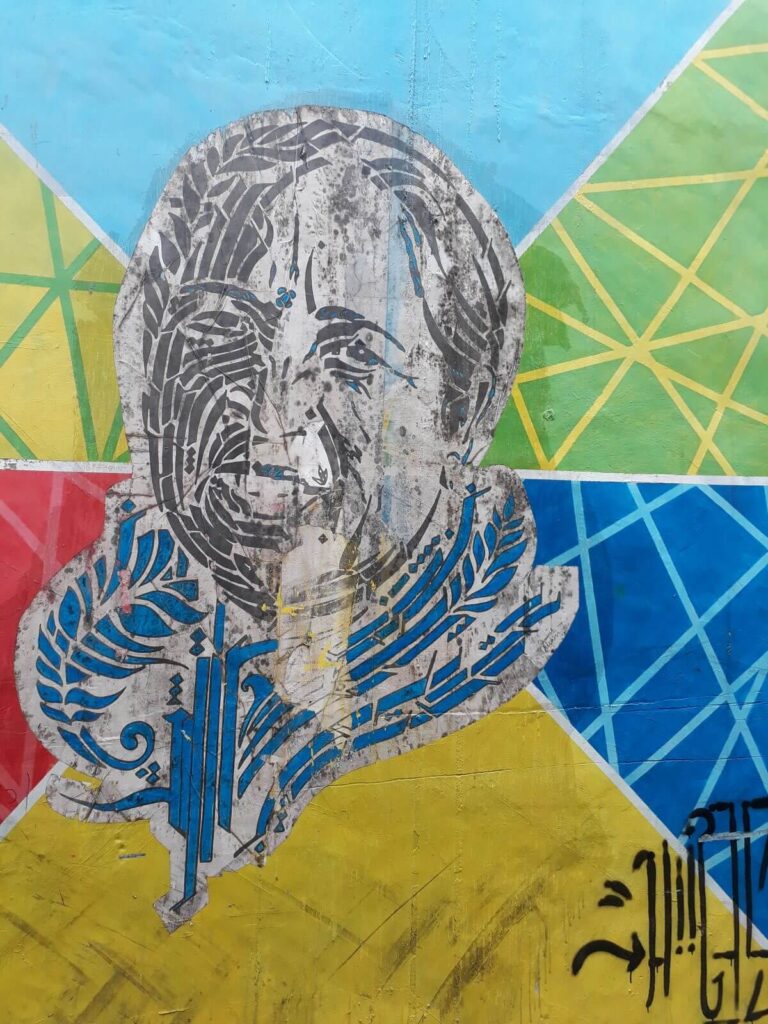 …and some seem to be taking on more serious social issues: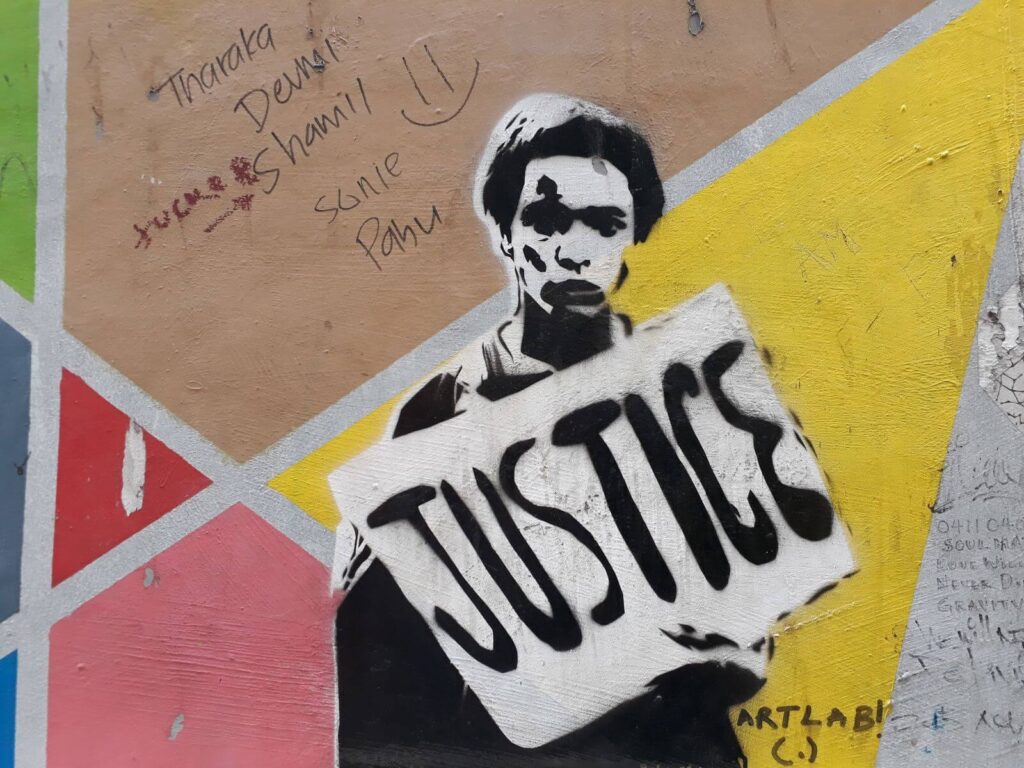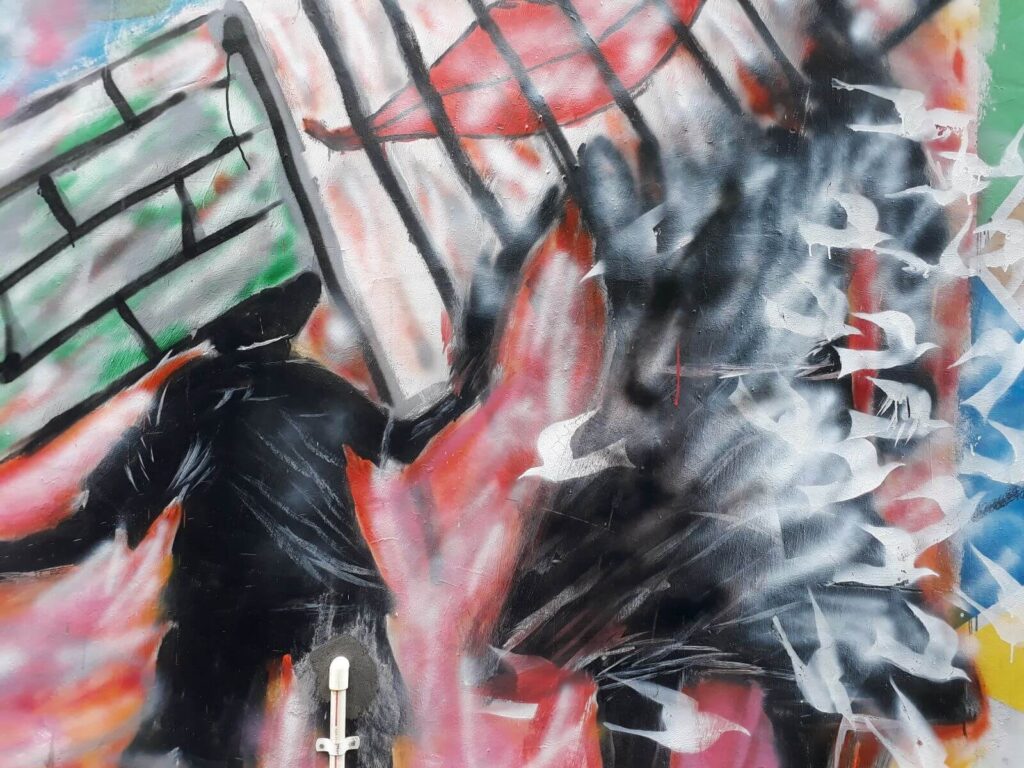 There was a plane to catch, so I was only able to scratch the surface of the Pokhara street art scene.  I look forward to getting back there soon, as there is a lot more waiting for me to discover.
Nepalis are wonderful, warm, and very artistic – there's absolutely tons of street art in this town.  If you appreciate street art and graffiti, you should definitely put Pokhara on your list, it's very worth exploring!
The next time you find yourself in Pokhara and want to track down some of the art you see in this post, here's the exact spot on the map where you should start your walk:
If you start at the pin and work your way south, you'll see all of the street art I've shared on this post, plus much more!
Have you decided to check out the street art in Pokhara, Nepal?  Here are some trip practicalities to help you plan:  
Trip Planning/Inspiration: 
Cheapest Flights to Nepal: 
If you're not already in the Nepal, you have to get to there.  For cheap airfare, our first stop is always

Momondo

 where you can sort for cheapest, quickest, and, brilliantly, best (which basically gives you an idea of how painful the flight will be on a smiley face scale from 1-10).  We'll then double check with another site like JetRadar and the airline website itself to make sure we're getting the best price.
Best price on the hotel: 
We usually start our search on Tripadvisor and go from there.  Once we settle a few good options, we get further discounts by making the purchase through the Ebates/Rakuten website.  For example, if a Tripadvisor search shows that 

Hotels.com

 has the lowest price, instead of going directly their website, we go to Hotels.com through the Ebates/Rakuten portal, which gives us an additional 3.5% (or whatever the the rate is that day) cash back.  Easy.
On this trip, we stayed at the The Lakeside Retreat.  Clean, friendly, with nice mountain views!
Or find yourself a great local option in Pokhara with AirBnB!
I hope you enjoyed this glimpse into the street art and graffiti in Pokhara.  Feel free to reach out if you have any questions and I hope you make it there someday to check it out for yourself!
TAGS: ADVENTURE, NEPAL, STREET ART