This article contains affiliate links. If you click on a link in this article, we may earn a small commission at no extra cost to you.
If you had asked me years ago which countries I'd most like to visit, India would have been in the top three. 
Why? 
Well, I guess I first started fantasizing about India when I was tasked with doing a history report in high school.  My report consisted of everything about the country: from history to architecture, literature, culture, politics – everything.
Another reason I felt drawn to explore India is that I love street photography.  With all the activity, color, and friendly faces, India is a perfect place to brush up on your street snaps.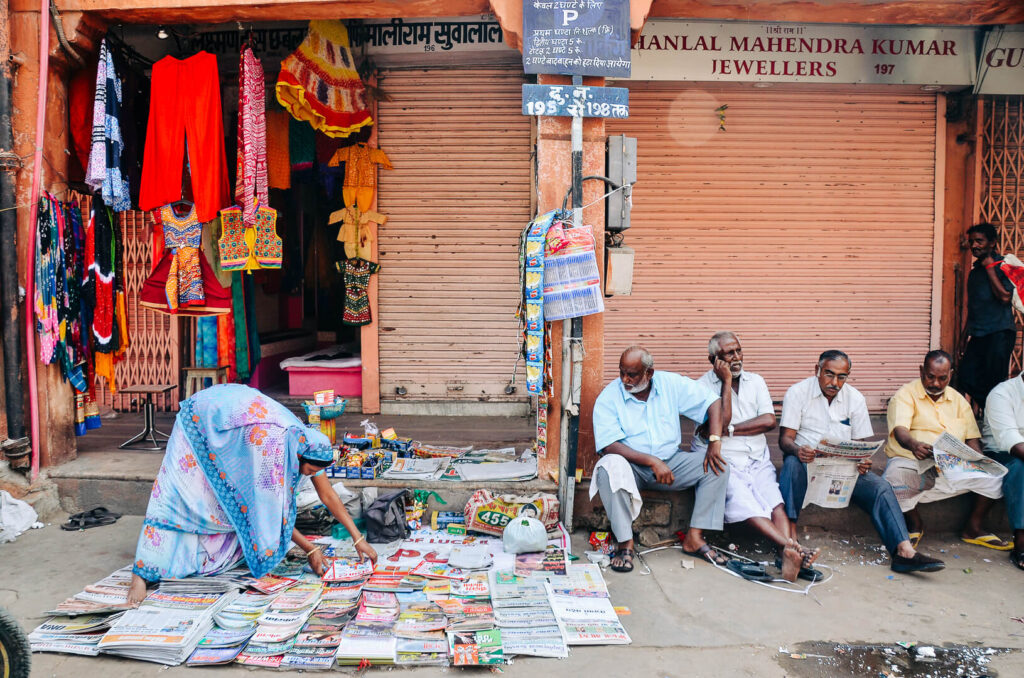 So when J told me he was traveling to New Delhi for an upcoming work trip, me and six month old L were on board – my dream of seeing India would finally come true!
But how is travel in India with young kids?  A bit of an adventure, but highly recommended!  The people of India are exceptionally warm, welcoming, and love children.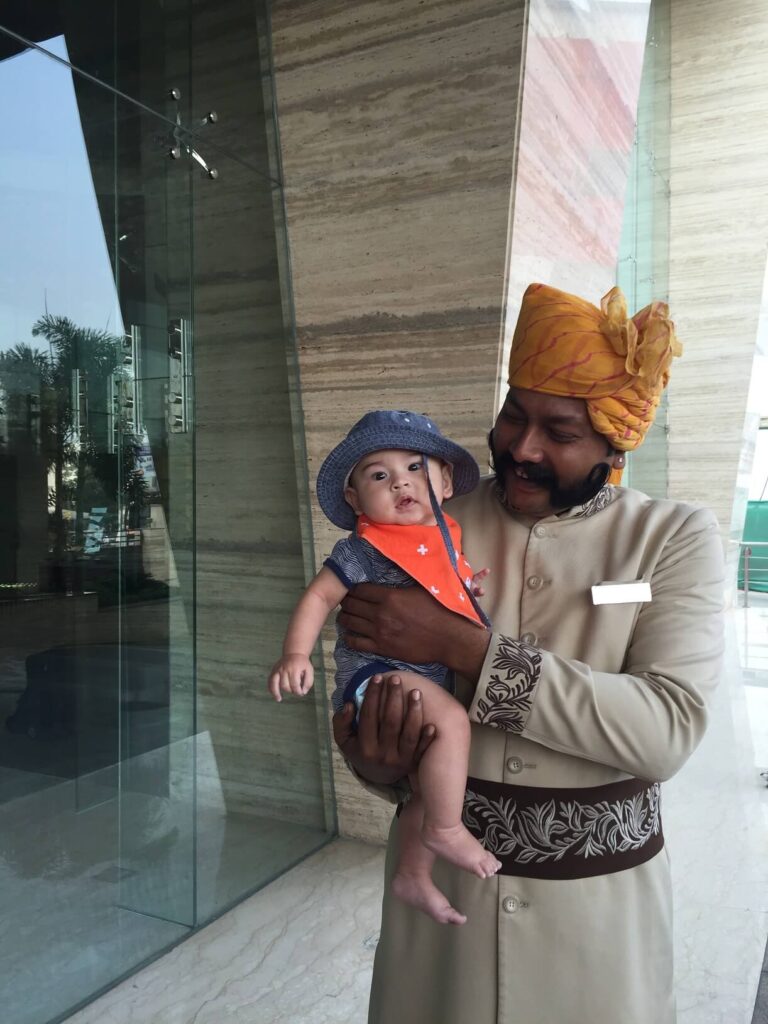 We happened to fly into New Delhi right after the Diwali Festival.  These first few days may hold the record for the worst air pollution we've experienced in our lives. It was truly horrible in the capital. There was smog inside the hotel room!
Over a long weekend after J's work was done, we flew out of Delhi and into Rajasthan, specifically Jaipur.  The one-way fare cost us about $30 USD per ticket.
Jaipur is the capital of the Indian state of Rajasthan, in Northern India.  Known as the Pink City because of the dominant color scheme of its buildings, Jaipur is also part of the Golden Triangle Loop, a very well traveled route where visitors make a circuit including Delhi and Agra as well.
So what did we do with a six-month old in Jaipur?  Like most visitors, we prioritized the Top 6 Don't Miss Sites starting with…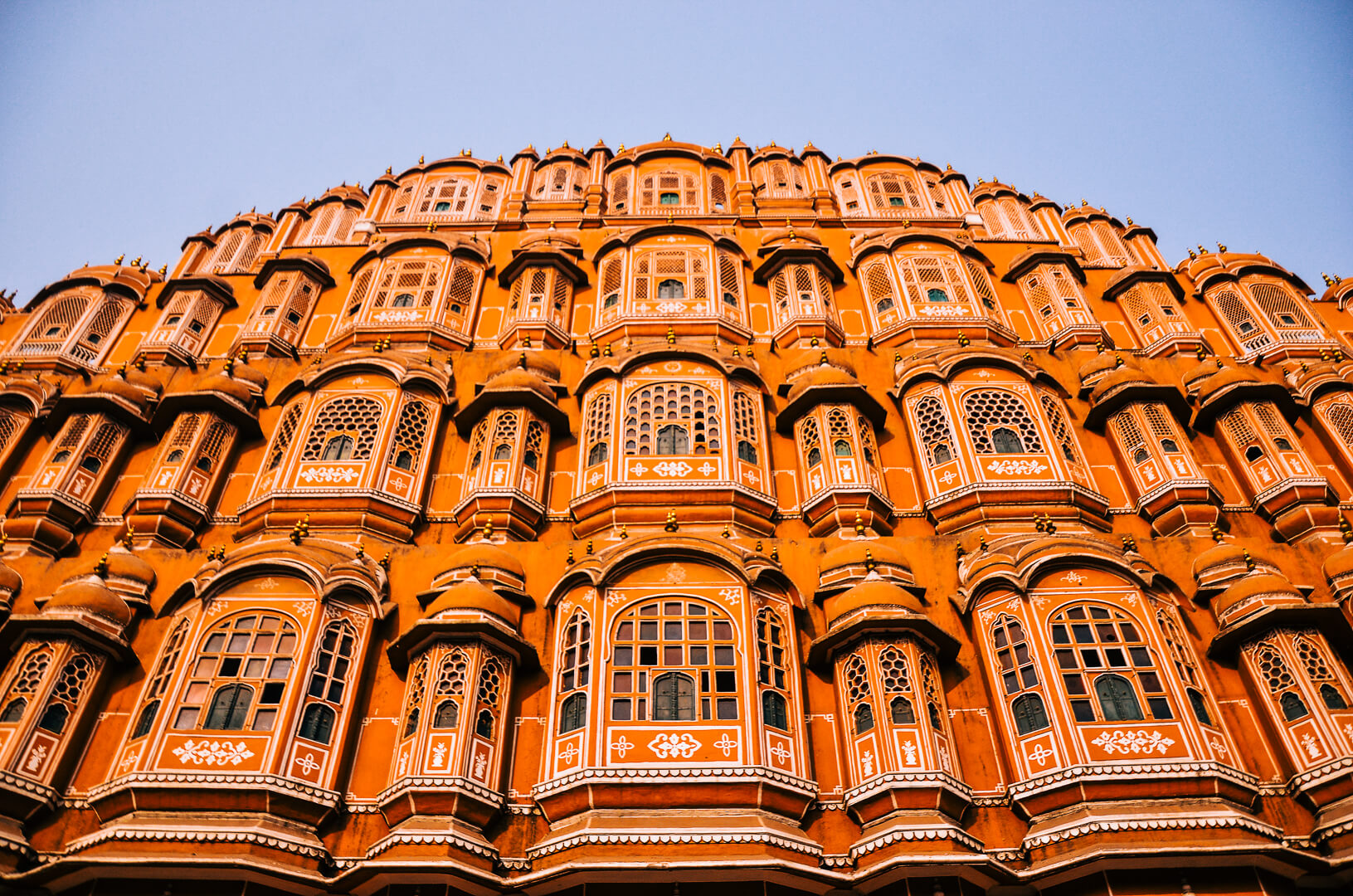 Beautiful right?  Iconic Hawa Mahal is nestled in the heart of the city on the edge of the City Palace. Built in 1799, it is a stunningly unique piece of architecture that you shouldn't miss. It's like a honeycomb inside of a beehive with 953 small windows. This was built to allow the royal ladies to observe daily lives and festivals passing by on the street below without being seen. 
You can climb to the top as well, where you'll be treated to lovely views of Jantar Mantar and the City Palace.
Travel tip: Go to Hawa Mahal early.  It will be less crowded and the lighting is ideal.  Consider exploring the area as you wait for Hawa Mahal and the City Palace to open.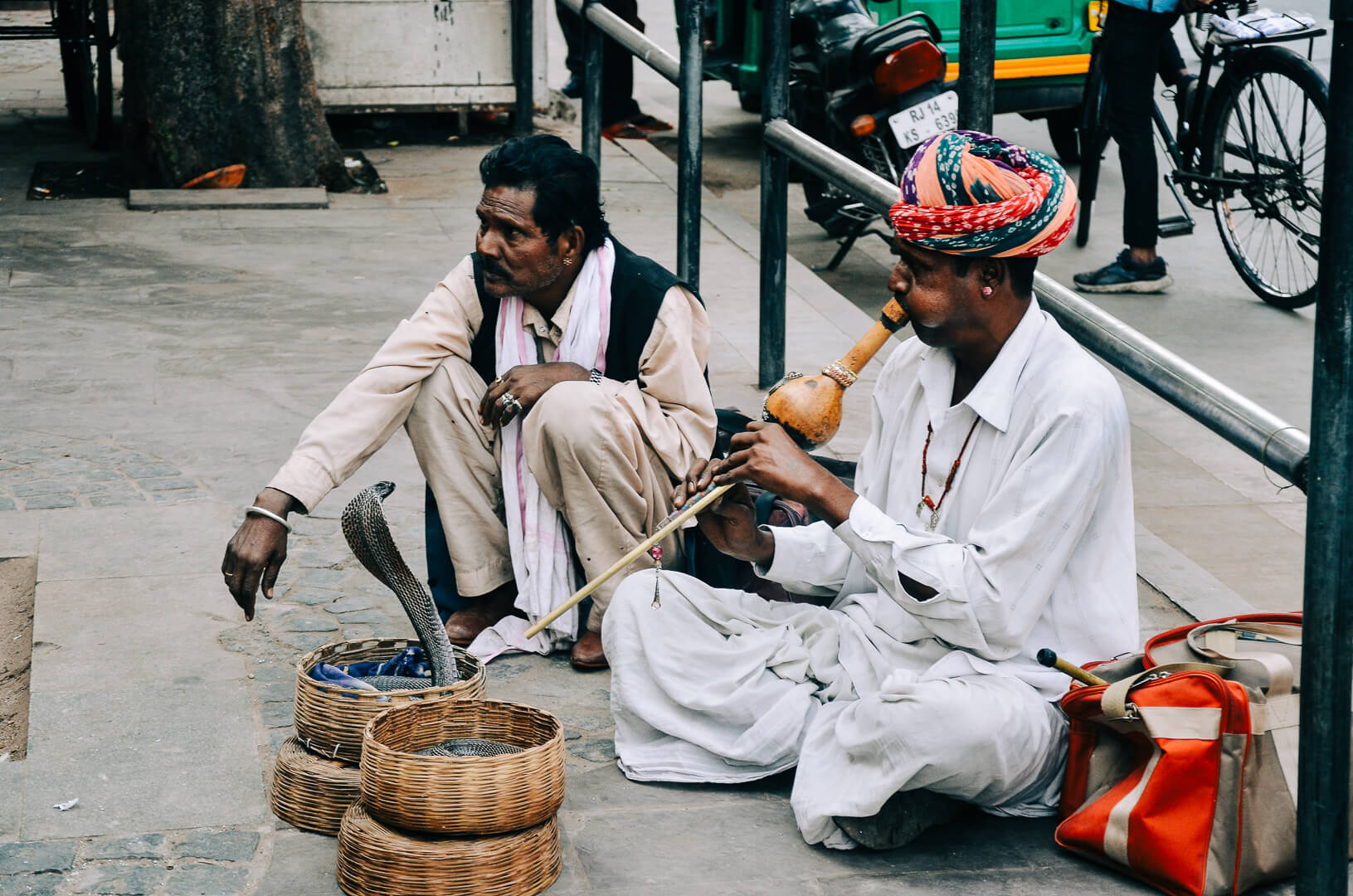 Since we arrived early and both Hawa Mahal and the City Palace were still closed, we decided walk around the neighborhood while we waited for things to open.  Across from Hawa Mahal is a bustling market where a lot of different merchandise and food is sold.  Entertainers like this snake charmer can also be found on the streets in the area.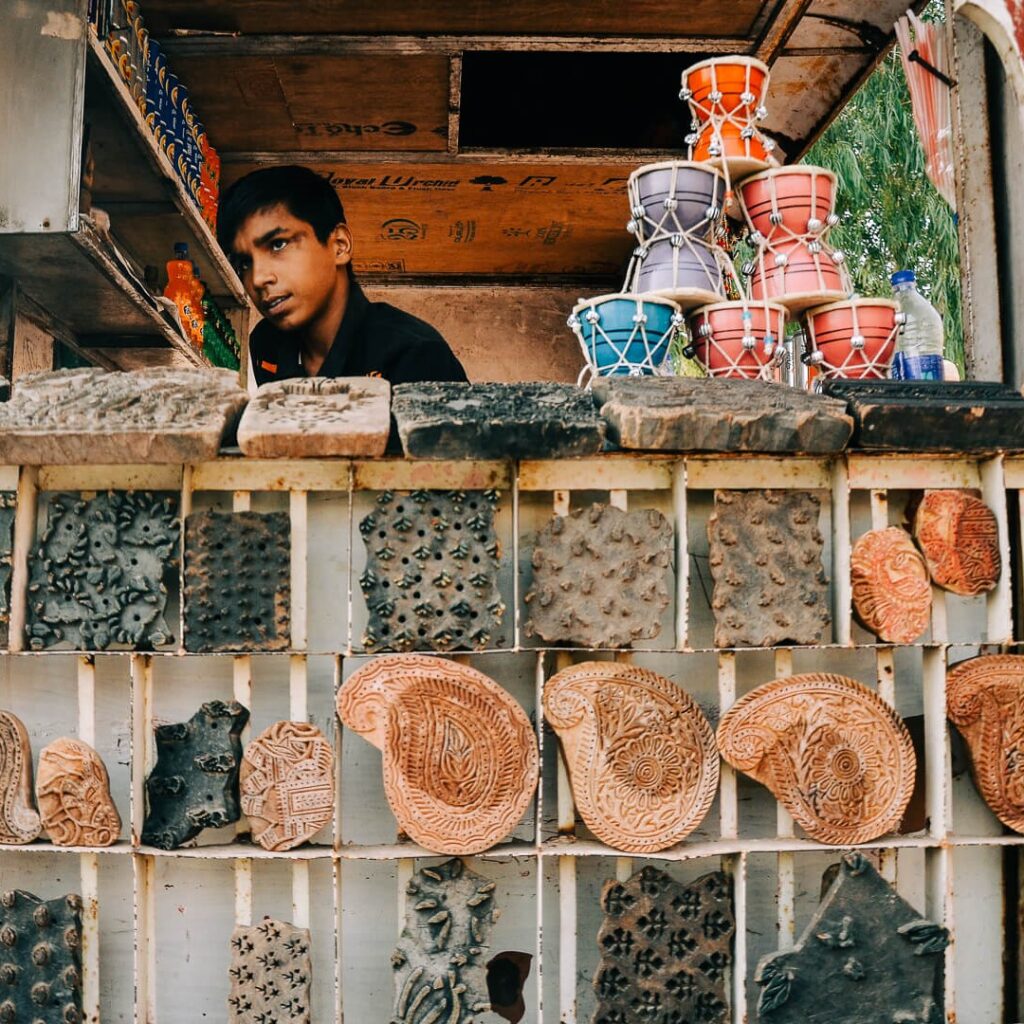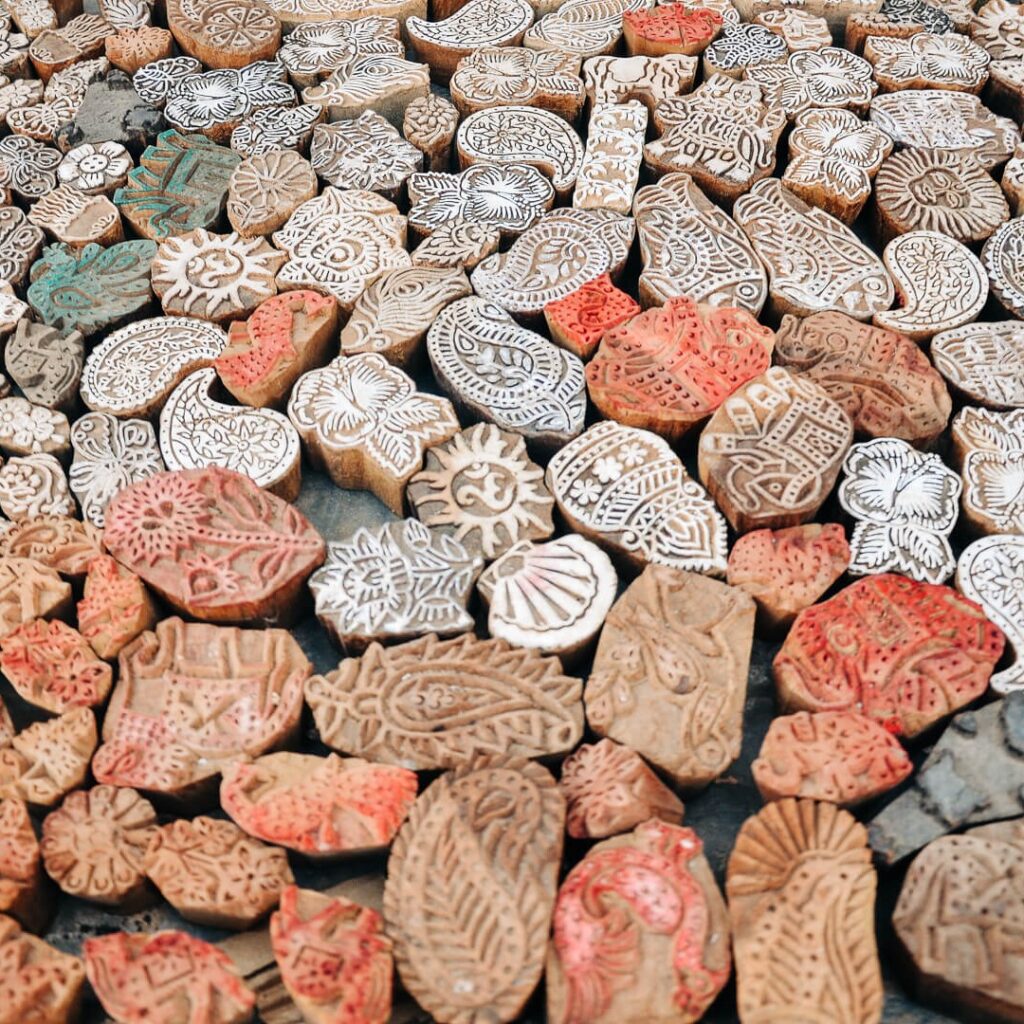 We took some time to look around and found some interesting things in the market.  This vendor was selling carved stamps for textiles which could be used for paper products as well.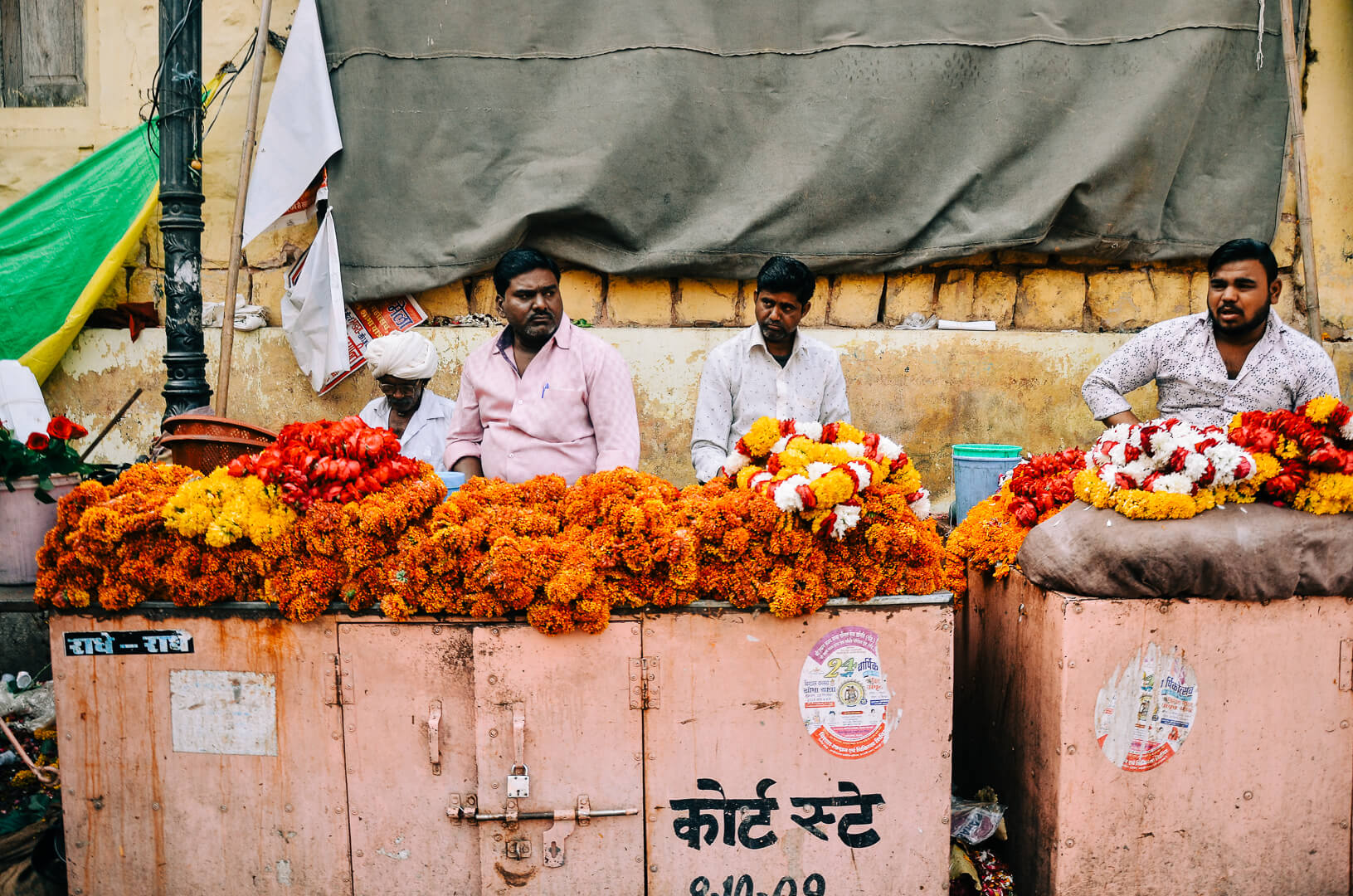 If you're looking for the perfect place for street photography, you should head directly to Hawa Mahal market.  There is lots of life and lots of activity:  you will have plenty of subjects to photograph and a great glimpse into everyday life.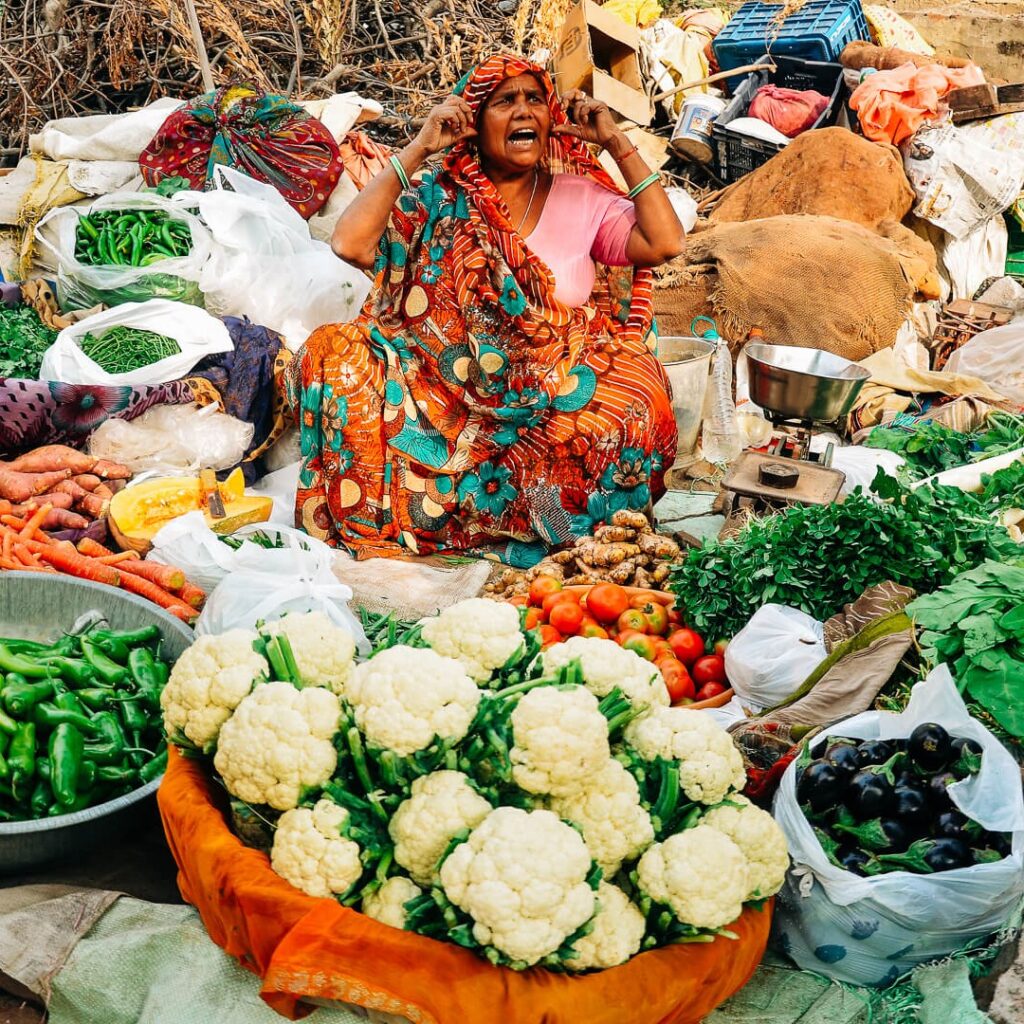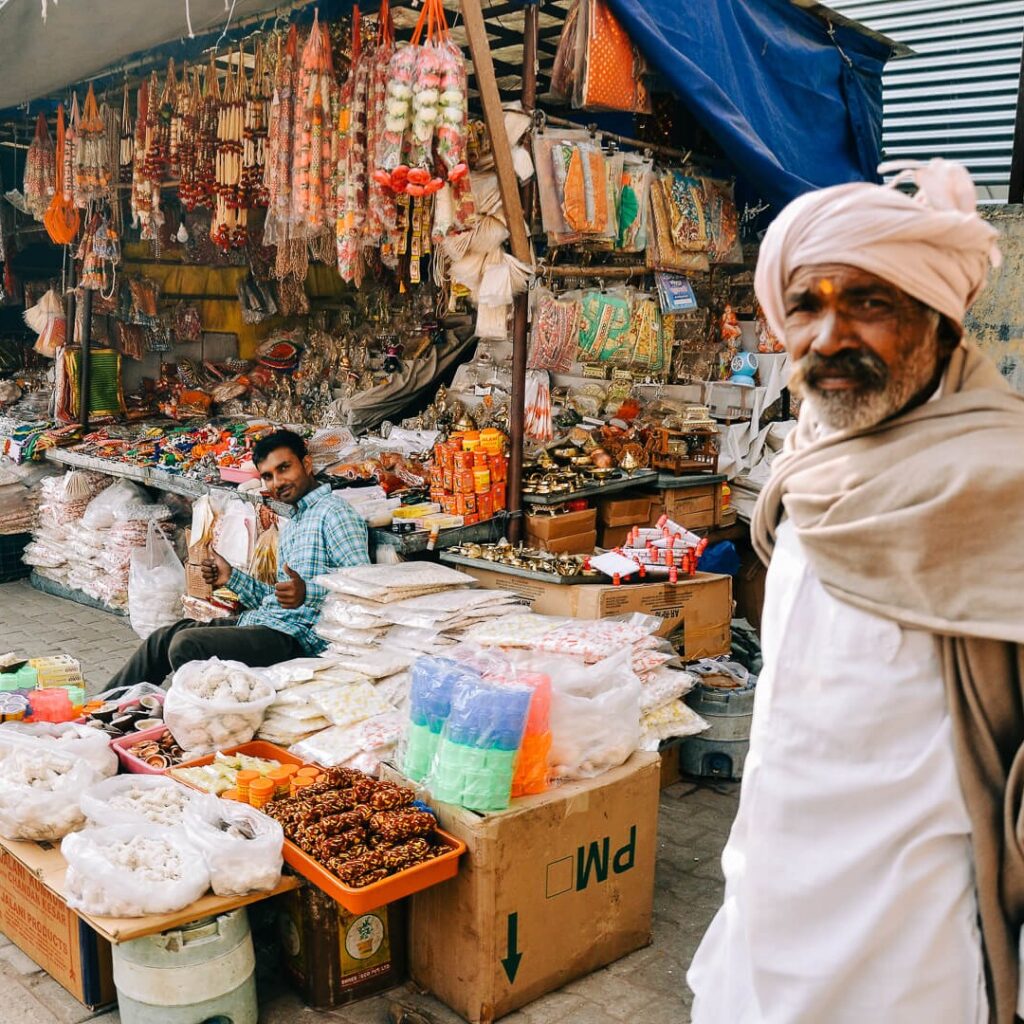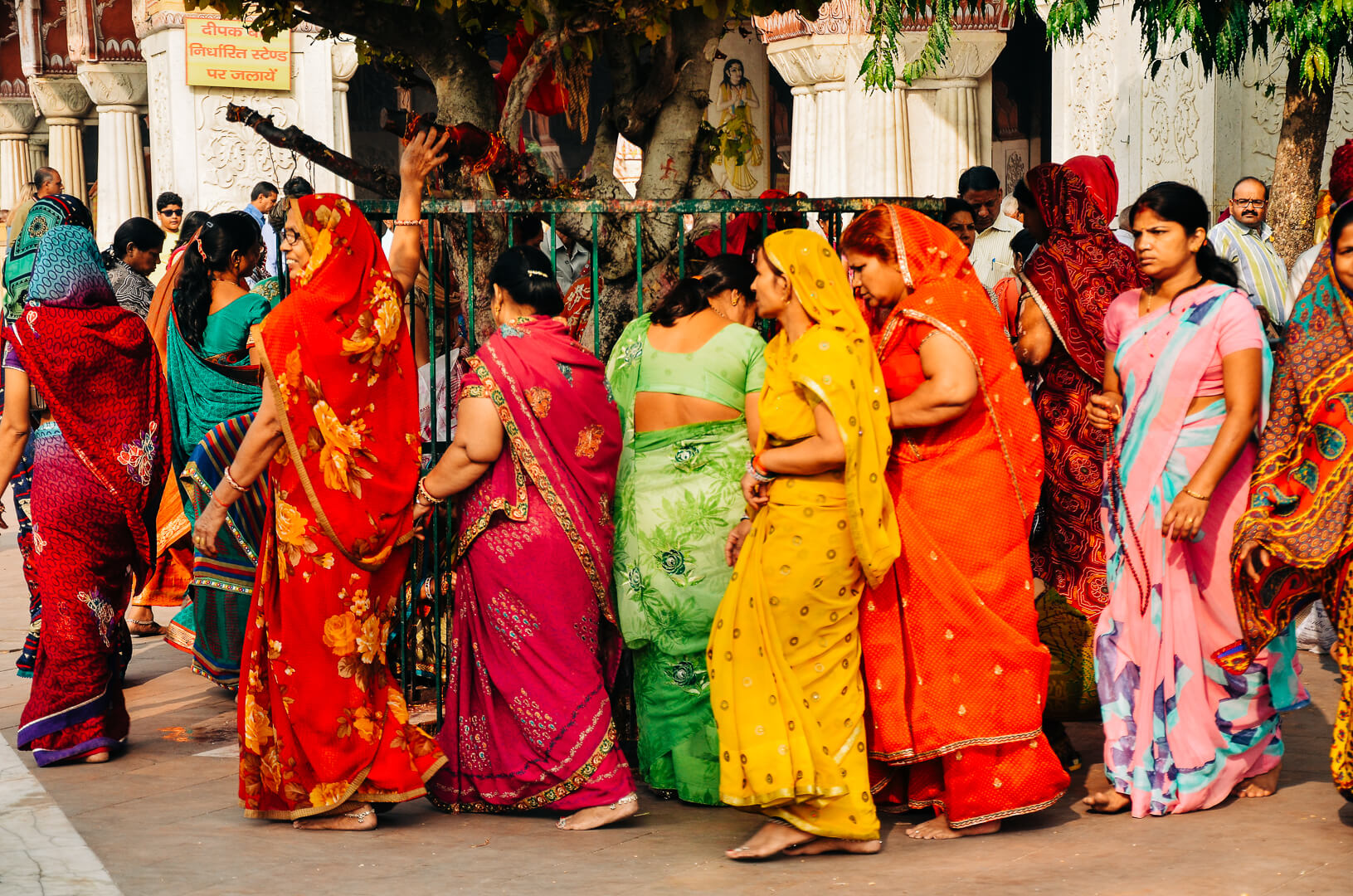 We were also treated to a gathering of Indian ladies in their bright and colorful saris circling and singing around a tree near a temple.
3 – City Palace
Once the City Palace opened, we headed inside to take a look.  We paid about ₹400 rupees each to get in and the baby strapped to J's chest got a free pass.
This colorful gate greeted us near the entrance of the Jaipur City Palace.  If you love door photography, you'll go nuts in India.  This was just one of the many beautiful doors I was able to photograph on this trip.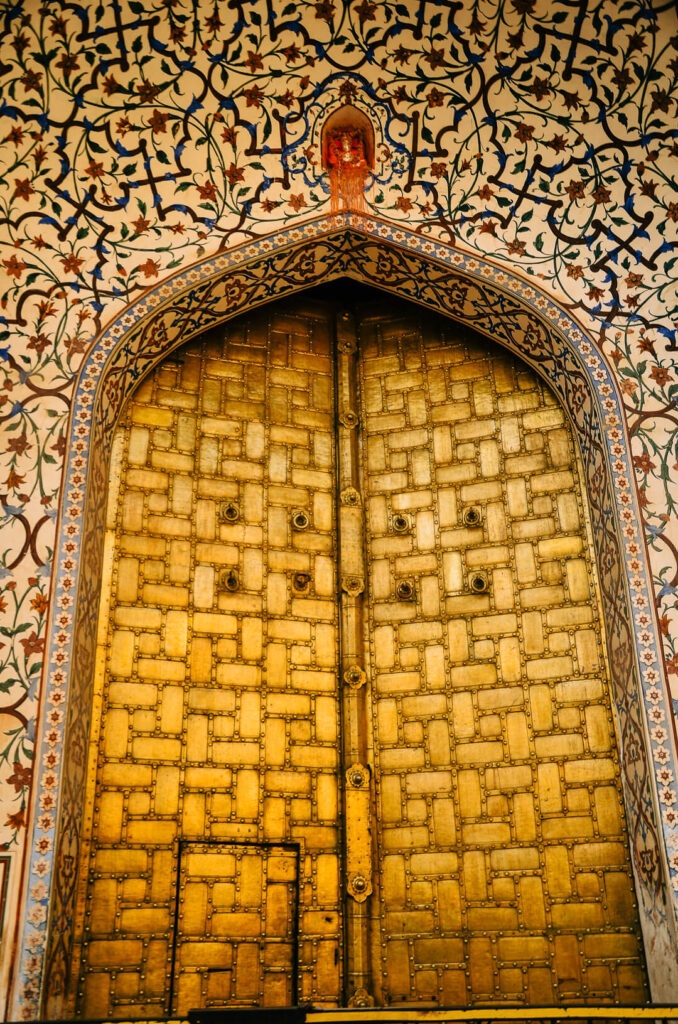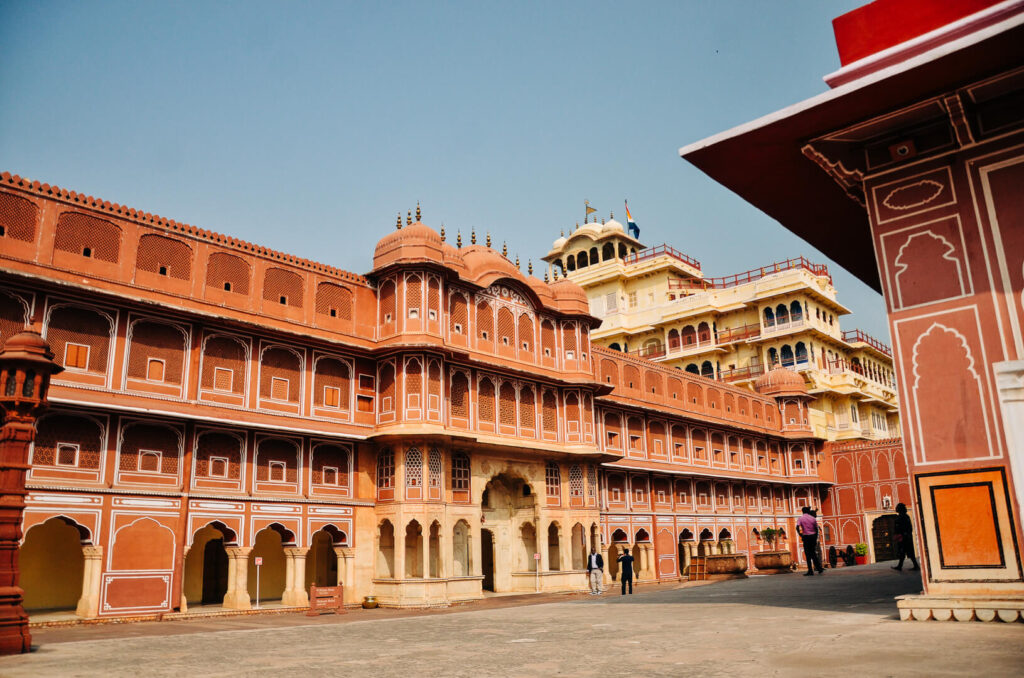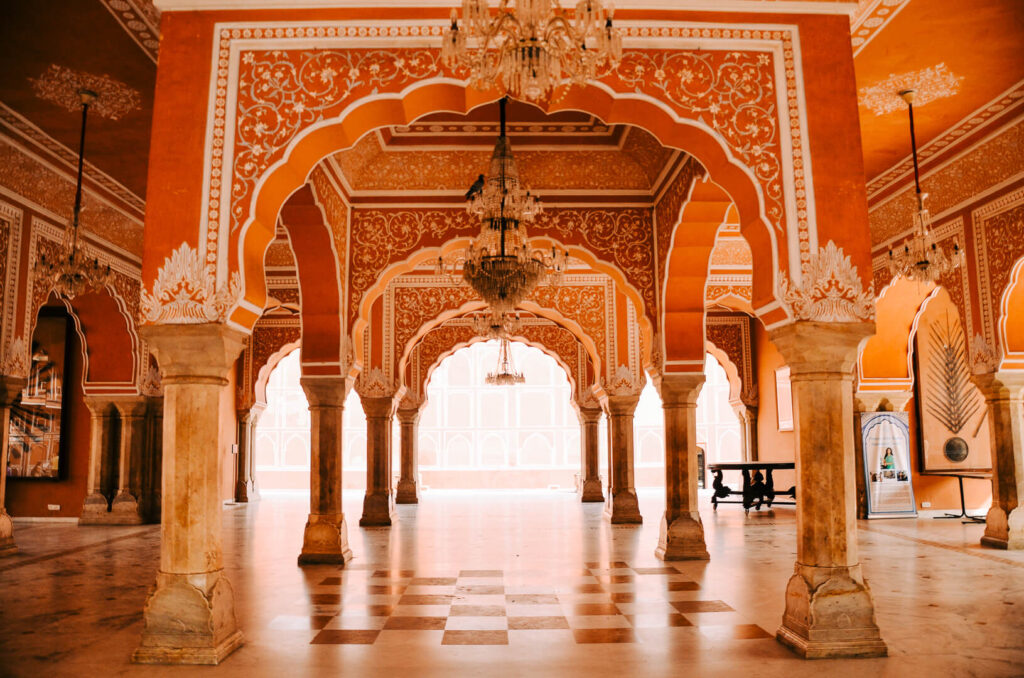 The City Palace is where the Maharajah of Jaipur, the head of the Rajput clan, traditionally ruled from.  To this day it is still the home of the Jaipur royal family.  It now houses a  museum as well and a portion of the compound is open to visitors.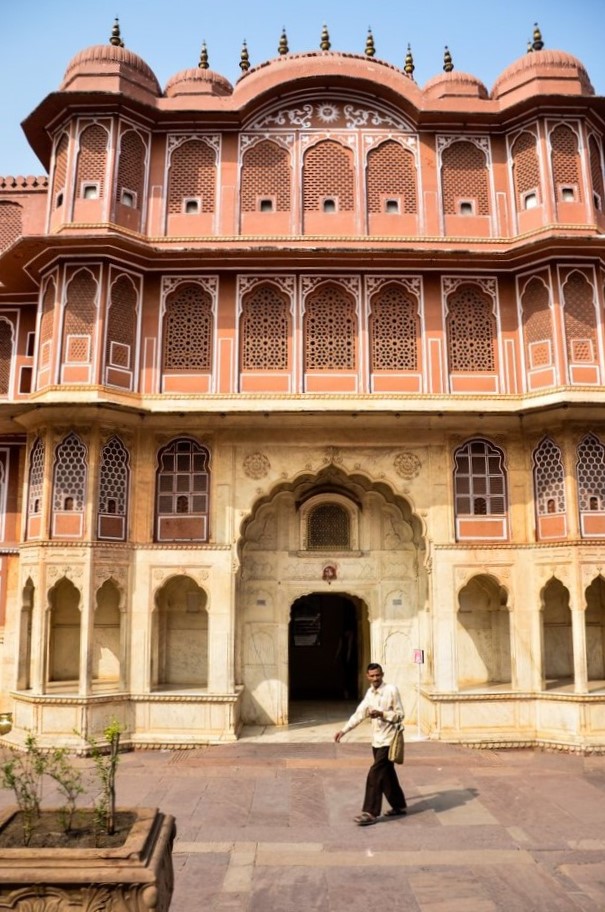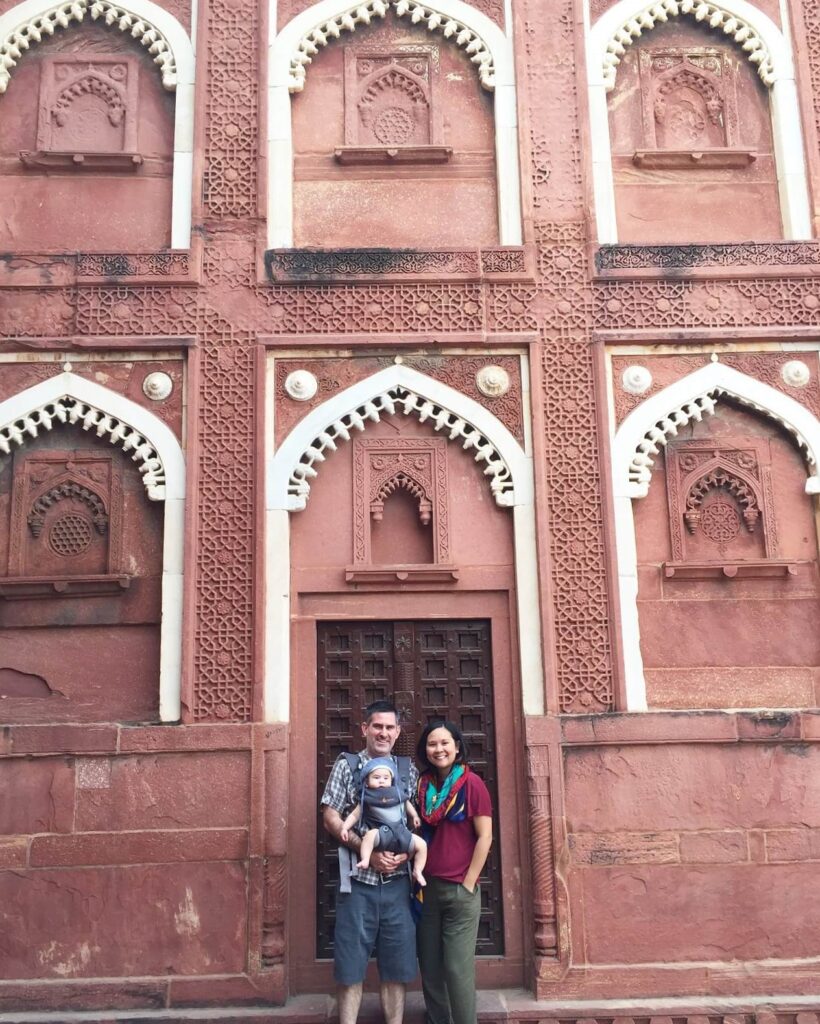 Inside the palace, you'll see a lot of impressive gardens and courtyards, beautiful doorways, and Rajasthani architecture.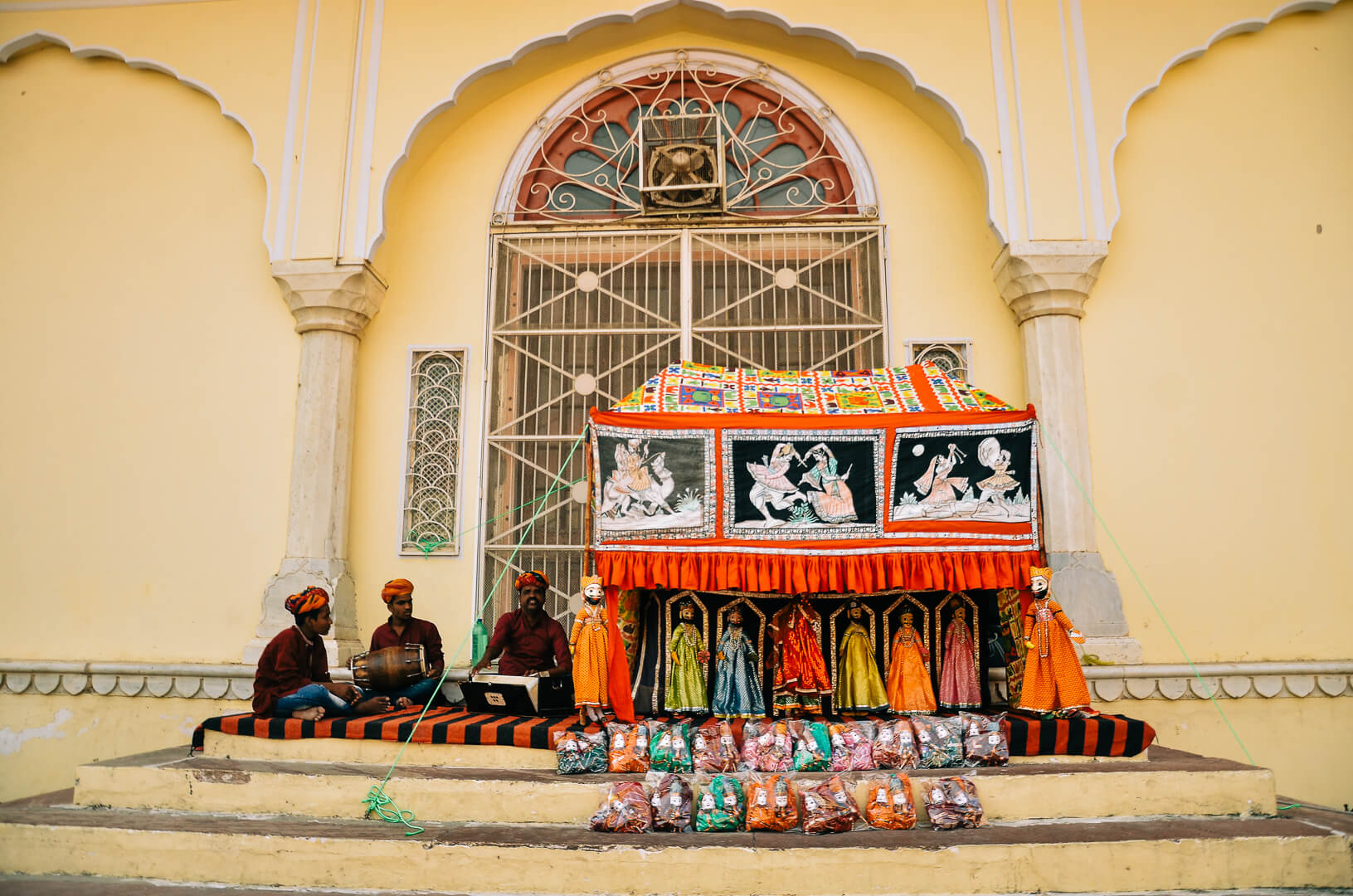 Kids might enjoy seeing the puppet show, although what the puppeteers are able to do with the puppets will entertain adults as well!
Another not to miss stop in Jaipur is the Amber Fort, also know as the Amer Fort.  This place is absolutely massive.  We were blown away with the sheer size of the fort and how sprawling the grounds are.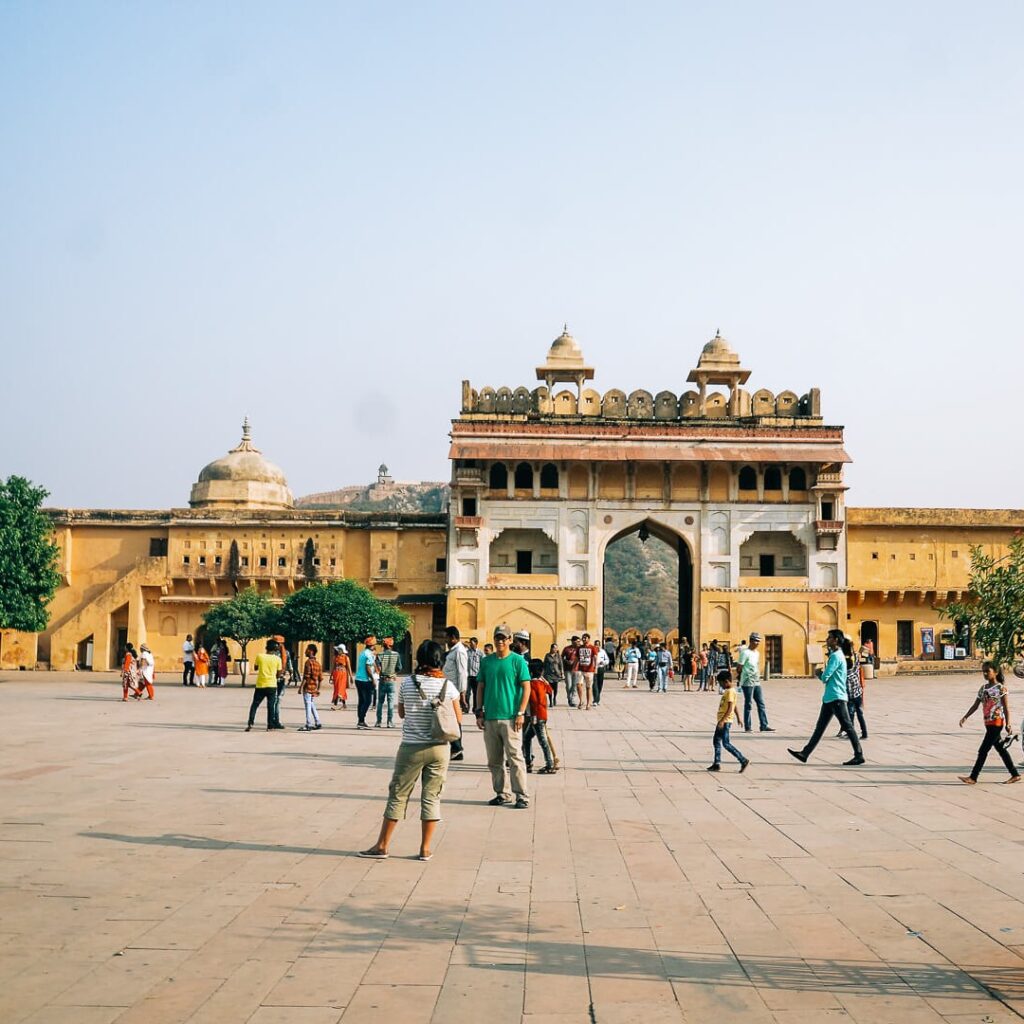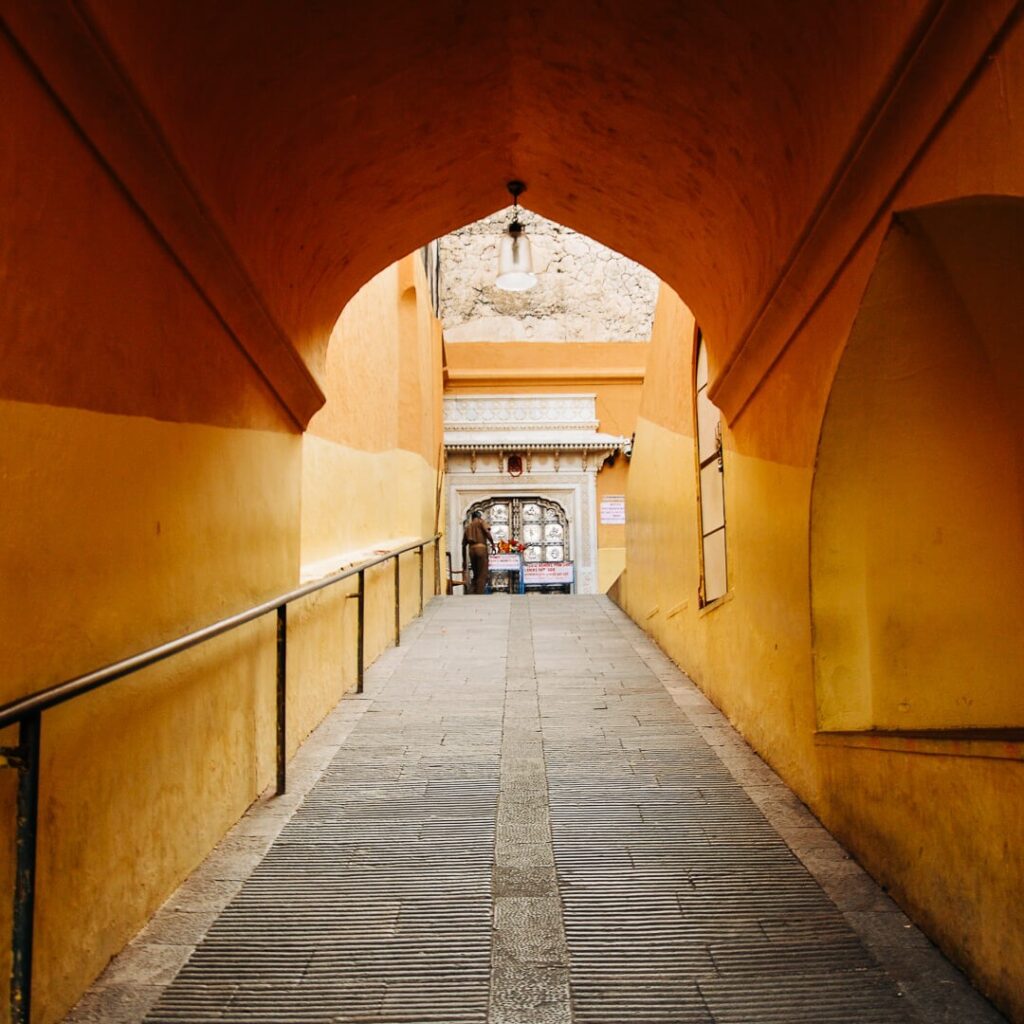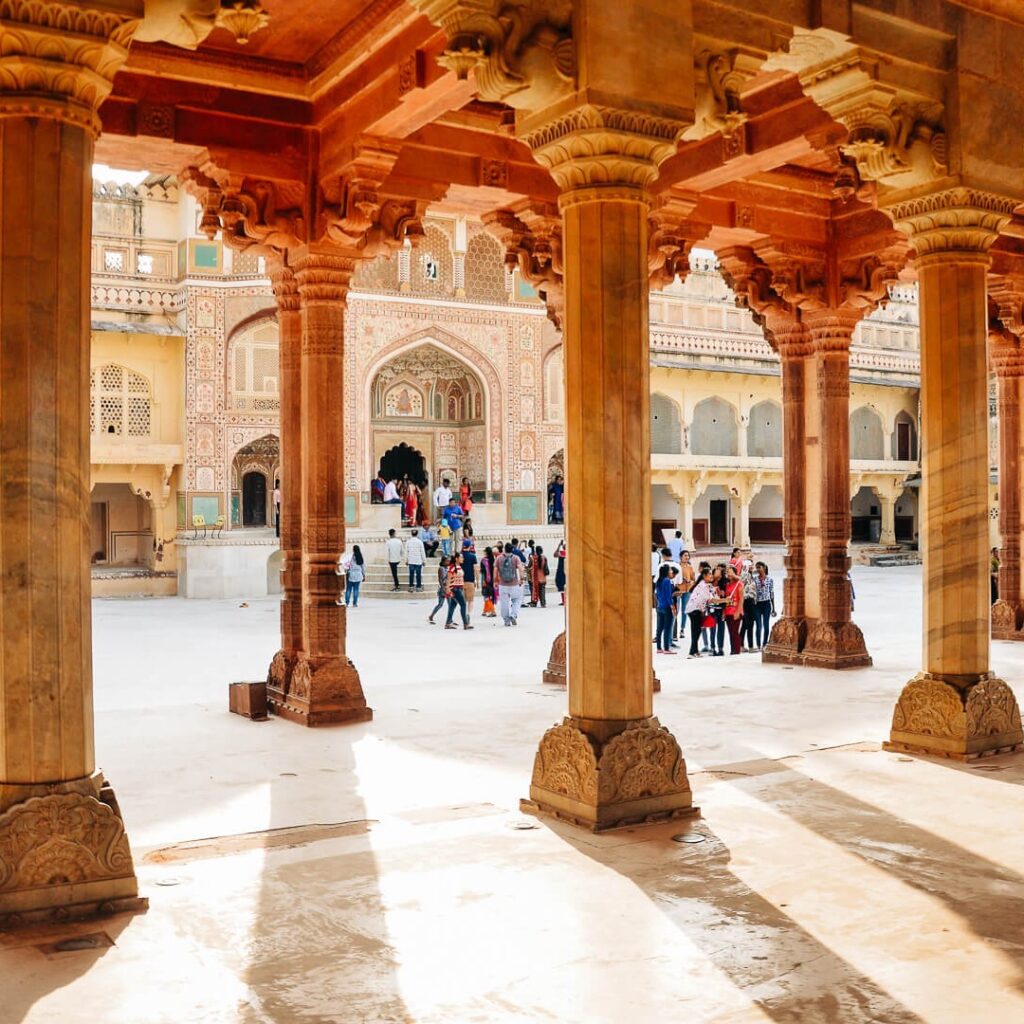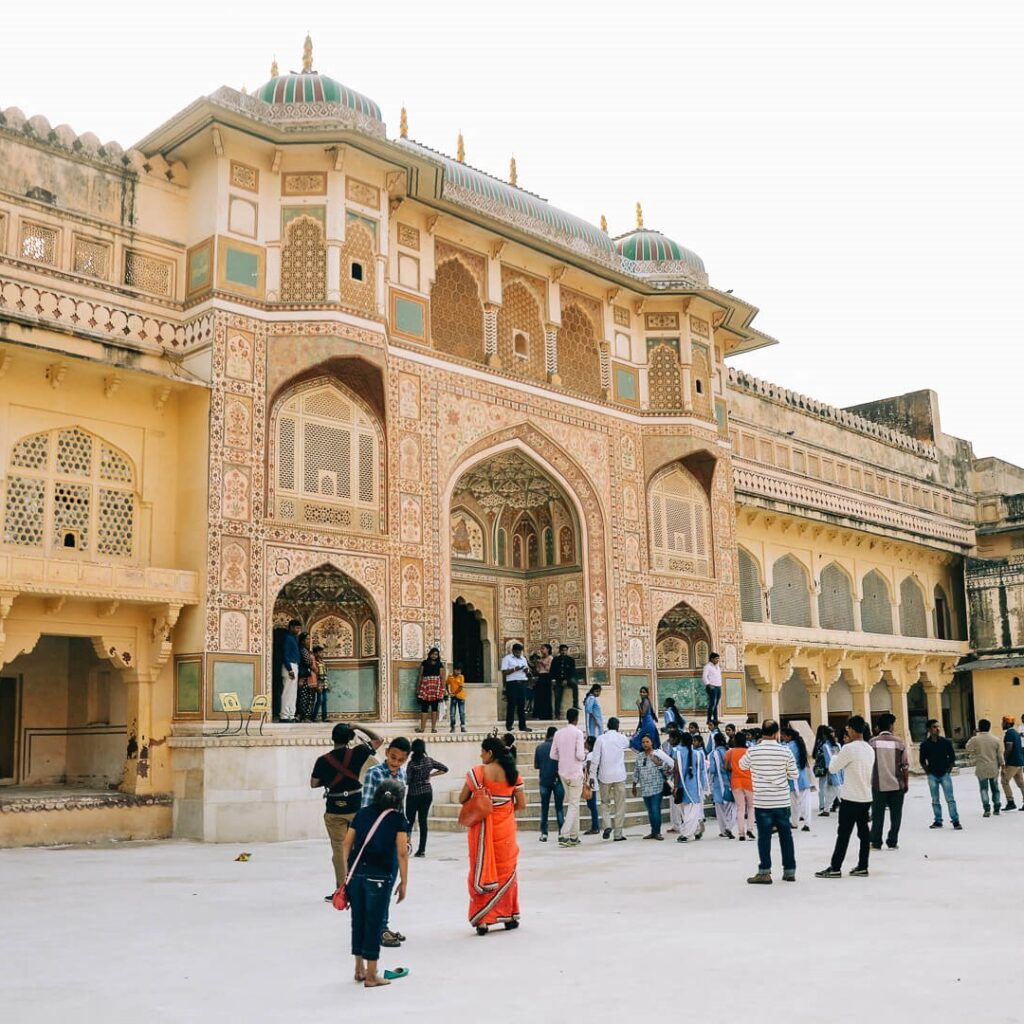 Like many of the architectural structures in Jaipur, the Amber Fort is very striking and is quite the tourist draw.  A lot of international and local visitors come to admire its beauty – don't expect to find many opportunities for uncrowded photos unless you arrive very early or stay very late – and even then you'll need to be a bit lucky.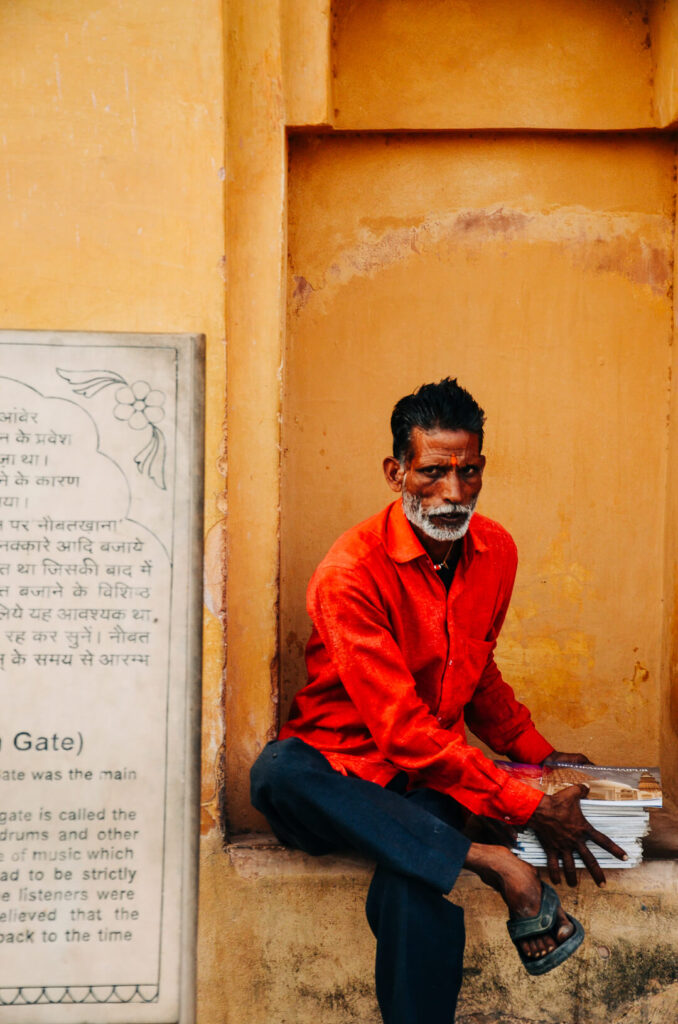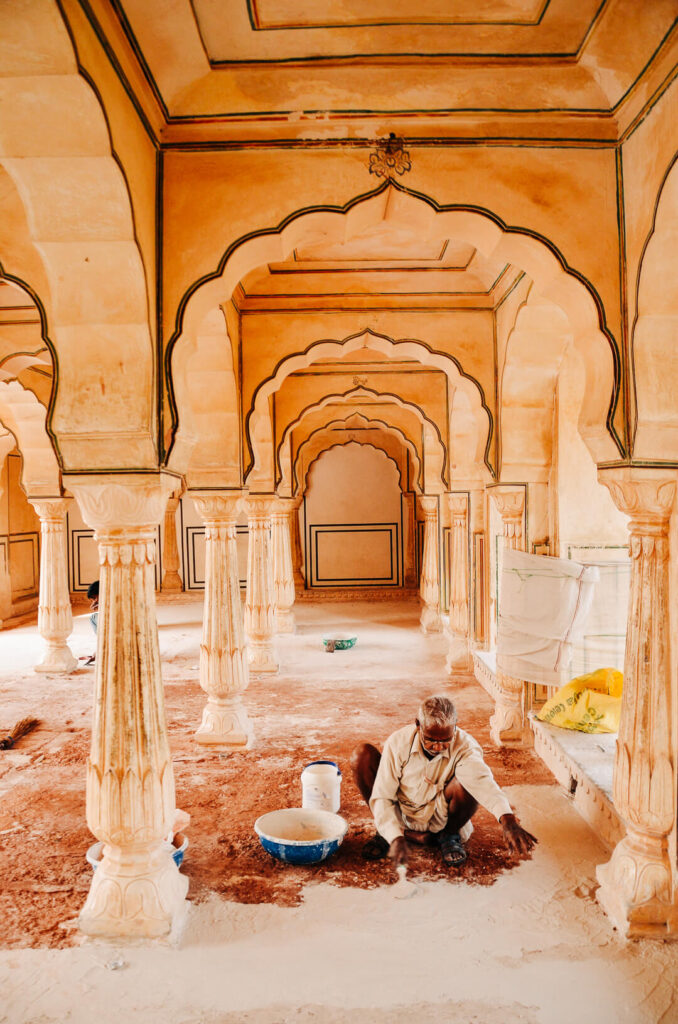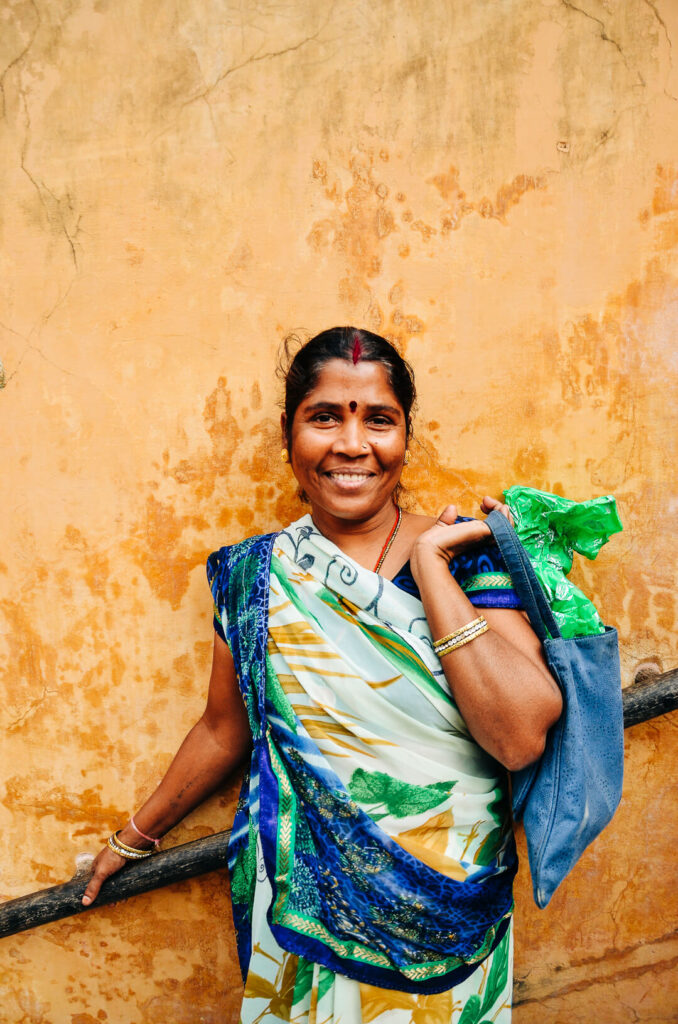 We find the people of India extraordinarily warm and friendly.  And as a portrait photographer, there is no shortage of interesting faces and characters in India.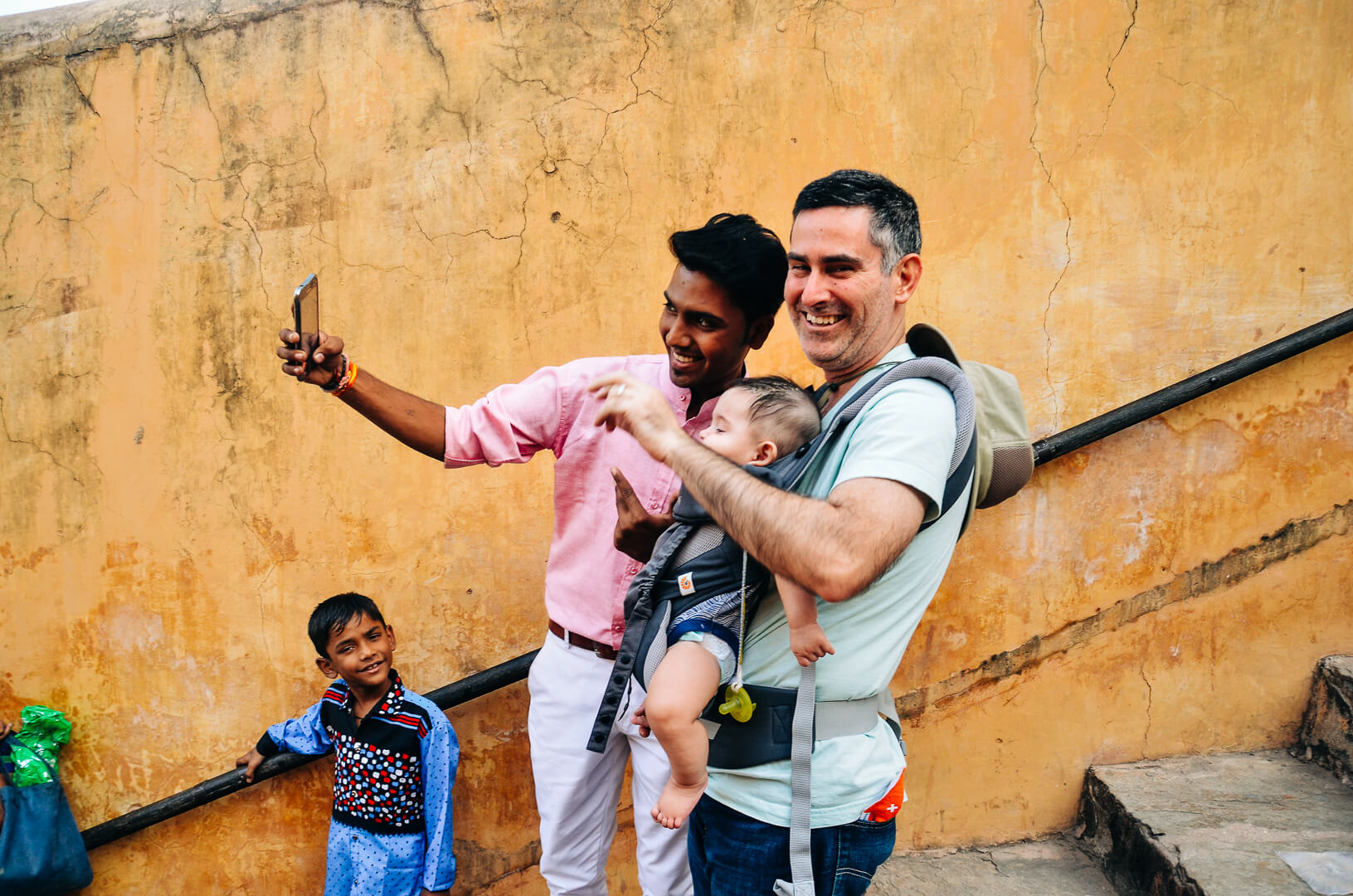 The locals, on the other hand, apparently found the faces of my husband and baby interesting!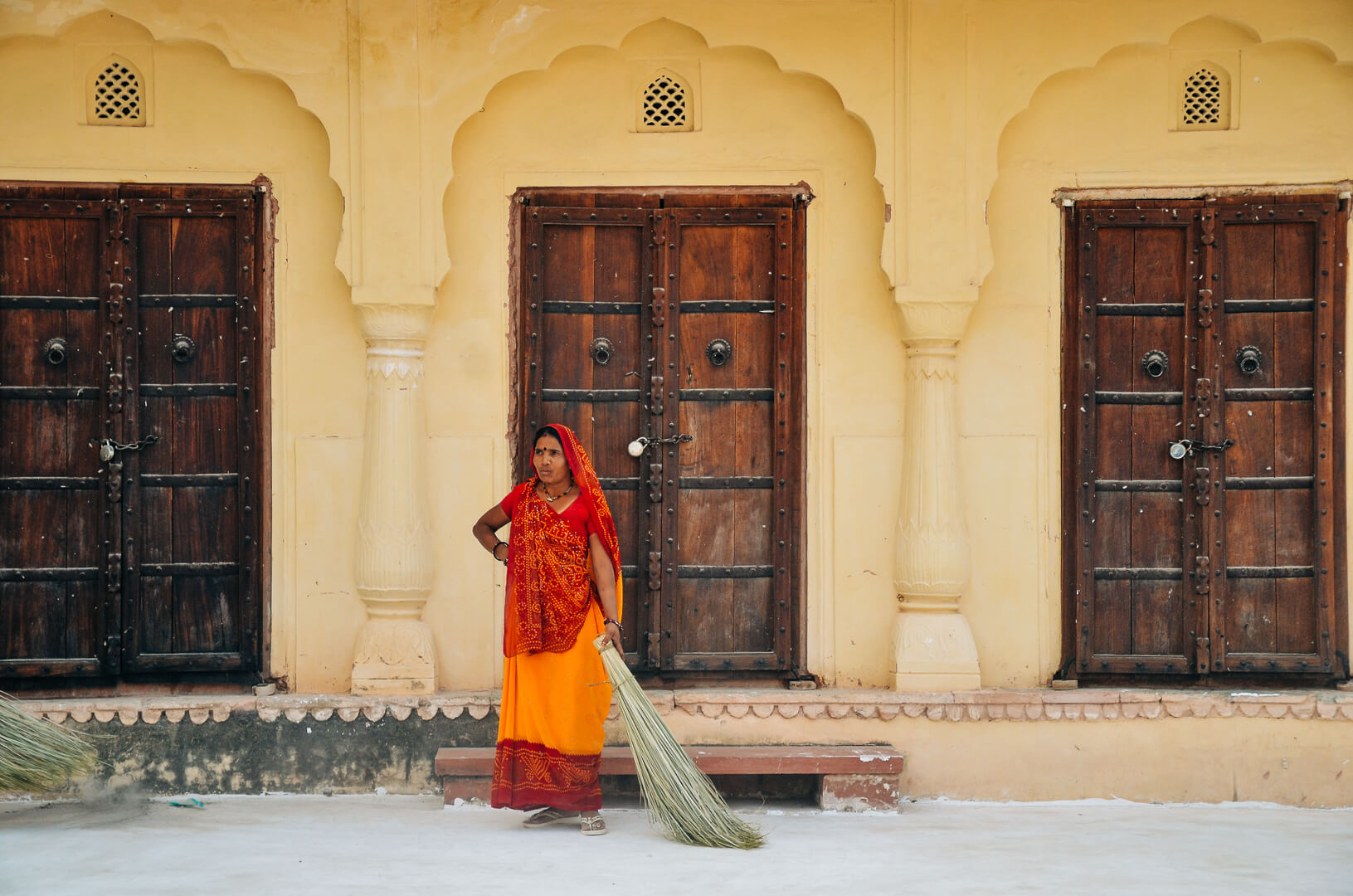 I also enjoy observing and photographing the men and women "behind the scenes"- the people who help keep the premises clean and intact.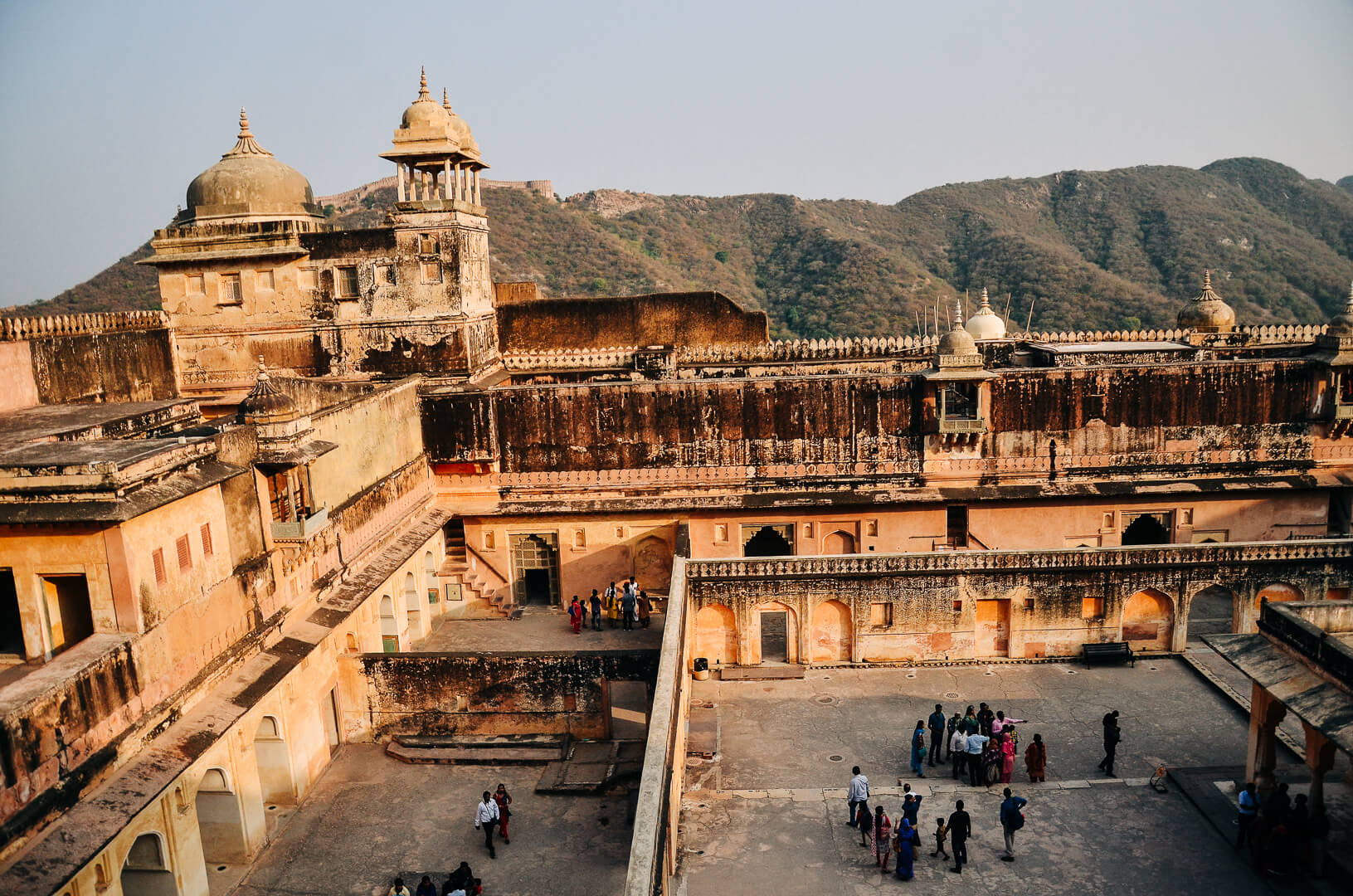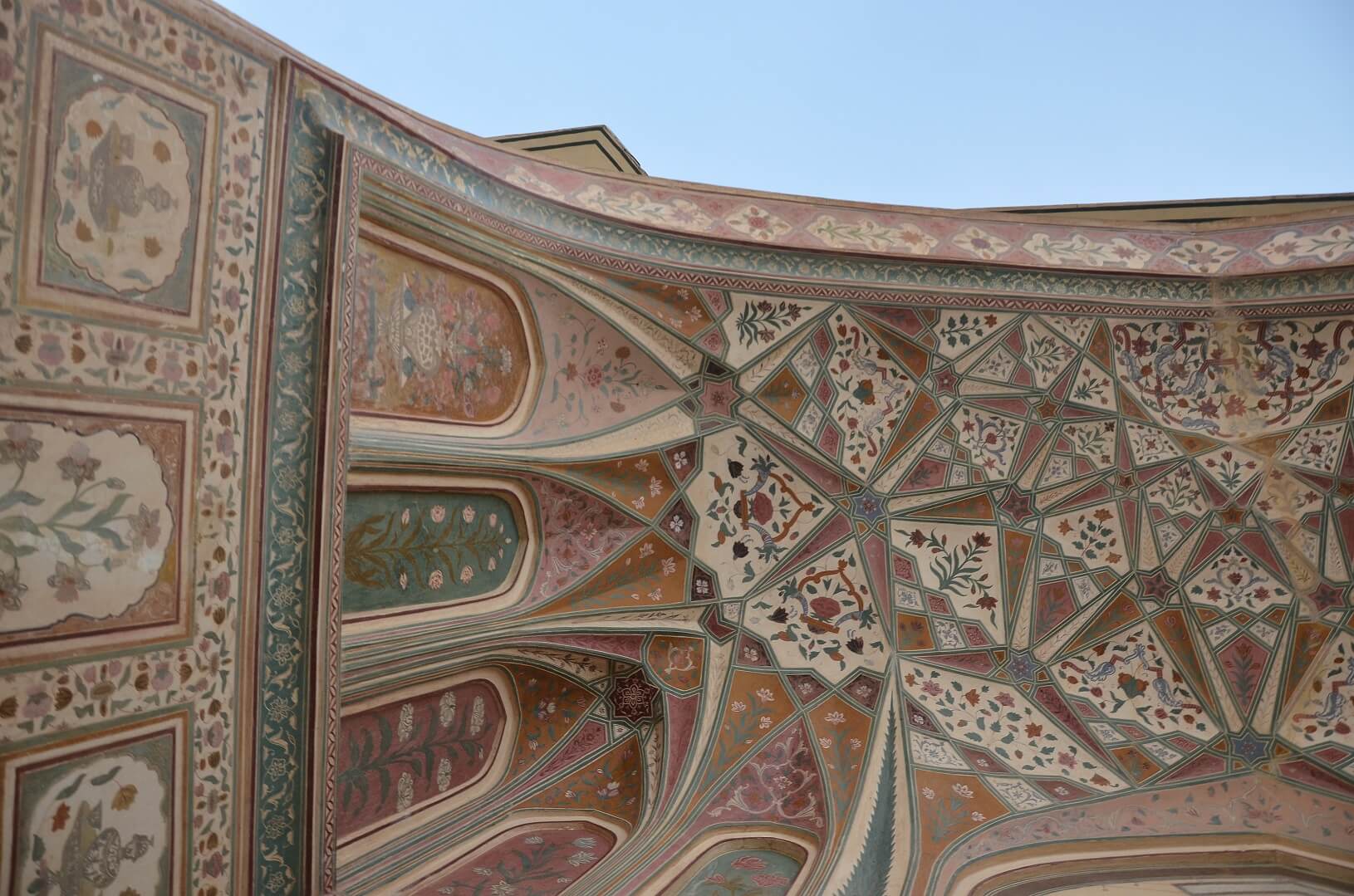 The arches were intricately painted with painstaking attention to detail.  So much inspiration for an aspiring architect or artist can be drawn from this place.
Oh, and don't be surprised by the monkeys!  They are everywhere in the Amber Fort.
This one decided he was going to bring sexy back!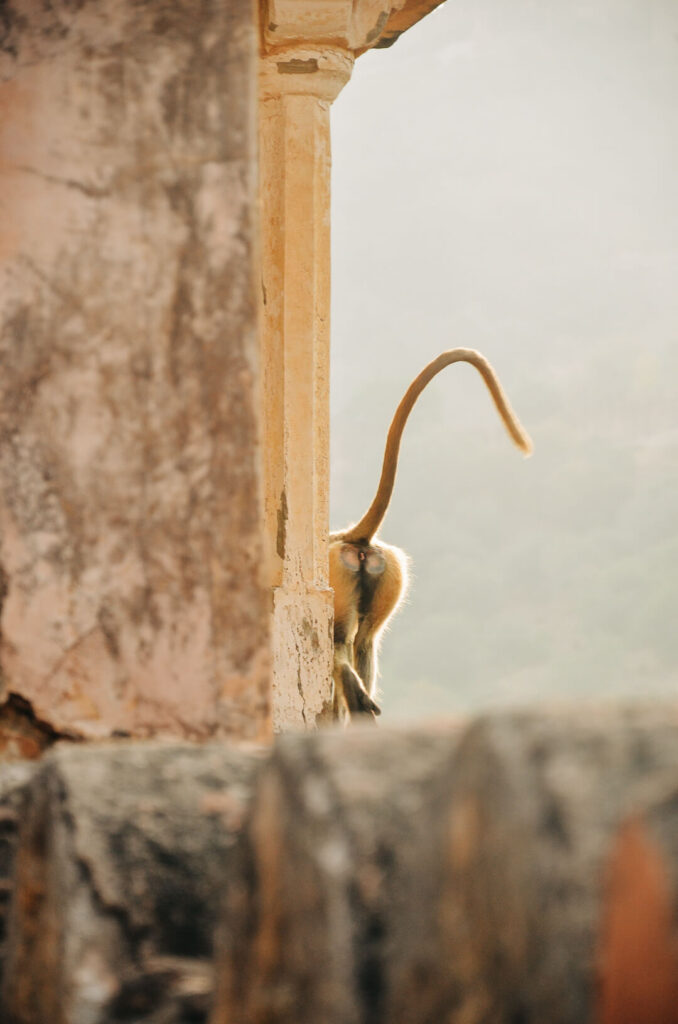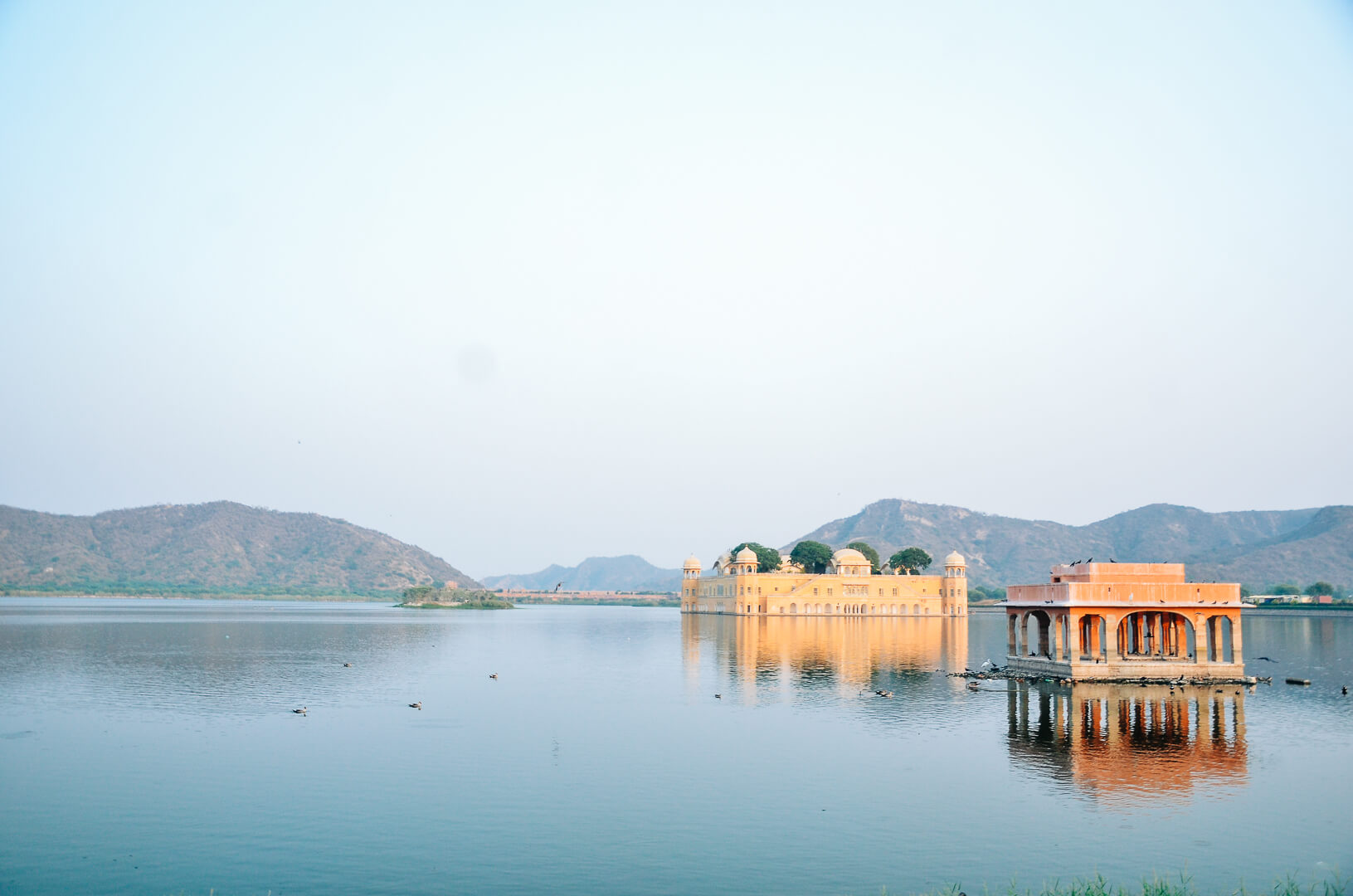 After the Amber Fort we made a quick stop at Jal Mahal, a palace in the middle of the man-made Man Sagar Lake. Unfortunately, we were not able to go inside the palace, so we just admired it from a distance.
Fair warning if you want to make a stop here: there are a bunch of hawkers who will by vying for your attention.  This guy tried to sell us on a camel ride for our 6 month old – we opted for a smile from the camel for free.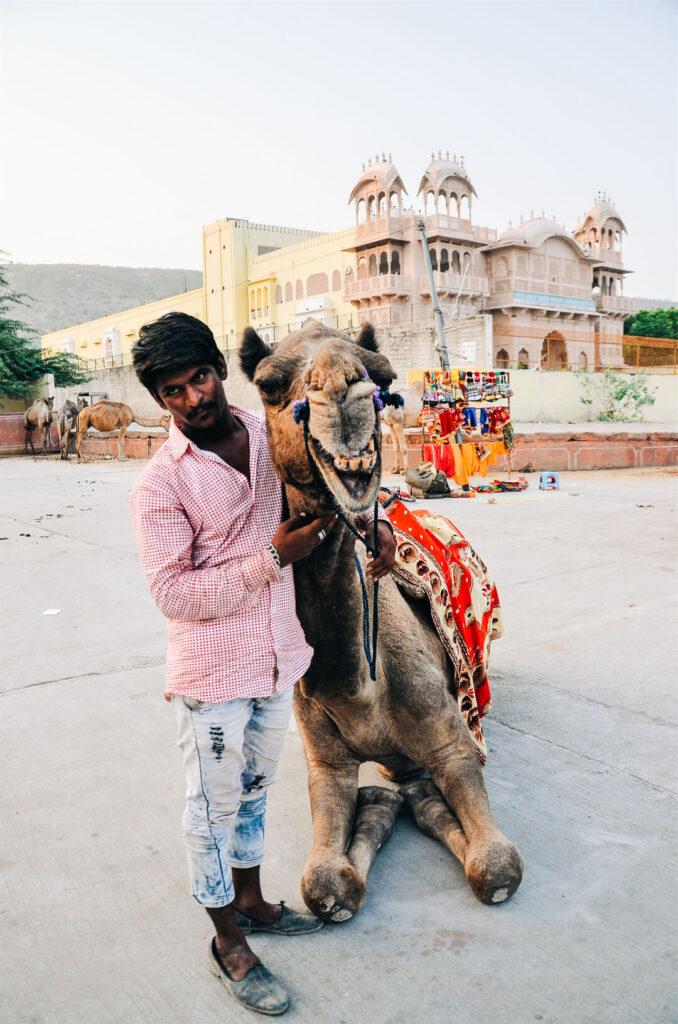 Our advice?  If you don't want to buy anything, distract the hawkers with a cute baby, they'll never know what hit them.  Or camouflage yourself in a large group of schoolgirls.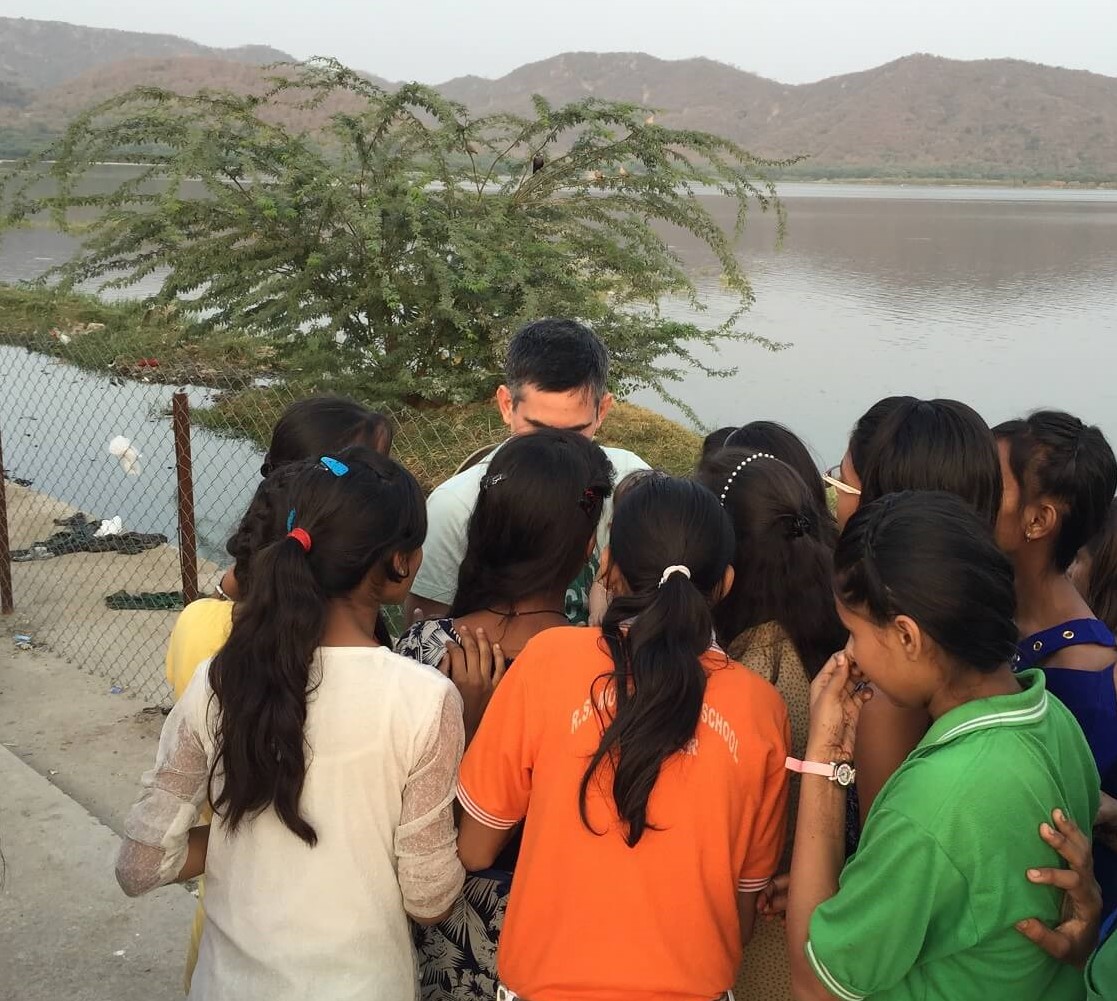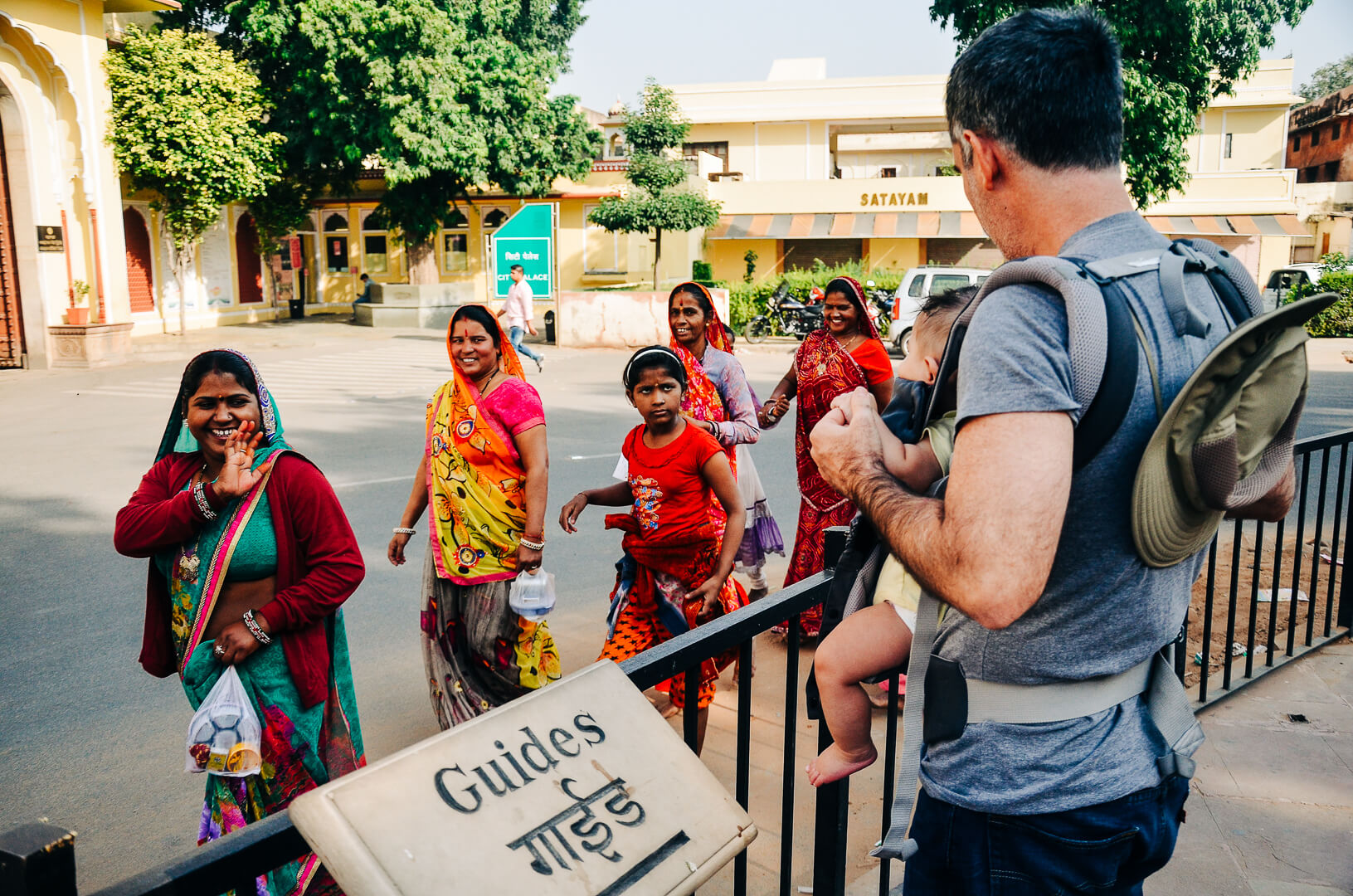 One of our last stops in Jaipur was the Jantar Mantar (not to be confused with the Jantar Mantar in Delhi). 
It's an UNESCO World Heritage Site observatory which was completed in 1734.  You can find things here like the world's largest stone sundial.  If you like math, physics, and science stuff, you'll be fascinated.  We hired a local guide who helped us understand all the instruments.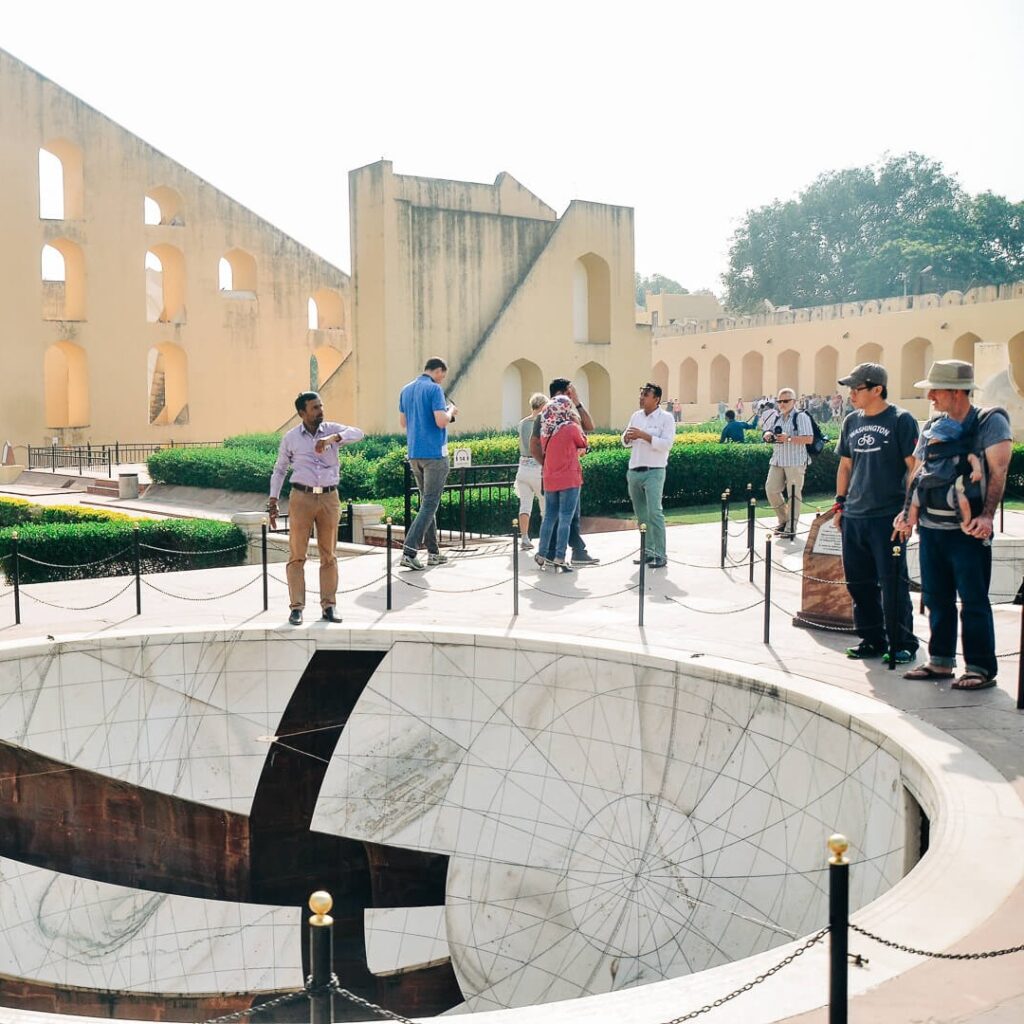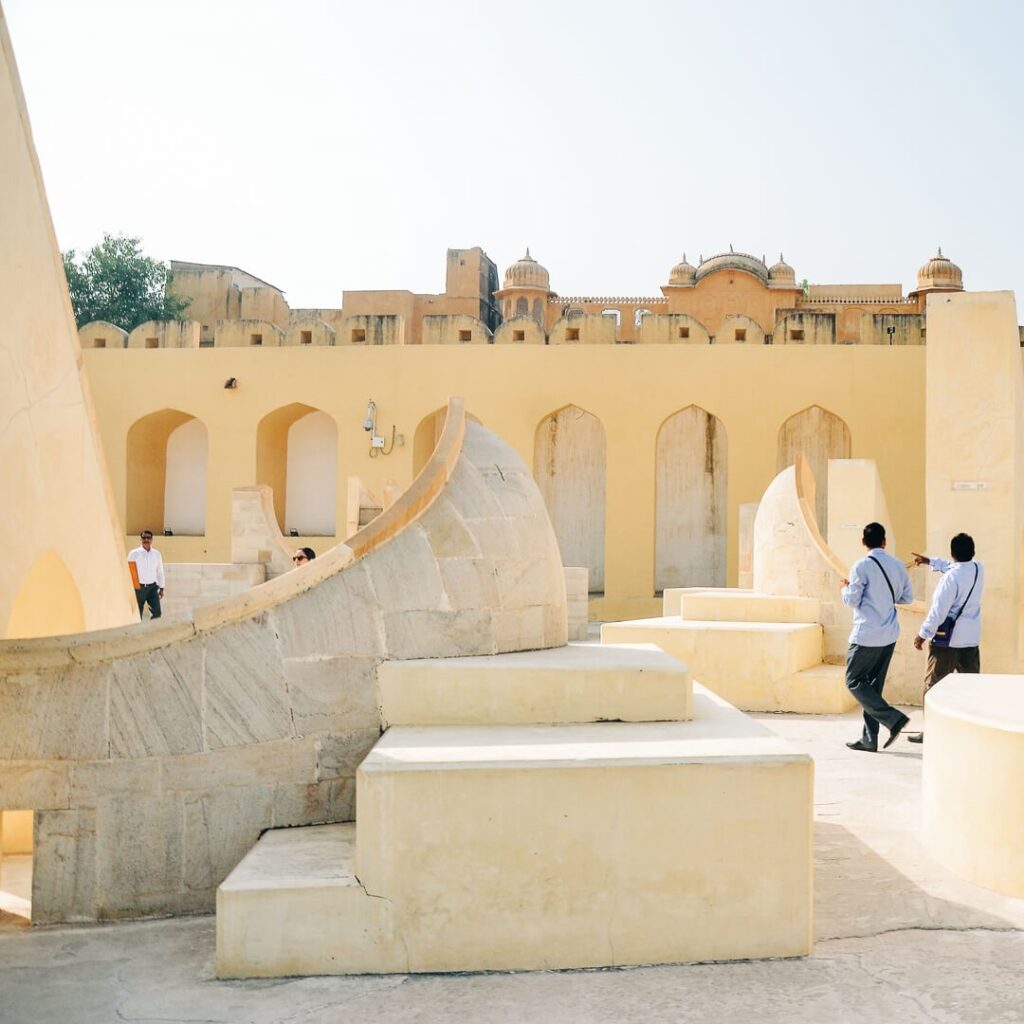 Beside the usual Top Sites in Jaipur, we encourage exploration to experience a piece of every day life.  This is where you'll get a real taste of the country, without having to pay an entrance fee! 
For example, while we waited for our tuktuk ride to take us back to the hotel, we wandered around the nearby market, where vendors sell marigolds and other colorful flowers. Shops had just opened and were selling saris and hats. Local men enjoyed sipping their tea, chitchatting and reading that day's paper.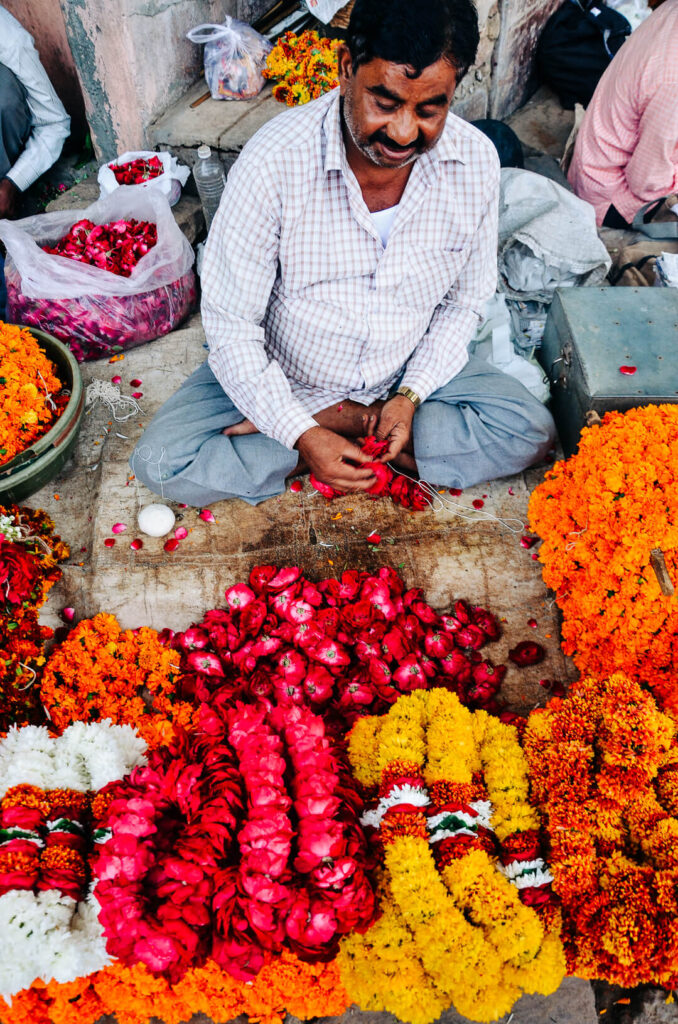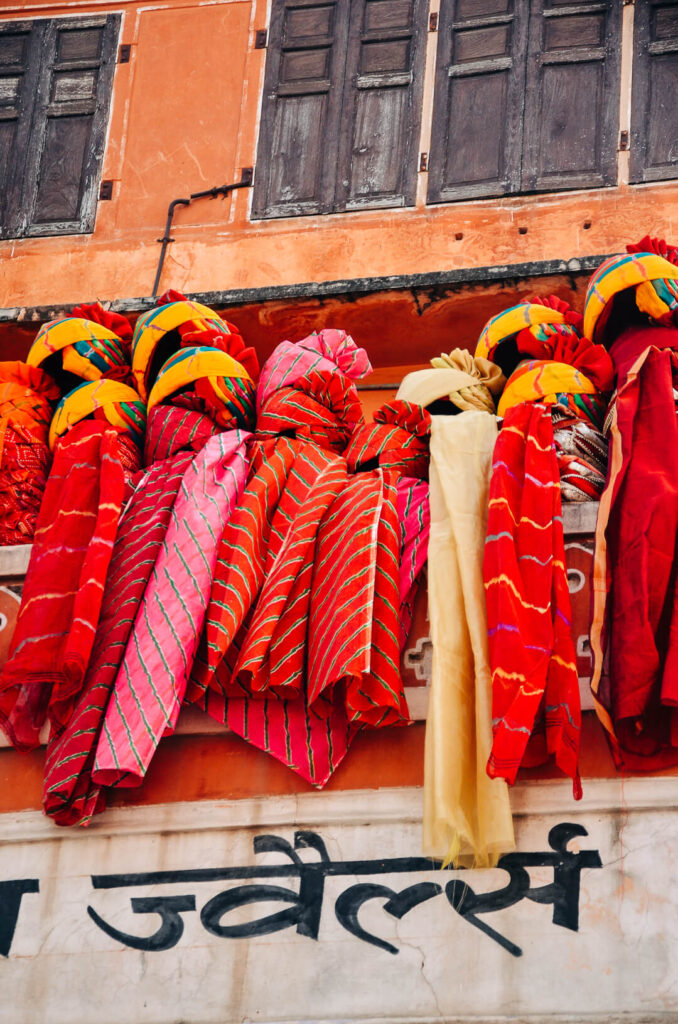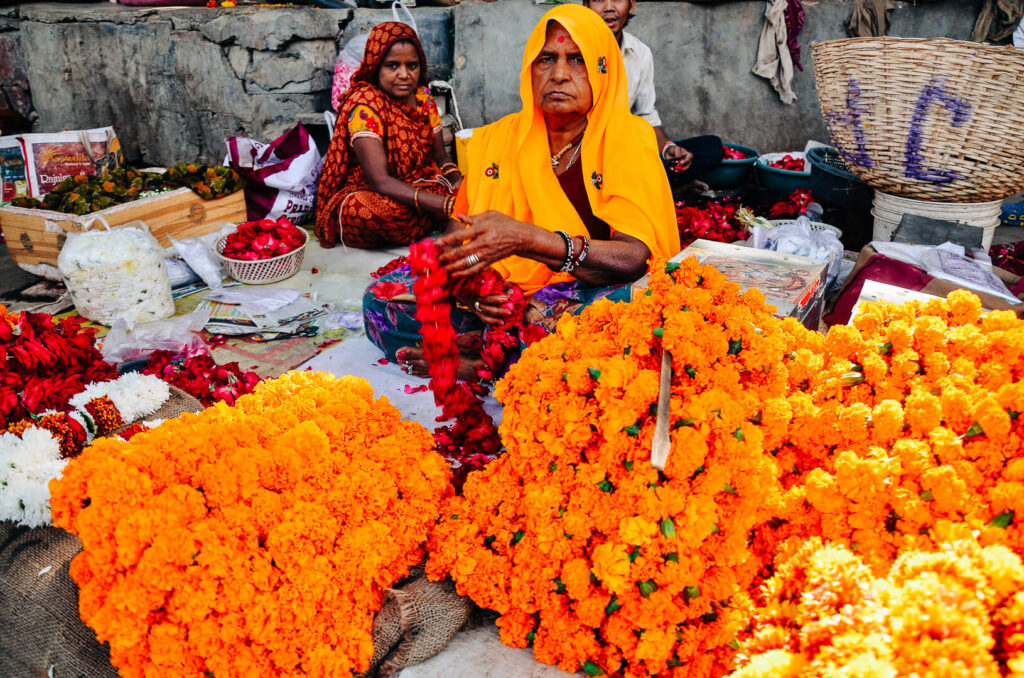 For those with small children, India is a blast with some creativity and flexibility.  Don't expect facilities you may be used to in other parts of the world, but there are changing tables everywhere if you know where to look!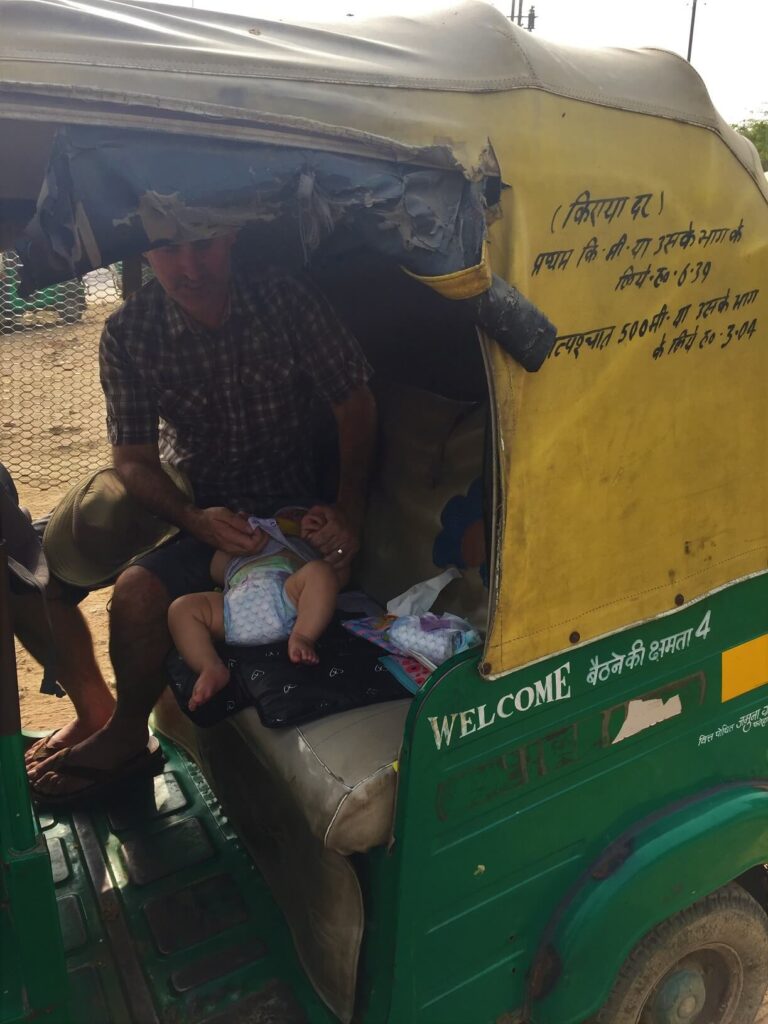 If you've decided to visit Jaipur, here are some trip practicalities to help with  your planning:  
Trip Planning/Inspiration: 
Cheapest Flights to Jaipur, India: 
If you're not already in India, you have to get to there.  For cheap airfare, our first stop is always

Momondo

 where you can sort for cheapest, quickest, and, brilliantly, best (which basically gives you an idea of how painful the flight will be on a smiley face scale from 1-10).  We'll then double check with another site like JetRadar and the airline website itself to make sure we're getting the best price.
Best price on the hotel: 
We usually start our search on Tripadvisor and go from there.  Once we settle on the cheapest option, we get further discounts by making the purchase through the Ebates/Rakuten website.  For example, if a Tripadvisor search shows that 

Hotels.com

 has the lowest price, instead of going directly their website, we go to Hotels.com through the Ebates/Rakuten portal, which gives us an additional 3.5% (or whatever the the rate is that day) cash back.  Easy.
On this trip, we stayed at the Hilton Jaipur and were very happy with the room.  The staff were exceptionally warm as well!
Or find yourself a great local option in Jaipur with AirBnB!
I hope you all enjoyed my short Jaipur City tour and are inspired to put it on your bucket list. Please feel free to check out my other recent posts here.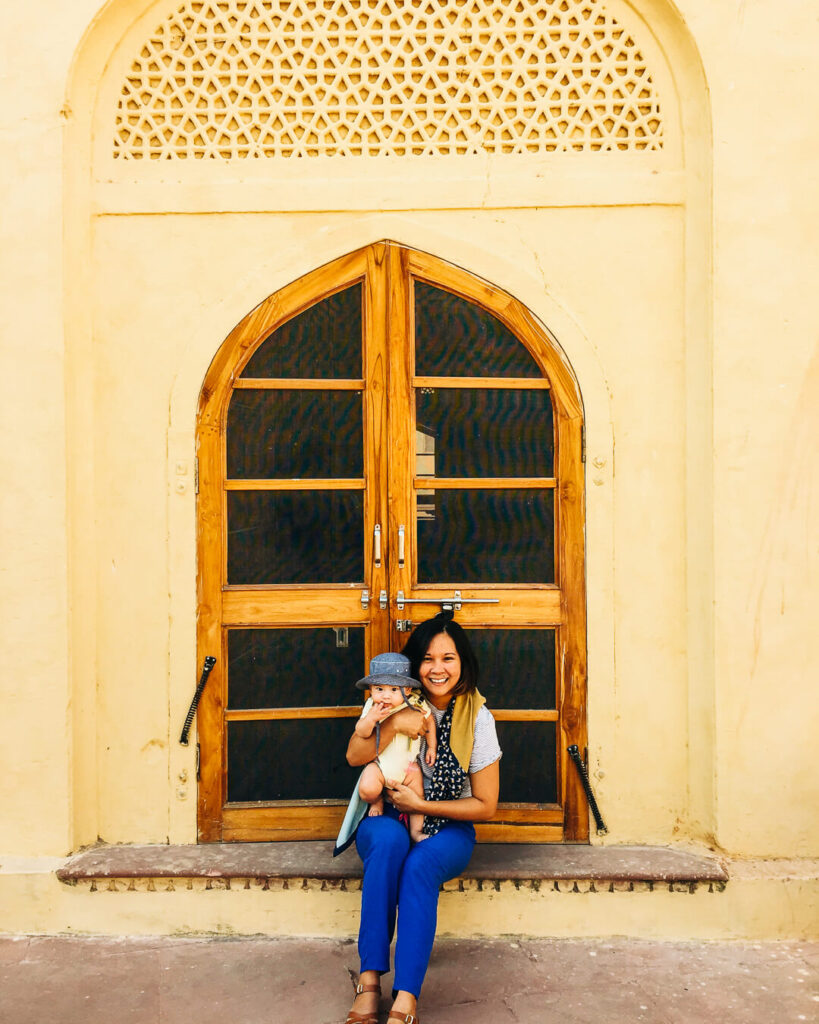 TAGS: ADVENTURE, INDIA, TRAVEL WITH KIDS